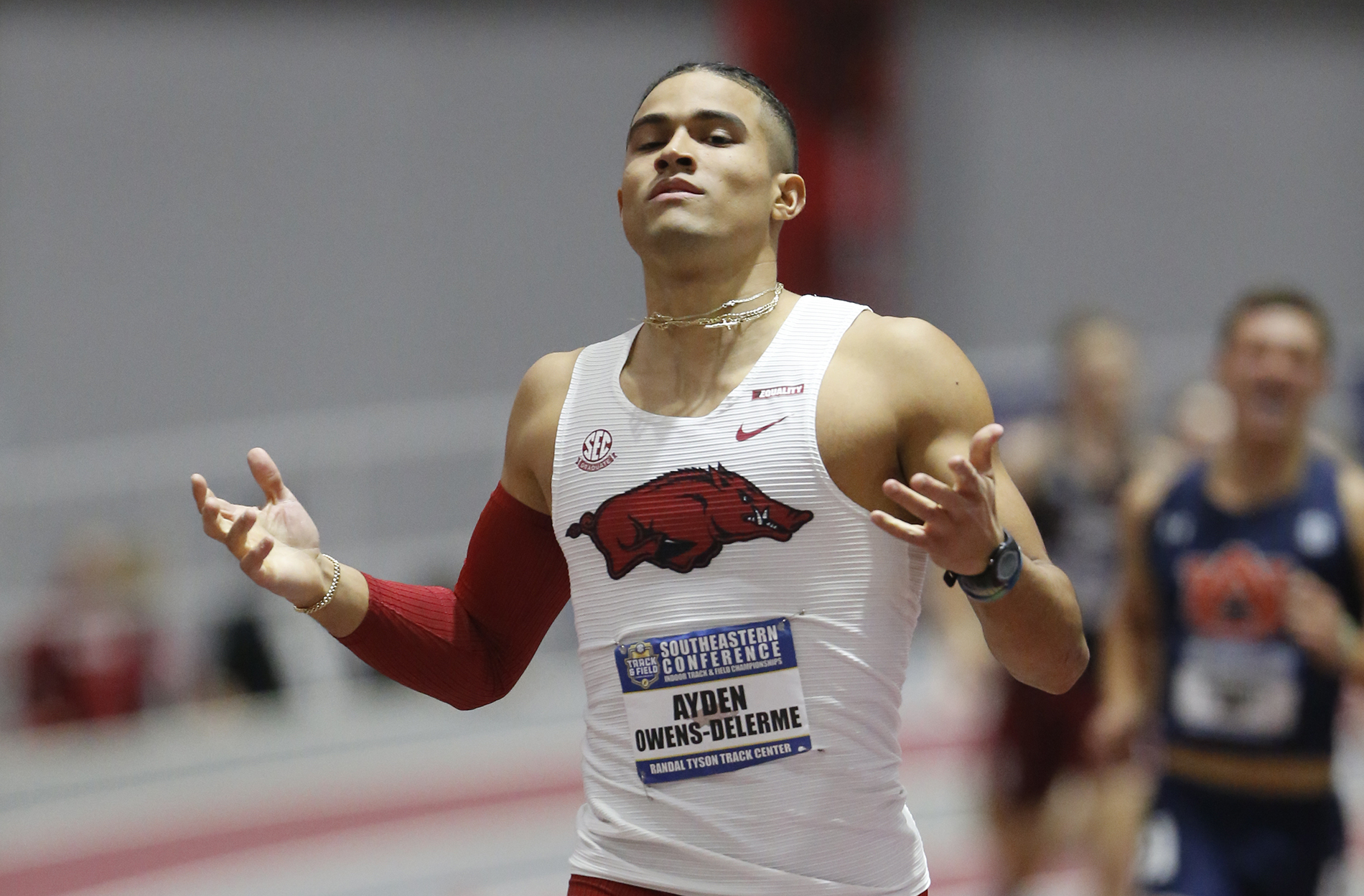 NCAA Indoor team title next goal for No. 1 Razorbacks
ALBUQUERQUE, New Mexico – No. 1 Arkansas takes a talented group of Razorbacks into the 57th edition of the NCAA Indoor Championships this weekend seeking the program's 21st national indoor team title. Arkansas will have 13 entries spread over nine events.
The meet will be held this Friday and Saturday, March 10-11, at the Albuquerque Convention Center. Coverage of the national championship event will be available on ESPN+ (pay subscription) with replays set to air Sunday night and Monday morning on ESPNU.
Live results will be available here: https://flashresults.ncaa.com/Indoor/2023/index.htm.
Challengers for the team championship include Washington, Texas Tech, Florida, and Alabama among the top five schools in recent national rankings. Texas, ranked sixth, is the defending national team champion while SEC schools Tennessee and Georgia rank seventh and eighth.
"We know in the back of our mind that we're the No. 1 team in the country, but we also know this track meet is a little bit different than the SEC meet," stated Arkansas men's head coach Chris Bucknam. "It comes down to star power and how you're star power performs at this particular meet. Everything is on a more heightened alert.
"I'm pleased with the 13 entries we have in nine different events. Nothing is easy and we don't take anything lightly, but a lot of our athletes are ranked in the top 10. We just have to get the job done and execute the best that we can while trying to enjoy the moment and the opportunity we have in front of us."
The Razorback crew includes a pair of defending champions in Ayden Owens-Delerme (heptathlon) and Wayne Pinnock (long jump). They each enter this NCAA Indoor meet seeded second along with Chris Bailey in the 400m, who had the world-leading time prior to the SEC meet.
Arkansas has the top seed in the triple jump with freshman Jaydon Hibbert along with a world leading 4 x 400m relay unit.
Five other Razorback entries are seeded in the top 10 of their respective events while the remaining three entries are seeded 11th.
"We have a good energy and good vibe with our team right now," noted Bucknam. "Having returning champions helps along with the new energy of being a Razorback with some of our guys who will be competing as a Razorback for the first time in a national championship. Everybody is dialed in to help this team make a run at a national championship title."
Points will be at a premium in each of the events Arkansas has entries. In three field events – long jump, triple jump, shot put – and the heptathlon, there are a pair of Razorbacks in each discipline. On the track, Arkansas has single entries in the 200m, 400m, 5,000m along with a pair of relays.
"It's kind of a big deal for us," Bucknam said of the pairing up of Razorbacks. "We have great comradery in each of our event groups. There is a good collection of outstanding athletes who push each other. There is a great vibe within each one of these event groups.
"So, that is a big deal for us as each group is going into this competition with a teammate in their particular event area."
Hibbert, the SEC Freshman Field Athlete of the Year, has competed twice this indoor season. His Razorback debut occurred at the New Mexico Collegiate Classic, where his two attempts on a short approach of eight steps both measured the same distance of 54-10.75 (16.73), the collegiate leading mark at that time.
His second competition of the indoor season came during the SEC Championships hosted by Arkansas two weeks ago. His second attempt off 12 steps measured 56-1.75 (17.10) to claim victory over a pair of 55-foot efforts.
Hibbert, who turned 18 in January, became the youngest person to eclipse 17 meters (55-9.25) in the world as he moved to No. 3 on the world U20 all-time list and improved his indoor national U20 Jamaican record.
"Jaydon has just turned 18 years old in January and things are a lot different and new for him this year, but he is doing a phenomenal job," stated Bucknam. "He's got a great competitive spirit.
"I'm excited to watch Jaydon compete. It's a pretty heady experience for such a young guy in a new country and a new level of competition he is in. He's handled it pretty well and is doing great in school. I'm really proud of how he's handled it all."
Joining Hibbert in the triple jump at the NCAA Indoor meet is teammate Carey McLeod, who was a bronze medalist in 2021 and placed ninth a year ago.
McLeod is also entered in the long jump along with Pinnock, who claimed the long jump as a freshman in 2022 while McLeod was the silver medalist. McLeod is one of three jumpers who qualified in both events, seeded No. 4 in the long jump (26-10.5|8.19) and No. 9 in the triple jump (53-9|16.38). Pinnock set an indoor best of 27-3.25 (8.31) this season and is seeded No. 2 in the long jump.
All three Razorback jumpers in the NCAA field are Jamaican, and each attended the same high school, Kingston College.
The pair of Razorbacks in the shot put include Jordan West and Rojé Stona, who were silver and bronze medalist at the SEC Indoor with career best marks. West has finished sixth twice at the NCAA Indoor while Stona is making his debut appearance.
West broke a 40-year-old UA record by half an inch with his mark of 66-7 (20.29) while Stona moved to No. 3 on the UA all-time list with a put of 65-6 (19.98).
In the heptathlon Yariel Soto Torrado, who finished ninth a year ago, joins Owens-Delerme, who dramatically won last year's title moving from fourth to first place in the final event, the 1,000m.
The pair rank first and second on the all-time Puerto Rican heptathlon list. Soto Torrado improved to 5,889 this season while Owens-Delerme set a SEC Indoor meet record with a mark of 6,237 just off his career best of 6,272.
Racing in the sprints for Arkansas are Lance Lang in the 200m and Bailey in the 400m. Lang has finished sixth and fifth in the past two NCAA Indoor meets and produced a season best of 20.47 on this track in early February. In previous relays, Lang ran on silver (2021) and bronze (2022) medal efforts with Kentucky.
Bailey will compete in his first individual event at NCAA Indoor after being involved in the 4 x 400 relay, placing third in 2021 and fifth last year while with Tennessee.
Patrick Kiprop, who set a school record in the 5,000m with a 13:24.32 performance in Chicago, will make his debut at the NCAA Indoor meet.
Arkansas is seeded No. 1 in the 4 x 400 relay with its world-leading 3:01.09 set in Albuquerque this season. In the distance medley relay the Razorbacks are the No. 9 seed with their school record 9:22.13.
NCAA Indoor Championships | Arkansas schedule (MT listed)
Friday, March 10
| | | | |
| --- | --- | --- | --- |
| 9:30 a.m. | Heptathlon 60m | | Ayden Owens-Delerme, Yariel Soto Torrado |
| 10:30 a.m. | Heptathlon Long Jump | | Ayden Owens-Delerme, Yariel Soto Torrado |
| 11:45 a.m. | Heptathlon Shot Put | | Ayden Owens-Delerme, Yariel Soto Torrado |
| 1:15 p.m. | Heptathlon High Jump | | Ayden Owens-Delerme, Yariel Soto Torrado |
| | | | |
| 7:00 p.m. | Long Jump | FINAL | Wayne Pinnock, Carey McLeod |
| 7:25 p.m. | 400m | prelims | Chris Bailey |
| 8:05 p.m. | 5,000m | FINAL | Patrick Kiprop |
| 8:25 p.m. | 200m | prelims | Lance Lang |
| 8:45 p.m. | Distance Medley Relay | FINAL | Arkansas |
Saturday, March 11
| | | | |
| --- | --- | --- | --- |
| 10:30 a.m. | Heptathlon 60m Hurdles | | Ayden Owens-Delerme, Yariel Soto Torrado |
| 11:30 a.m. | Heptathlon Pole Vault | | Ayden Owens-Delerme, Yariel Soto Torrado |
| 3:30 p.m. | Heptathlon 1,000m | | Ayden Owens-Delerme, Yariel Soto Torrado |
| | | | |
| 6:45 p.m. | Triple Jump | FINAL | Jaydon Hibbert, Carey McLeod |
| 7:00 p.m. | Shot Put | FINAL | Jordan West, Rojé Stona |
| 7:20 p.m. | 400m | FINAL | (Chris Bailey) |
| 7:50 p.m. | 200m | FINAL | (Lance Lang) |
| 8:20 p.m. | 4 x 400m Relay | FINAL | Arkansas |