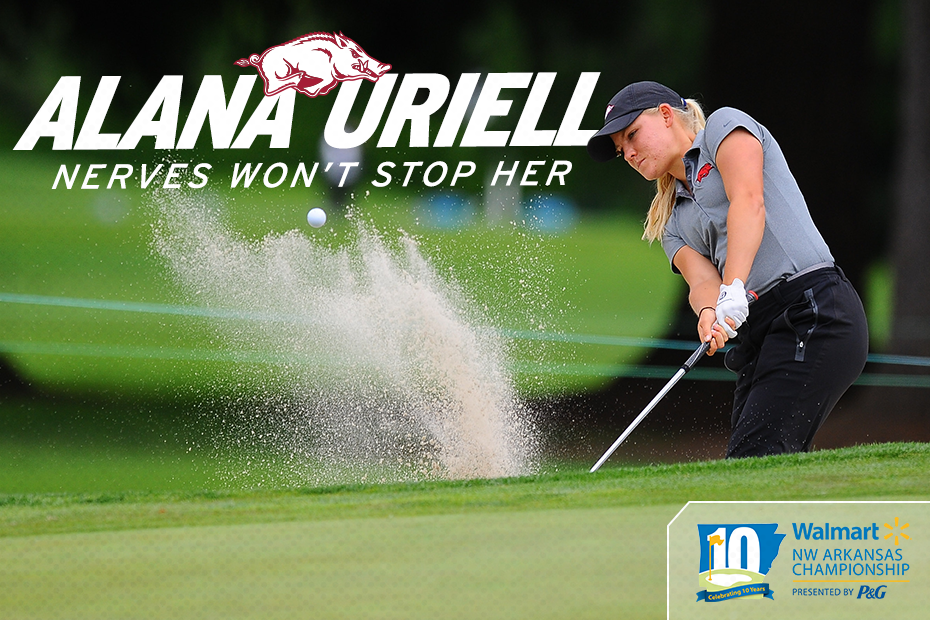 Nerves Won't Hold Uriell Back
FAYETTEVILLE, Ark. – Many of us would shy away from tests under huge amounts of pressure on an international stage of the highest levels – but not University of Arkansas junior-to-be Alana Uriell.
The Carlsbad, California, native, earned an invitation to the Monday qualifier of the Walmart NW Arkansas Championship presented by P&G and couldn't be more excited about the opportunity to compete.
"This is a fantastic opportunity to showcase my talents against other great competitors," Uriell said. "I'm so thankful to have the support of all my Razorback friends, family and fans who believe in me and who have helped me get this far. I'm nervous but ready to give it my best."
Uriell has a proven ability to rise up in pressure situations, a skill she hopes will serve her well this week. As a freshman, Uriell rallied tying former Razorback All-American and current LPGA Tour player Gabriela Lopez for second at the NCAA St. George (Utah) Regional.
This season, she again rose up the leaderboard in postseason tying for third overall at the NCAA Stanford Regional Championship. Uriell was also Arkansas' best finisher at the 2016 NCAA Championship tying for 20th place overall in Eugene, Oregon.
Uriell closed out the season with a 73.46 scoring average and joins senior Regina Plasencia, who finished with an average of 73.93, in the tournament's qualifier round on Monday, June 20 for a chance to claim each of the two final spots available in the official tournament field. Plasencia competed in the 2014 and 2015 tournament qualifier, while this is Uriell's first year to compete.
This marks the second year of the Road to the #NWAChampionship partnership between the Walmart NW Arkansas Championship presented by P&G and the University of Arkansas Women's Golf Team. The partnership guarantees one Razorback student-athlete a Sponsor's Exemption into the tournament and two student-athletes the chance to Monday qualify for the full field LPGA event. Past exemptions have included Stacy Lewis, Emily Tubert and Gabriela Lopez, who finished T29 at the 2015 event.