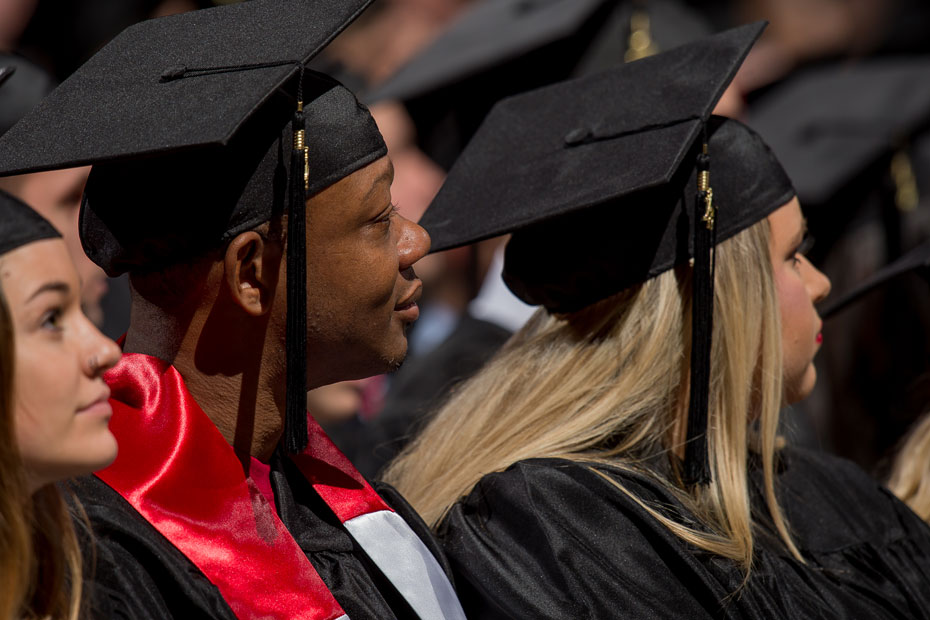 Ninety-Two Razorbacks Earn SEC Academic Honors
FAYETTEVILLE, Ark. – Success in the classroom continues to be recognized as 92 University of Arkansas student-athletes earned selection to the 2017 Fall Southeastern Conference Academic Honor Roll, the league office announced on Wednesday.
The 2017 Fall SEC Academic Honor Roll includes the sports of cross country, football, soccer and volleyball. It is based on grades from the 2017 spring, summer and fall terms.
Razorback football placed 47 student-athletes on the fall honor roll along with 20 student-athletes from women's cross country, 12 from soccer, seven from men's cross country and six from volleyball.
The 2017 Fall SEC Academic Honor Roll highlights the achievements of a five Razorback athletics teams and coincides with the release of Arkansas Athletics Department's fall semester grades. Razorback student-athletes achieved a department grade point average of 3.25, tying the highest cumulative total in athletics history.
A total of 306 Razorbacks – 67 percent – earned a spot on the honor roll after earning a spring GPA of 3.0 or better, a mark that has improved by 21 from the 2016 fall semester. For the second straight semester, a record number of student-athletes earned a perfect 4.0 term GPA, as 72 Razorbacks accomplished the feat, which equals the record set last spring.
The record-breaking 3.25 cumulative GPA for the second straight semester was also made possible thanks to 115 student-athletes achieving their highest term GPA in the fall and 17 of 19 programs earning a cumulative GPA of 3.0 or higher.
Selection Criteria
Any student-athlete who participates in a Southeastern Conference championship sport or a student-athlete who participates in a sport listed on his/her institution's NCAA Sports Sponsorship Form is eligible for nomination to the Academic Honor Roll. The following criteria will be followed: (1) A student-athlete must have a grade point average of 3.00 or above for either the preceding academic year (two semesters or three quarters) or have a cumulative grade point average of 3.00 or above at the nominating institution. (2) If a student-athlete attends summer school, his/her grade point average during the summer academic term must be included in the calculation used to determine eligibility for the Academic Honor Roll. (3) Student-athletes eligible for the Honor Roll include those receiving an athletics scholarship, recipients of an athletics award (i.e., letter winner), and non-scholarship student-athletes who have been on a varsity team for two seasons. (4) Prior to being nominated, a student-athlete must have successfully completed 24 semester or 36 quarter hours of non-remedial academic credit toward a baccalaureate degree at the nominating institution. (5) The student-athlete must have been a member of a varsity team for the sport's entire NCAA Championship segment.
| STUDENT-ATHLETE | SPORT | MAJOR |
| --- | --- | --- |
| Graham Brown | M Cross Country | Business Marketing |
| Jack Bruce | M Cross Country | Business Finance |
| Austen Dalquist | M Cross Country | Business Management Organizational Leadership/Business Marketing |
| Alex George | M Cross Country | Criminal Justice/Sociology |
| Cameron Griffith | M Cross Country | Exercise Science |
| Ethan Moehn | M Cross Country | Public Health |
| Andrew Ronoh | M Cross Country | Public Health |
| Katherine Adams | W Cross Country | Kinesiology |
| Payton Brown | W Cross Country | Pre - Elementary Education |
| Sydney Brown | W Cross Country | Childhood Education |
| Devin Clark | W Cross Country | Kinesiology |
| Abbigail Gray | W Cross Country | Journalism |
| Therese Haiss | W Cross Country | Biochemistry |
| Dominique Hiltz | W Cross Country | Sociology |
| Micah Huckabee | W Cross Country | Kinesiology |
| Tess Iller | W Cross Country | Marketing |
| Emily Jeacock | W Cross Country | Public Health |
| Kristen Larkan | W Cross Country | History |
| Rachel Nichwitz | W Cross Country | Kinesiology |
| Madeline Reed | W Cross Country | Architectural Studies |
| Alex Ritchey | W Cross Country | Business |
| Kailee Sawyer | W Cross Country | Kinesiology |
| Kelsey Schrader | W Cross Country | Marketing |
| Grace Taylor | W Cross Country | Communication Disorders |
| Greta Taylor | W Cross Country | Communication Disorders |
| Carina Viljoen | W Cross Country | Business |
| Taylor Werner | W Cross Country | Kinesiology |
| Kirby Adcock | Football | Recreation and Sport Management |
| McTelvin Agim | Football | Recreation and Sport Management |
| Austin Allen | Football | Recreation and Sport Management |
| Kofi Boateng | Football | Exercise Science |
| Austin Capps | Football | Agricultural Business |
| Damani Carter | Football | Communication |
| Shane Clenin | Football | Undeclared |
| De'Andre Coley | Football | Communication |
| Jared Cornelius | Football | Recreation and Sport Management |
| Robert Decker | Football | Finance |
| Dwayne Eugene | Football | Management |
| Hjalte Froholdt | Football | Applied Exercise Science |
| Johnny Gibson | Football | Sociology |
| Grayson Gunter | Football | Recreation and Sport Management |
| Elias Hale | Football | Recreation and Sport Management |
| Jackson Hannah | Football | Applied Exercise Science |
| Dylan Hays | Football | Communication |
| Cole Hedlund | Football | Recreation and Sport Management |
| Jake Heinrich | Football | Criminal Justice |
| Colton Jackson | Football | Recreation and Sport Management |
| Hayden Johnson | Football | Biology |
| Byron Keaton | Football | Finance |
| Jack Kraus | Football | Marketing |
| Josh Liddell | Football | Recreation and Sport Management |
| Connor Limpert | Football | Recreation and Sport Management |
| Ryder Lucas | Football | Recreation and Sport Management |
| Terrance Malone | Football | Recreation and Sport Management |
| Connor McPherson | Football | Business Administration |
| Jalen Merrick | Football | Recreation and Sport Management |
| Reid Miller | Football | Supply Chain Management |
| Grant Morgan | Football | Exercise Science |
| Tyler Phillips | Football | Journalism |
| Carson Proctor | Football | Recreation and Sport Management |
| Frank Ragnow | Football | Recreation and Sport Management |
| Paul Ramirez-Diaz | Football | Communication |
| Jake Raulerson | Football | Business Administration |
| Karl Roesler | Football | Economics |
| Zachary Rogers | Football | Criminal Justice |
| Frederick T. Smith | Football | Finance |
| Cooper Sone | Football | History and Political Science |
| Ty Storey | Football | Physical Education P-12 |
| Michael Taylor, II | Football | Communication |
| Henre Toliver | Football | Recreation and Sport Management |
| Dalton Wagner | Football | Criminal Justice |
| River Warnock | Football | Recreation and Sport Management |
| Armon Watts | Football | Recreation and Sport Management |
| Maleek Williams | Football | Communication |
| Ellie Breden | W Soccer | Marketing |
| Tori Cannata | W Soccer | Kinesiology |
| Reece Christopherson | W Soccer | Kinesiology |
| Stefani Doyle | W Soccer | Business |
| Jordan Harris | W Soccer | Recreation and Sport Management |
| Jessica Hartzler | W Soccer | Kinesiology |
| Carly Hoke | W Soccer | Journalism |
| Katie Kienstra | W Soccer | Marketing |
| Kayla McKeon | W Soccer | Industrial Engineering |
| Hannah Neece | W Soccer | Biology |
| Elizabeth Poblete | W Soccer | Civil Engineering |
| Reid Sibley | W Soccer | Kinesiology |
| Fernanda Guitron | Volleyball | Kinesiology: Exercise Science |
| Krista Kolbinskie | Volleyball | Recreation and Sport Management |
| Kori Ortiz | Volleyball | Journalism: Advertising/ Public Relations |
| Rachel Rippee | Volleyball | Elementary Education |
| Reagan Robinson | Volleyball | Marketing |
| Pilar Victoria | Volleyball | Recreation and Sport Management |