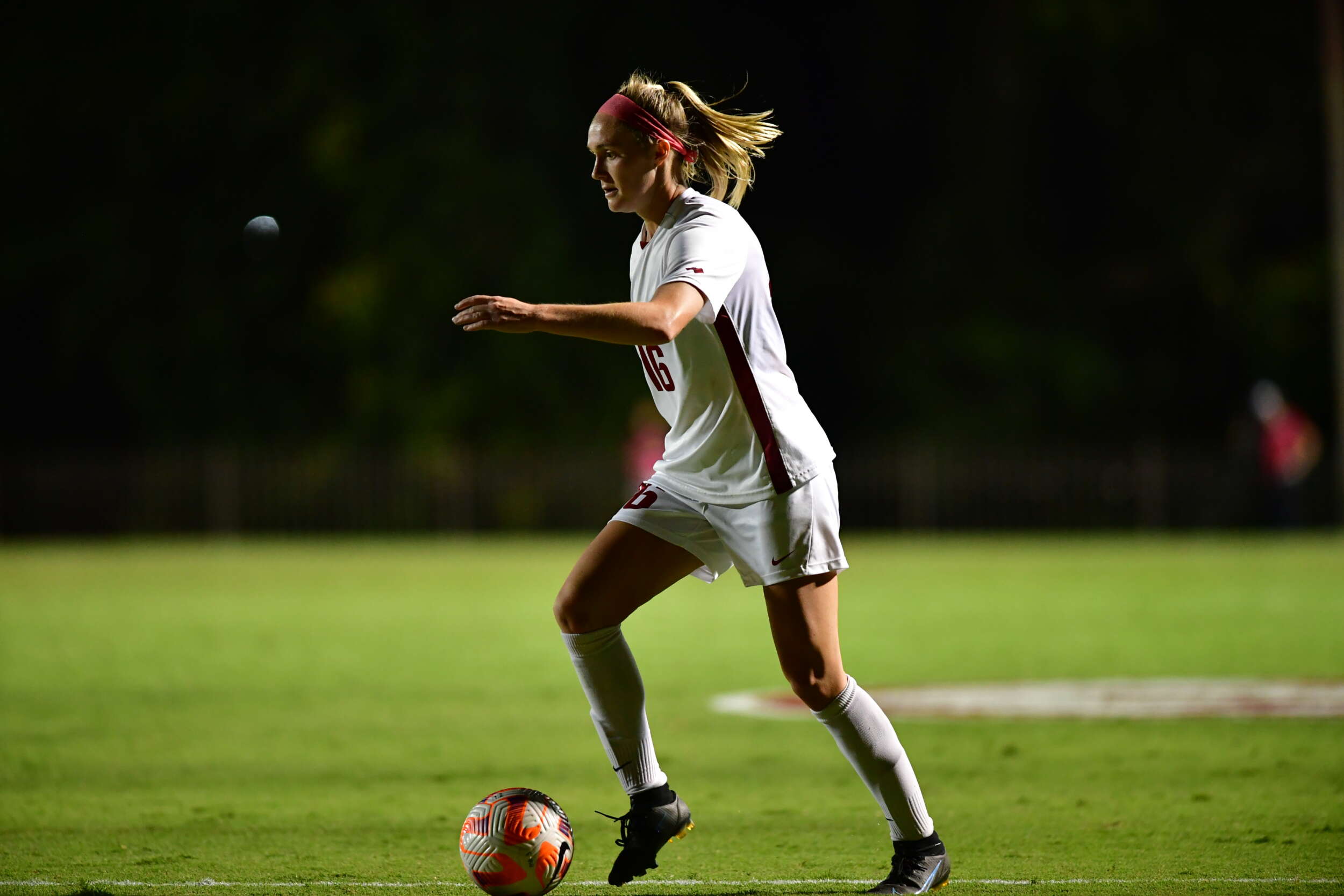 No. 12 Razorbacks Blank Texas A&M
FAYETTEVILLE, Ark. – Twelfth-ranked Arkansas (8-2-1, 3-1-0 SEC) earned its fifth straight win over Texas A&M (5-5-2, 0-4-0 SEC) after a late first half goal from senior forward Anna Podojil.
Podojil's tally, the 42nd of her career, puts her three away from becoming the program's all-time leading goal scorer.
First Half
The Aggies recorded the first shot of the match at the 3-minute mark. The shot, taken by defender Macy Matula, was one of four from Texas A&M the whole match. A. Podojil notched the Hogs' first shot 14 minutes later.
What started out as a throw-in from junior Ava Tankersley ended up as the Razorbacks' only goal of the night 18 seconds before the halftime buzzer. Tankersley took the throw by the near corner and found the head of midfielder Bea Franklin. Franklin directed the ball to the top of the 6-yard box where Podojil fired a left-footed shot that slipped past the Aggie goalkeeper and into the lower left corner of the frame.
"Obviously we wanted to get up early on them, which didn't happen," Podojil said. "We pride ourselves on set pieces and we've been working on that throw in play the entire season. I just worked on getting it on the second ball and was able to put it away in the corner."
Second Half
Though a scoreless half, Arkansas fired off 12 second-half shots and held the Aggies to just one.
Texas A&M's only shot on target of the match came in the 59th minute, courtesy of defender Mia Pante.
Arkansas outshot the Aggies 17-4 and Tankersley led the Hogs with four. Goalkeeper Grace Barbara notched her third straight clean sheet and added to her season total of six.
"Right now, we are grinding out 1-0 wins," Arkansas coach Colby Hale said. "I thought we were the better team defensively. We have to keep creating chances but overall we won and winning is hard."
Next Up
The Hogs will take Sunday off and return to action on Thursday, October 6 and face Florida (2-9-0, 0-4-0 SEC) in Gainesville. First kick is set for 5 p.m. CT and the match will be streamed on SEC Network Plus.
For more information on Arkansas Soccer, follow @RazorbackSoccer on Twitter.