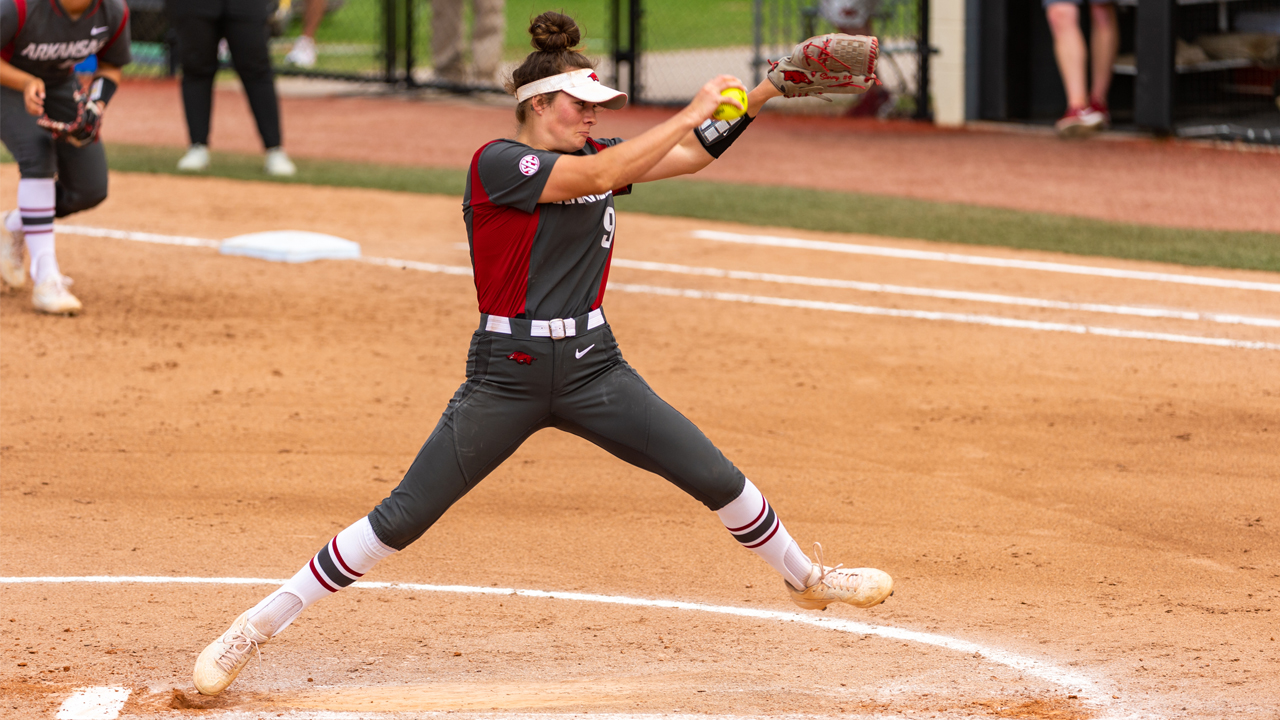 No. 24 Arkansas Softball Opens Season in New Mexico
FAYETTEVILLE – The University of Arkansas softball team begins its 2020 campaign with a five-game weekend at the Troy Cox Classic hosted by New Mexico State from Friday, Feb. 7 through Sunday, Feb. 9. The Razorbacks will take on UTEP, Nebraska and the host Aggies once and face Bradley two times.
Troy Cox Classic Weekend Schedule
Friday, Feb. 7 vs. UTEP – 10:30 a.m.
Friday, Feb. 7 vs. Bradley – 3 p.m.
Saturday, Feb. 8 vs. Bradley – 12:30 p.m.
Saturday, Feb. 8 at New Mexico State – 5:30 p.m.
Sunday, Feb. 9 vs. Nebraska – 10 a.m.
Razorbacks Receiving Recognition in Preseason Polls
The Razorbacks have been tabbed in the top 25 in five different national preseason polls.
Softball America: 17
FloSoftball: 17
USA Softball: 20
D1 Softball: 21
NFCA: 24
The team was predicted to finish seventh in the Southeastern Conference after a vote of the 13 head coaches in the league's preseason poll. Returning All-SEC selections, senior Autumn Storms and junior Hannah McEwen were also named to the 13th annual Southeastern Conference Preseason All-SEC Team last week.
Razorbacks Garner Individual Preseason Honors
Softball America listed senior Autumn Storms as one of the top 10 players in the SEC in their "2020 SEC Player Power Rankings." The Second Team All-American came in at No. 31 in SA's College Top 100 after earning a 1.63 ERA and 172 strikeouts last year. She also found herself on Softball America's Third-Team Preseason All-American list. Including Storms, the Razorbacks have four players ranked in SA's College Top 100, which is the second most for an SEC school be­hind Alabama. Pitcher Mary Haff (No. 45), power hitter Danielle Gibson (No. 61) and the 2019 SEC hits leader Hannah McEwen (No. 69) all made the top 70. In addition to her spot on the Preseason All-SEC team and SA's College Top 100, McEwen also found herself selected Second-Team Preseason All-American by D1Softball.com.
Returning All-SEC selections, Storms and McEwen, were named to the 13th annual Preseason All-SEC Team. McEwen was a first team selection last season and finished fifth in the conference in batting average (.386) and third in hits (73). Storms earned a second team nod and was fourth in ERA (1.63) and fifth in strikeouts (172) in the SEC.
#HogHits
Friday marks the start of the 24th season of Razorback softball. Overall, the program is 11-12 in season openers. Arkansas has never hosted a season-opener. Since the start of the Courtney Deifel era, Arkansas is 3-1 in season openers, dropping the 2016 opener to Texas (4-1). This is the first time the Hogs have opened the season in the state of New Mexico.
Arkansas features one of the most experienced pitching staffs in the country and returns all but three innings of 375.1 innings from a season ago (99.2%). The tandem of Storms and Mary Haff combined to throw 362 innings.
Last season, junior infielder Danielle Gibson hit just the second home run cycle in Division I history. She clubbed a solo home run, two-run home run, three-run home run and grand slam against SIUE on Feb. 23rd in a 15-3 win.
Under head coach Courtney Deifel, the Razorbacks have made three consecutive appearances in the NCAA Tournament for the first time in program history.
Series History
UTEP – The Razorbacks won the only prior meeting against the Miners, 5-0, 15 years ago on Feb. 21, 2004.
Bradley – Arkansas is 3-0 against Bradley but will be meeting for the first time outside of Fayetteville. The Razorbacks and Braves last met in 2014 with Arkansas pulling out a 9-1 victory.
New Mexico State – The Aggies have a slight 2-1 lead in the series which has not been played since 2005. NMSU was victorious 8-3 in the last meeting, while Arkansas claimed the first matchup in 1999, 6-2. Every game of the series has been played in Las Cruces.
Nebraska – After dropping the first two games of the series, Arkansas has won the last four games to hold a 4-2 series edge against the Cornhuskers. The two last met in 2017 and Arkansas earned a 2-0 win.
Visit ArkansasRazorbacks.com for the latest information on all things Arkansas Softball. You can also find the Hogs on social media by liking us on Facebook (Arkansas Razorback Softball) and following us on Twitter (@RazorbackSB) and Instagram (@Razorback_SB).