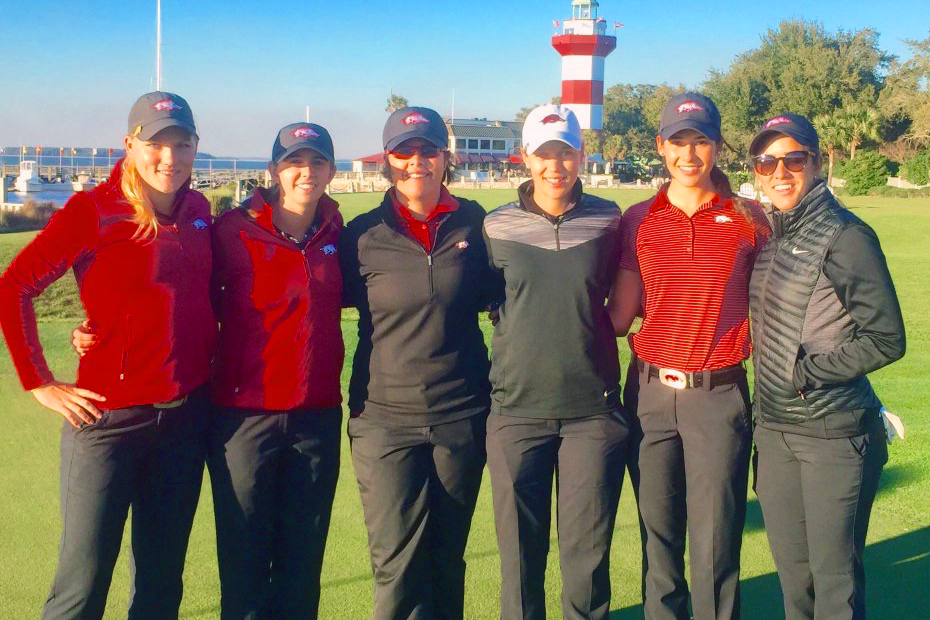 No. 4/7 Arkansas Hits The Links at LSU
FAYETTEVILLE, Ark. – The fourth-ranked University of Arkansas women's golf team returns to the links this week at the LSU Tiger Golf Classic hosted by LSU at the University Club in Baton Rouge, Louisiana.
The three-day event opens with a practice round Saturday followed by three days of stroke play Sunday-Tuesday, March 20-22. Arkansas is making the program's 11th appearance at the Tiger-hosted event but has not competed in Baton Rouge since the 2014 season.
What: LSU Tiger Golf Classic
When: March 20-22 | All Day
Where: Baton Rouge, La. | University Club | Par 72, 6,247 Yards
Format: 54 holes (18 holes each day)
Live Scoring: http://www.golfstat.com
2016 Field (Golfstat/Golfweek): No. 4/7 Arkansas, No. 56/57 Auburn, No. 71/77 Denver, No. 3/2 Duke, No. 25/37 Houston, No. 82/67 Kentucky, No. 50/50 LSU, No. 61/62 Mississippi State, No. 41/36 North Carolina, No. 33/31 NC State, No. 29/27 Notre Dame, No. 52/54 Oklahoma, No. 110/104 Ole Miss, No. 18/18 Tennessee, No. 45/47 Tulane, No. 74/79 UNC-Wilmington, No. 58/53 Wake Forest
Arkansas has three wins at the event in 2011, 2013 and 2014. The 2014 event was hampered by bad weather but the Razorbacks managed an eight-stroke win behind the medalist performance of All-American and current LPGA professional Gabriela Lopez. Lopez posted a three-under 213 to win the event.
Current Razorbacks Summar Roachell and Regina Plasencia also played the course that season and are familiar with the site.
It will be up to Roachell and Plasencia along with freshmen Maria Fassi and Cara Gorlei, and sophomore Alana Uriell to bring home the hardware this year.
Fassi joined the Razorbacks in January after graduating from high school in Mexico a semester early. In her first two events she has a win (in Puerto Rico) and a tie for ninth-place (Darius Rucker) under her belt with a 71.00 stroke average on the year.
Plasencia checks in with a 73.00 stroke average and is ranked 19th in the SEC this season, followed by Uriell with a 73.44 stroke average and Roachell with a 73.61 average. Gorlei rounds out the Razorback lineup with a75.20 average in her first season of college golf.
The season speeds up for the Razorbacks with just one regular season event remaining. Arkansas travels to the Liz Murphey Collegiate Classic April 1-3, in Athens, Georgia, before beginning postseason play at the SEC Championship April 15-17, in Birmingham, Alabama.