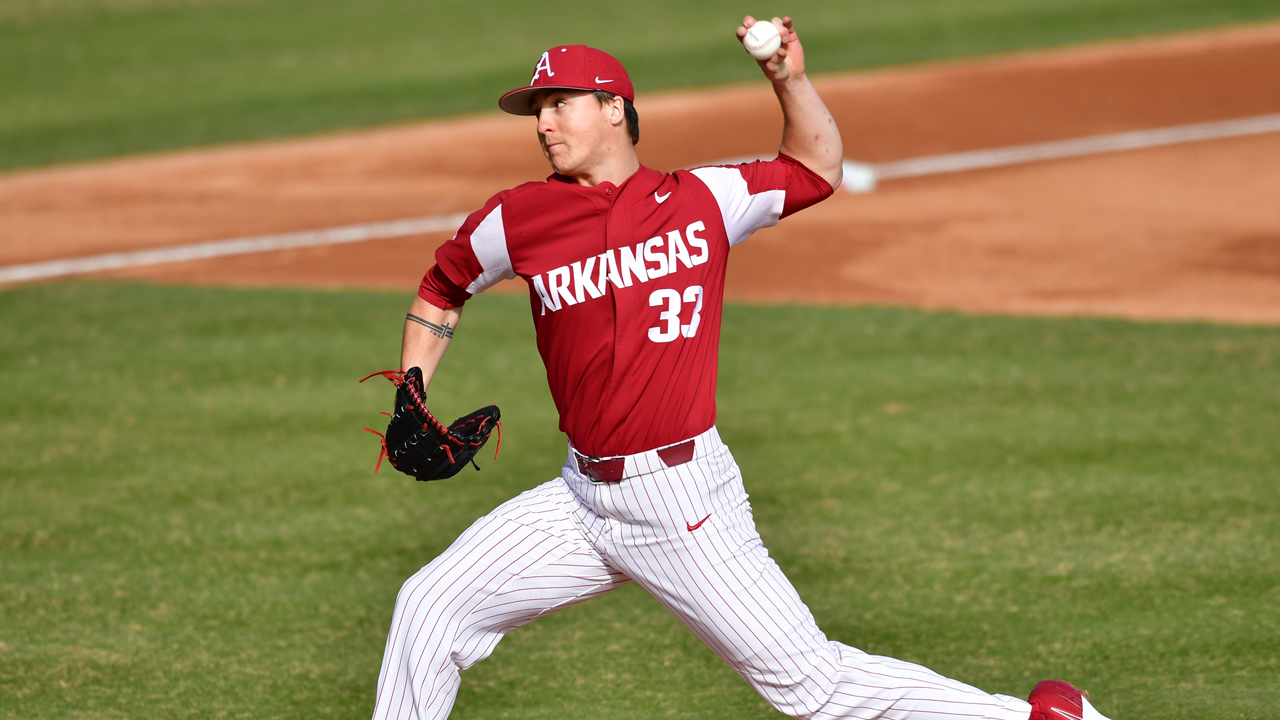 No. 7 Razorbacks Blank Gonzaga, 5-0
FAYETTEVILLE, Ark. – The No. 7 Arkansas baseball team posted its first shutout of the season, picking up a 5-0 victory over Gonzaga on Saturday afternoon at Baum-Walker Stadium.
The Razorbacks (6-0) scored two runs in both the fifth and sixth innings to pull away from the Bulldogs (2-5). Arkansas notched five runs on nine hits, while Gonzaga was held to just two knocks, both singles, three walks and a hit batter. Last year, Arkansas totaled five shutout wins, earning the first on March 10 against Louisiana Tech.
Sophomore left-handed pitcher Patrick Wicklander made his second Saturday start of the year and enforced his will over his 6.0 innings on the mound. He allowed just one hit and one walk, striking out seven to improve to 2-0 on the year. Lefty Caden Monke and RHPs Kevin Kopps and Elijah Trest tossed the final three frames, giving up just one hit and two walks, while striking out three.
Wicklander retired the first five batters he faced, then after a mound visit from pitching coach Matt Hobbs following a walk and a hit-by-pitch in the second inning, Wicklander proceeded to retire the next eight batters. He wouldn't give up his first and only hit until the fifth inning on a single up the middle, but with two away, catcher Casey Opitz gunned him down trying to steal second and end the frame.
Freshman infielder Robert Moore recorded his second consecutive multi-hit performance at the plate, tallying three on Saturday against the Zags. He had a homer and two singles, driving in three runs and scoring twice, with a walk and a handful of defensive gems at second base to go with it. Moore has produced two or more RBIs in each of the last three games.
The Hogs struck first in the second inning, thanks to an RBI single from Moore for a 1-0 lead. Christian Franklin got things rolling with a two-out double to the corner of the left field fence, then was brought in by Moore's single to center field.
Two more came across in the fifth inning for the Razorbacks, pushing the advantage to 3-0. With Moore standing on second after a single & a sacrifice bunt, Zack Gregory put an infield single behind second base, forcing an errant throw to first, which allowed him to move up to second and Moore to score for the first run of the frame. Shortly after, Heston Kjerstad roped a double down the left field line to drive in Gregory and make it 3-0. It was Gregory's first start of the season, playing in left field as he put together a two-hit day at the plate.
In the sixth, Moore lifted a two-run homer into the home bullpen to push the lead to 5-0. Franklin reached on a fielding error by the second baseman, then stole second before Moore sent him around the bases on his first collegiate home run. Arkansas now has nine home runs on the year.
The Hogs and Bulldogs wrap the four-game series on Sunday, Feb. 23, at 1 p.m., at Baum-Walker Stadium.
For more information on Arkansas Baseball, follow @RazorbackBSB on Twitter.