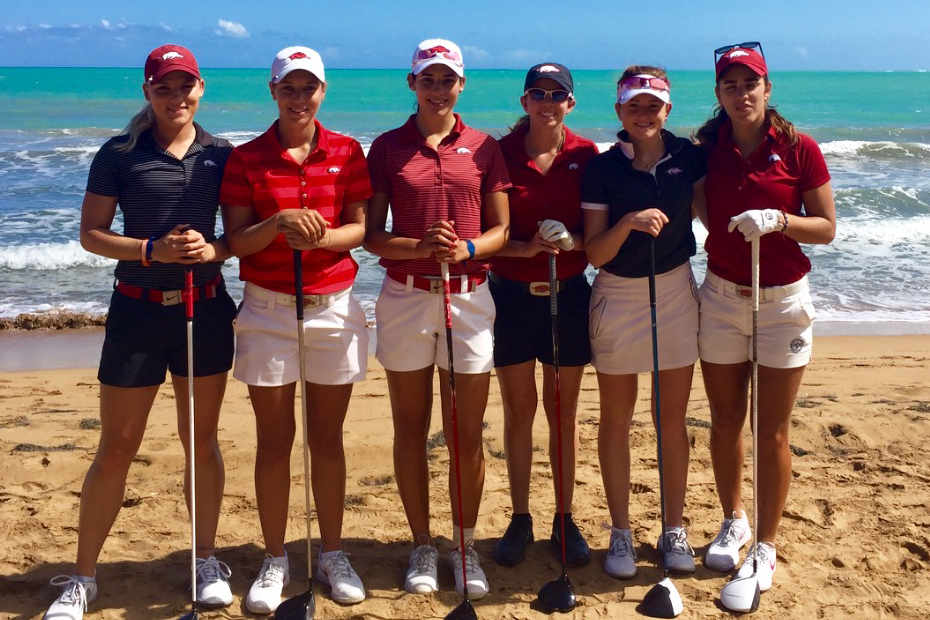 No. 8 Razorbacks Open Spring in Puerto Rico
Live Scoring
RIO GRANDE, Puerto Rico – The eighth-ranked University of Arkansas women's golf team returns to the links this weekend opening the spring half of the season at the Lady Puerto Rico Classic in Rio Grande, Puerto Rico, Feb. 14-16.
INSIDE THE ROPES
What: Lady Puerto Rico Classic
When: Feb. 14-16, 2016
Where: River Course at Rio Del Mar Country Club
Hosted by: Purdue University
Arkansas Lineup: Summar Roachell, Regina Plasencia, Cara Gorlei, Alana Uriell, Maria Fassi
Individual: Jordy LaBarbera
Teams (Golfweek/Golfstat rankings): No. 8/4 Arkansas, No. 61/57 Auburn, No. 49/53 Augusta University, No. 28/27 Clemson, No. 5/8 Georgia, No. 70/66 Indiana, No. 18/16 Iowa State, No. 9/7 Kent State, No. 29/32 Louisville, No. 117/125 Maryland, No. 40/41 Michigan, No. 27/30 North Carolina State, No. 6/5 Northwestern, No. 19/24 Purdue, No. 45/49 TCU, No. 25/26 Texas Tech
Scoring: BirdieFire.com
Arkansas at the event: Sixth appearance…The Razorbacks have won back-to-back events in 2014 and 2015 and have never finished lower than a tie for fifth
Senior Gabriela Lopez finished sixth at the LPGA's Qualifying School and turned pro in December leaving a pair of large golf shoes to fill for Arkansas in the spring. Head coach Shauna Estes-Taylor did just that bringing in freshman Maria Fassi a semester early. Fassi is a two-time Mexican Amateur Champion and the hope is that she can fill in some of the scoring gap left by the loss of Lopez.
Junior Summar Roachell has stepped up her game winning the team's qualifying tournament last week. The Conway, Ark., native posted a 73.0 stroke average playing all 12 rounds in the fall.
Senior Regina Plasencia is the team's leading returner with a 71.92 stroke average in 12 events. Plasencia has made the cut in every tournament since becoming a Razorback. Sophomore Alana Uriell matches Roachell with a 73.0 stroke average and has been a solid scorer while freshman Cara Gorlei has nine rounds under her belt as a Razorback with a 74.78 stroke average this year.
The Razorbacks played well in the four-event fall, winning one tournament and finishing in the top-3 in all the rest. Arkansas opened the year with a victory at the Powerade Cougar Classic before a third-place showing at the ANNIKA Intercollegiate, one of the nation's toughest, invitation-only events. Arkansas posted runner-up finishes at the Ruth's Chris Tar Heel Invitational and the Alamo Invite.
SPRING SCHEDULE
Feb. 14-16 Lady Puerto Rico Invitational
March 4-6 Darius Rucker Intercollegiate
March 20-22 LSU Tiger Classic
April 1-3 Liz Murphey Collegiate Classic
April 15-17 SEC Championship
May 5-7 NCAA Regional Championship
May 20-25 NCAA Championship
For more information on Arkansas women's golf, follow @RazorbackWGolf on Twitter.