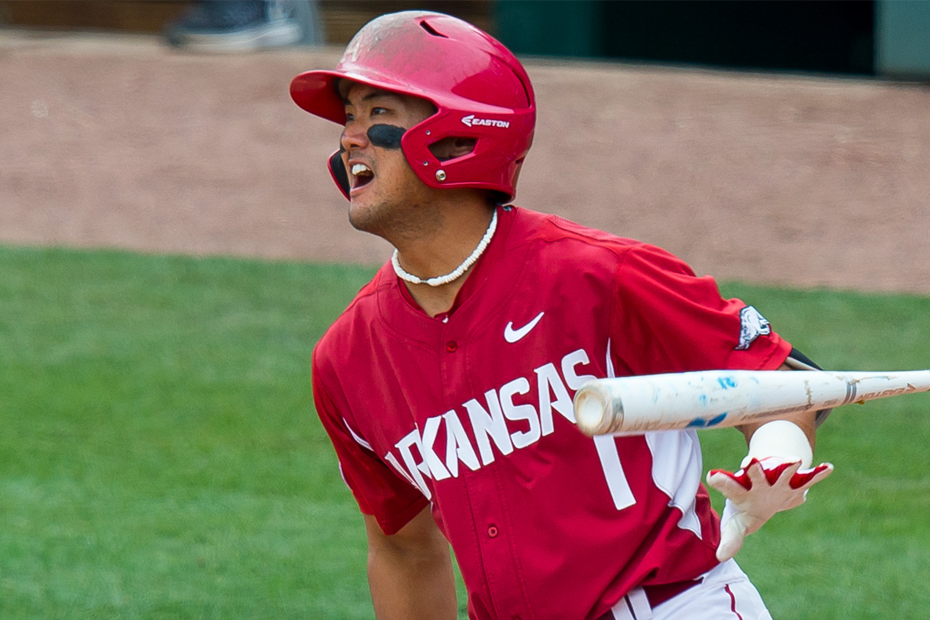 Nomura Hits Late Homer, But Hogs Fall In Ninth
Box Score (PDF) | Photo Gallery
FAYETTEVILLE, Ark. – Senior Rick Nomura almost had a senior weekend to remember when he hit a go-ahead two-run home run in the eighth inning against Alabama. The Hogs were one strike away from clinching the victory in the ninth before the Crimson Tide plated four runs en route to handing Arkansas a 7-4 loss at Baum Stadium.
Arkansas (26-25, 7-20 SEC) battled Alabama (30-21, 15-12) in what had turned into a pitching duel all afternoon. Both teams scratched across two runs in the first three innings, but then put up zeroes from the fourth through seventh innings.
Nomura's home run, which was his fourth of the year, came after the Crimson Tide brought in their closer Thomas Burrows (2-0), who registered a save earlier in the series. After Cullen Gassaway reached on an error, Nomura corked the first pitch he saw with two outs into the Hog Pen in left field, giving Arkansas the 4-3 lead.
Razorback pitcher James Teague (3-4), who was brought in to pitch in the eighth, nearly finished it out in the ninth, but gave up a pair of two-out singles after walking a batter to load the bases.
Freshman starting pitcher Blaine Knight pitched well for 4 2/3 innings, allowing just two earned runs on four hits with four strikeouts. Alabama, which came in with six home runs through the first two games of the series, hit another in the first off Knight, giving it seven home runs in three games. Knight was able to settle down afterward, allowing just three hits during the rest of his outing.
Gassaway picked up his second-straight multi-hit game, going 2-for-3 with one run scored and one walk. Freshman Grant Koch had a double down the left field line back in the second inning to help Arkansas score its first two runs of the game. The double capped a 3-for-8 weekend (.375) with all three of his hits being doubles.
RAZORBACK QUOTABLES
"That's just how the game goes. It's a tough game, and that's probably why we like it so much. It's tough on us and we're all grinders and we all want that reward and successful feeling." – Rick Nomura
"It's tough. We're going to keep grinding and we're not going to give up. As Razorbacks we do not give up. We're going to keep going and try to go out with a bang. Just make the school proud." – Rick Nomura
UP NEXT
Arkansas will play its final home game of the 2016 season Tuesday night when it hosts Missouri State at Baum Stadium. The game will be the second of two midweek contests between the two teams this year. First pitch is scheduled for 6:35 p.m. and will be broadcast on SEC Network+.
For more information on Razorback Baseball, follow @RazorbackBSB on Twitter.