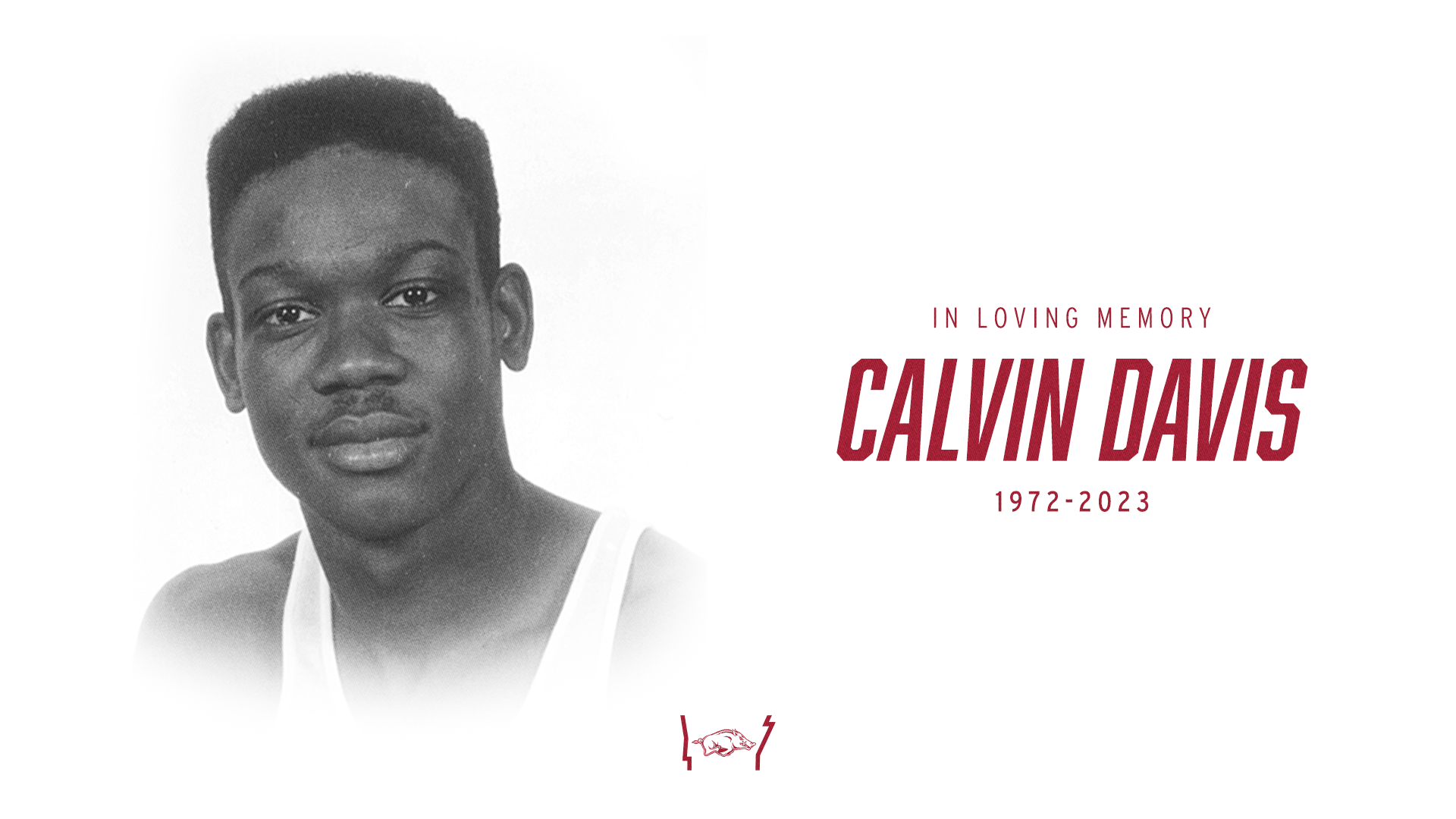 Olympic medalist, Razorback multiple NCAA champion Calvin Davis passes
Calvin Davis, an Arkansas alum and Olympic bronze medalist, passed away on May 1.
As a member of Razorback track and field national and conference championship teams coached by legendary John McDonnell, Davis was part of four SEC and four NCAA team titles in a two-year span, from 1993 to 1994.
Switching to the 400m hurdles after competing in the 400m during his collegiate career, Davis excelled in the event, producing a career best of 47.91 seconds and earning a bronze medal at the 1996 Olympic Games in Atlanta.
The 47.91 by Davis, which ranked as the No. 7 American all-time, came in the semifinal of the 1996 Olympics. In the final he posted a 47.96 to finish behind American Derrick Adkins (47.54) and Samuel Matete of Zambia (47.78).
During the 1996 Olympics Trials, also held in Atlanta, Davis made the Olympic team by finishing third in the 400m hurdles final in 48.32, which ranked him as the No. 11 American all-time in only his seventh race ever in the event.
An international gold medal for Davis came as a member of the United States 4 x 400m relay during the 1995 World Indoor Championships held in Barcelona, Spain. Davis (46.1) ran second leg as the USA clocked 3:07.37 for the victory. In the 400m final, Davis finished sixth.
Davis, born April 2, 1972, in Eutaw, Alabama, competed in the 400m during his Razorback career and currently ranks No. 4 on the UA all-time outdoor list with his career best of 45.04. That time claimed the 1993 NCAA 400m title in Baton Rouge during a photo-finish versus Iowa's Anthuan Maybank (45.04) with Derek Mills of Georgia Tech (45.21) in third.
A three-time NCAA champion, Davis earned six All-America honors, twice outdoors and four times indoors. Prior to attending the University of Arkansas, Davis won the 1992 NJCAA 400m title in 45.85 while at Wallace State.
Indoors, Davis won the 1994 NCAA 400m title in Indianapolis in 46.18 over Chris Jones of Rice (46.37) and UTEP's Milton Mallard (46.37) as well as the Baylor tandem of Deon Minor (46.66) and Tony Miller (46.67).
In the 1993 NCAA Indoor 400m final, Davis finished runner-up in 46.16 behind Clemson's Wesley Russell (45.92) while Georgia Tech's Derek Mills (46.20) finished third.
Davis also won consecutive SEC Indoor titles at 400m in 1993 and 1994.
The third NCAA title Davis claimed came indoors as a member of the Razorback distance medley, which won the 1994 title in 9:30.07, the fastest in world history at the time and now ranks eighth on the UA all-time indoor list. The previous collegiate record in the event was 9:33.72 by Michigan during the 1994 season.
Members of the Arkansas national championship distance medley relay, which was contested in the order of 800-400-1200-1600 included Niall Bruton (1:51.3), Davis (45.7), Brian Baker (2:56.8), and Graham Hood (3:56.3). Finishing behind the Razorbacks were Seton Hall (9:38.97) and Michigan (9:41.15).
The 1994 Arkansas squad generated six wins overall in winning an 11th consecutive NCAA Indoor team title under Coach McDonnell with an astounding tally of 94 points, finishing 54 points ahead of Tennessee (40).
Previously, six schools had claimed four victories on the way to an indoor team title. They included Villanova (1968 & 69), UTEP (1975, '81 & '82), and SMU (1981).