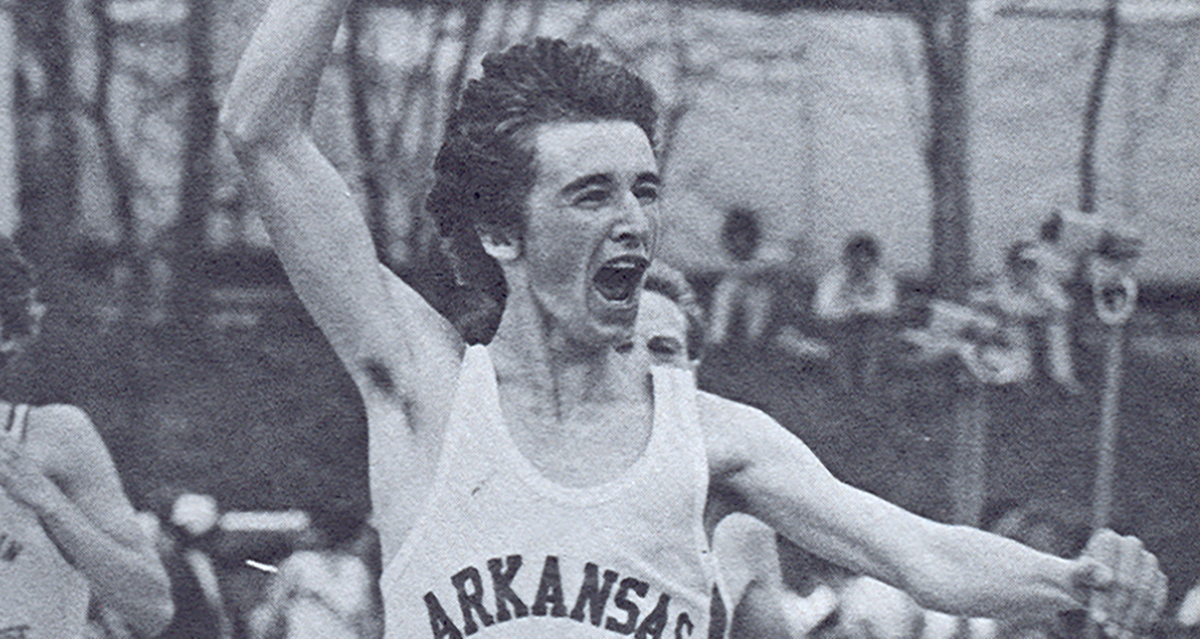 On This Day: Arkansas Claims First Titles in 1983 Penn Relays
The April 29-30 weekend in 1983 signaled the start of Arkansas' winning legacy at the Penn Relays Carnival when Frank O'Mara, named the men's outstanding track athlete of the meet, anchored the Razorbacks to a pair of victories in the distance medley and 4×1,500 relays.
The Hogs also added a title in the sprint medley off a strong anchor run by Stanley Redwine. The trio of relay wins for Arkansas meant Villanova, favored in four relay events, went home empty handed. It was the first time in 29 years, since 1954, that Villanova failed to win at least one event in the Penn Relays.
The Razorbacks had come close to knocking off Villanova a couple years previous, and Arkansas coach John McDonnell indicated his squad needed to learn how to adjust for the nuances of the Penn Relays.
"The first time we came in here, our guys did not understand the Penn Relays," McDonnell said. "They were really upset about the bullpen here. They were sort of shuffled around. They're not very experienced at this. Then last year, we came back without two sub-4-minute milers. We've always come here a little bit short.
"I told the press before we left Arkansas, 'If we don't win this year, we're never going to win at Penn.' "
The three relay victories in 1983 blossomed into 43 relay titles for the Razorbacks over a span of 23 visits to Franklin Field from 1983 to 2009. Arkansas captured four relay titles in 1985 and had a trio of relay victories on two more occasions, in 1999 and 2004.
Following are a pair of excerpts from articles by Ron Reid in the Philadelphia Inquirer.
Arkansas destroys Villanova in medley
What may have been the most competitive distance medley ever run in the Penn Relays proved a disappointing double irony for the Villanova Wildcats in the Carnival's 89th running at Franklin Field.
For the second year in a row, the Wildcats lost the event they had won every year from 1966 to 1981, struggling wearily to sixth place in the pedestrian time of 9:34.71.
They were done in on this occasion by a University of Arkansas team not only bent on revenge but also armed with a pair of runners from Ireland, which used to produce champions for Villanova.
But revenge alone was probably enough for the Razorbacks foursome of Paul Donovan, Ed Williams, Stanley Redwine and Frank O'Mara, who won the race by 12 yards in an impressive time of 9:25.75.
It was more than enough for O'Mara, the lithe, lean anchorman from Limerick, Ireland, who was spurred by the bitter memory of his performance here two years ago. On that occasion, he got the baton with a 25-yard lead and was soundly beaten to the tape under the withering pace of Villanova's Sydney Maree.
In yesterday's race – a great day for the Irish irrespective of provincial loyalties – O'Mara was matched up against Villanova's Marcus O'Sullivan, another lad from the Emerald Isle. Going into the final lap, no fewer than five other team were also in contention for victory.
But as O'Mara later explained: "I had intensity of motivation today. I've had two years to remember what happened here, and I knew that once I got the lead, I wouldn't be caught again."
Indeed. O'Mara shot into the lead shortly after he moved into the final turn, a few ticks before all the strength went out of O'Sullivan. O'Mara was timed in 3:59.0 for his 1,600-meter leg, while Wildcats ace faded, finished with a 4:05.6 split and then took so much blame for the result.
Maintaining that he felt fine up to the final 300 yards, O'Sullivan said, "I was hoping to win. Even though we were beaten last year, we were more or less the defending champion. … It was all on me."
But he might have heeded Redwine, who said, "I wanted to win bad. On my leg, I had the baton even with John Marshall. I expected him to kick but he didn't, and I gave the baton to our anchor in first place."
The distance medley, Arkansas' first triumph in a Championship of America race, may have been the most dramatic event witnessed yesterday by the crowd of 13,075.
Arkansas dominates on final day
For the Arkansas Razorbacks, who had never won any kind of title at the Penn Relays Carnival, yesterday's 89th running of the annual track and field extravaganza was hog heaven.
Arkansas, led by its cast of Irish imports, stole most of the collegiate thunder by adding the 6,000-meter and sprint medley relays titles to the distance medley crown it had won Friday. The Razorbacks also took the pole vault as Mike Klee soared 17 feet, 6 ½ inches.
On the track, Arkansas twice fought off challenges by Villanova, which had won 80 Penn Relays championship events since 1954 but seemed snake-bitten through every step of competition this year.
In the 6,000-meter relay, Villanova tried a juggled lineup with freshman miler Marcus O'Sullivan running the third leg rather than his customary anchor. But the strategy failed to give John Keyworth, the Wildcats' anchorman, a lead sufficient to hold off the Razorbacks' Frank O'Mara, who was voted men's outstanding track athlete of the meet.
Instead, O'Mara got the baton with a 10-yead lead, and they could have called the race off right there, even though Keyworth made a valiant effort to catch up. Running his 1,500-meter leg in 3:51.1, O'Mara powered his team to the tape 20 meters in front of the Wildcat, in a time of 15:15.73.
"There was a bit more anxiety yesterday," O'Mara said after the race. "Today's race was easier. They ran their best guy on the third leg – I guess they thought they could take it away from us then. They couldn't."
In the sprint medley relay, Villanova's Carlton Young ran a 45.7 opening leg for a seven-yard lead that eventually wilted under the Razobacks' sustained assault.
That power was epitomized by Stanley Redwine, the Arkansas anchorman, who turned in a phenomenal 1:46 split for his closing 800-meter leg. Redwine thus got even with Villanova's John Marshall, who had beaten him in the NCAA Indoor meet, by out-sprinting the Wildcat soph (who ran 1:47.8) to the tape.
Arkansas was timed in 3:15.22. Villanova finished with a 3:15.89 mark. And to make it all the more galling, the Razorbacks' foursome of Ed Williams, Mike Conley, Wallace Spearmon and Redwine had entertained the idea of skipping the event.
"At first we weren't going to run it," said Spearmon, "because the coach wanted to concentrated on the two-mile relay. But after Stanley started running so well yesterday, coach decided we'd run it."
Arkansas coach John McDonnell, who hails from Ireland, as do O'Mara and four other members of his team, disdained the apparent superiority of Arkansas over Villanova.
"I tell you," he said, "we might as well enjoy it while it happens, because Villanova has been the best for a very long time. For years, Villanova dominated this meet, but no one can dominate forever. I'm sure they'll be back."
Distance Medley Relay
Following are relay orders and splits for Arkansas victories at the Penn Relays.
| | | | | | |
| --- | --- | --- | --- | --- | --- |
| 1983 | 9:25.76 | Paul Donovan 2:51.8 | Ed Williams 46.6 | Stanley Redwine 1:48.4 | Frank O'Mara 3:59.0 |
| 1984 | 9:26.57 | Gary Taylor 2:54.4 | Bill Dupont 47.4 | Ed Williams 1:48.1 | Paul Donovan 3:56.7 |
| 1985 | 9:28.2 | Doug Consiglio 2:56.2 | Roddie Haley 44.2 | Gary Taylor 1:51.0 | Paul Donovan 3:56.8 |
| 1986 | 9:22.6 | Gary Taylor 2:51.2 | Roddie Haley 43.5 | Espen Borge 1:48.9 | Doug Consiglio 3:59.0 |
| 1988 | 9:29.4 | Matt Taylor 2:54.7 | John Register 46.6 | Lorenzo Brown 1:48.5 | Joe Falcon 3:59.6 |
| 1989 | 9:20.10 | Reuben Reina 2:53.9 | Charles Williams 46.4 | Robert Bradley 1:46.0 | Joe Falcon 3:53.8 |
| 1991 | 9:22.24 | Johan Boakes 2:51.9 | Jimmy French 46.0 | Graham Hood 1:49.3 | Eric Henry 3:55.0 |
| 1992 | 9:26.62 | John Schiefer 2:55.2 | Scott Coleman 46.7 | Graham Hood 1:46.1 | Niall Bruton 3:58.6 |
| 1993 | 9:31.17 | Mike Morin 2:52.5 | Calvin Davis 45.8 | Marlon Boykins 1:51.6 | Niall Bruton 4:01.3 |
| 1994 | 9:28.07 | Brian Baker 2:53.8 | Calvin Davis 44.9 | Graham Hood 1:46.8 | Niall Bruton 4:02.6 |
| 1995 | 9:23.42 | Mike Morin 2:53.1 | Derrick Thompson 46.5 | Brandon Rock 1:48.2 | Graham Hood 3:55.6 |
| 1997 | 9:30.01 | David Levy 2:57.6 | Jonathan Leon 45.7 | Phil Price 1:49.7 | Seneca Lassiter 3:57.0 |
| 1999 | 9:32.81 | Michael Power 2:54.7 | Ryan Stanley 46.2 | James Karanu 1:49.4 | Seneca Lassiter 4:02.5 |
| 2002 | 9:31.21 | Dan Lincoln 2:52.3 | Robbie Stevens 47.2 | Chris Mulvaney 1:51.2 | Alistair Cragg 4:00.5 |
| 2004 | 9:33.74 | Sam Vasquez 2:59.8 | Terry Gatson 45.9 | Said Ahmed 1:48.0 | Alistair Cragg 4:00.0 |
4×1500 Relay
Following are relay orders and splits for Arkansas victories at the Penn Relays.
| | | | | | |
| --- | --- | --- | --- | --- | --- |
| 1983 | 15:15.73 | Tony Leonard 3:51.5 | Tom Moloney 3:44.6 | Paul Donovan 3:47.8 | Frank O'Mara 3:51.1 |
| 1985 | 14:50.2 | Keith Iovine 3:48.8 | Gary Taylor 3:38.6 | David Swain 3:41.6 | Paul Donovan 3:41.2 |
| 1986 | 14:55.31 | Keith Iovine 3:49.3 | Gary Taylor 3:35.5 | Espen Borge 3:45.7 | Doug Consiglio 3:44.8 |
| 1987 | 15:07.3 | Reuben Reina 3:49.4 | Joe Falcon 3:44.5 | Matt Taylor 3:47.6 | Gary Taylor 3:45.8 |
| 1988 | 14:57.87 | Eric Henry 3:47.4 | Reuben Reina 3:48.0 | Matt Taylor 3:43.5 | Joe Falcon 3:39.9 |
| 1989 | 15:16.25 | Dan Gabor 3:49.4 | Eric Henry 3:43.7 | Reuben Reina 3:47.6 | Joe Falcon 3:55.6 |
| 1990 | 14:54.84 | Gilbert Contreras 3:47.1 | Eric Henry 3:42.3 | Johan Boakes 3:41.9 | Reuben Reina 3:43.5 |
| 1992 | 15:01.62 | Gilbert Contreras 3:45.7 | John Schiefer 3:43.4 | Niall Bruton 3:46.9 | Graham Hood 3:45.6 |
| 1994 | 14:52.81 | Jason Bunston 3:47.6 | Brian Baker 3:41.8 | Niall Bruton 3:43.2 | Graham Hood 3:40.2 |
| 1995 | 15:05.38 | Ryan Wilson 3:47.9 | Michael Morin 3:46.1 | Jason Bunston 3:46.6 | Graham Hood 3:43.8 |
| 1996 | 15:13.85 | Phil Price 3:50.6 | Jason Bunston 3:50.7 | Seneca Lassiter 3:45.2 | Ryan Wilson 3:47.4 |
| 1997 | 15:02.08 | Michael Power 3:45.4 | Ryan Wilson 3:42.1 | Phil Price 3:50.1 | Seneca Lassiter 3:44.5 |