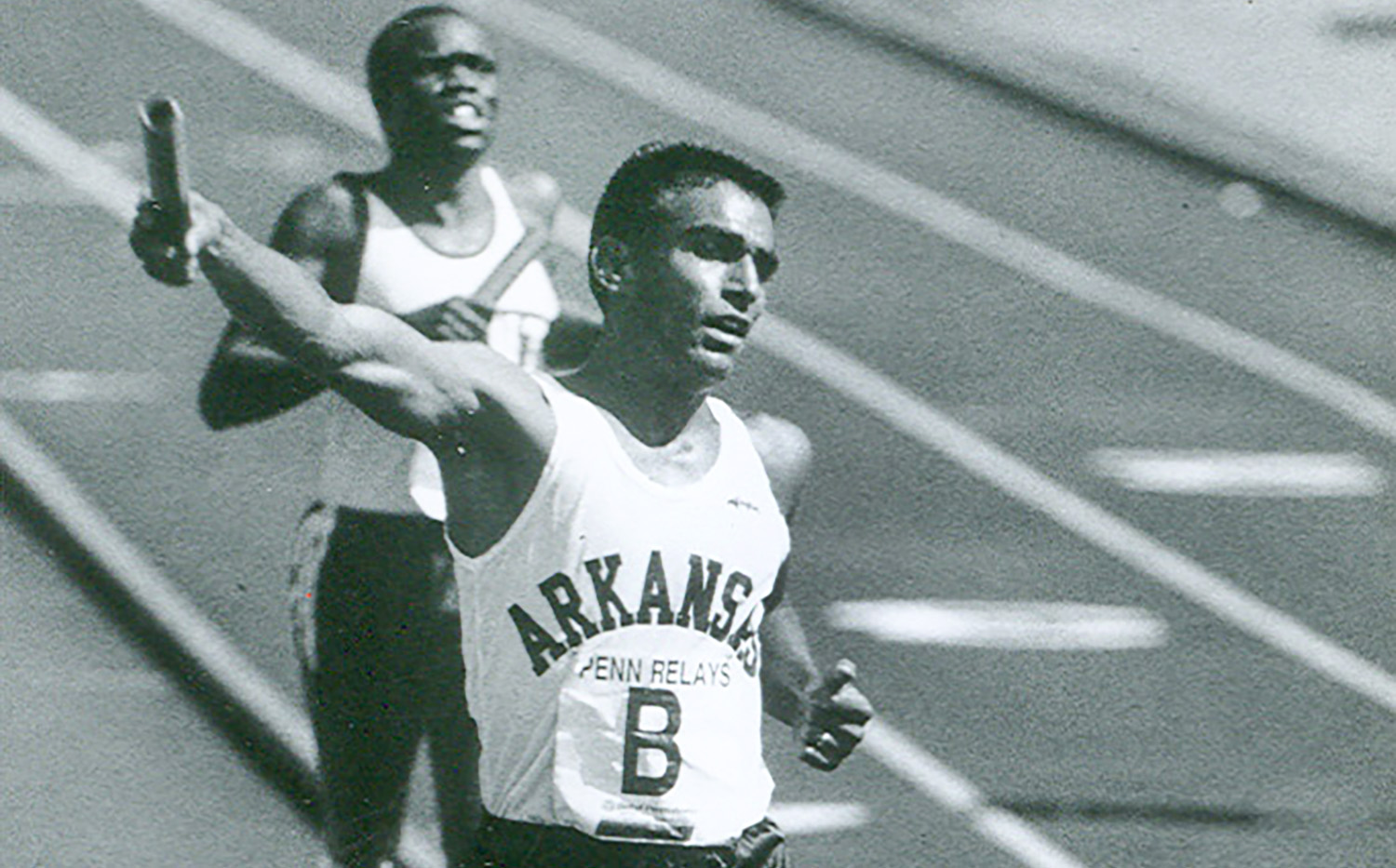 On This Day: Razorbacks Deliver World, American and Collegiate Records in Distance Medley
Facing a stern test in the distance medley relay at the 1989 Penn Relays, the Razorbacks weren't expected to defend their title in the distance medley relay. The favorites, according the newspaper previews, were the four international Olympians competing for Mount St. Mary's.
Arkansas won the race, though, establishing multiple records with a stellar performance of 9:20.10. The Razorbacks toppled the previous World, American and collegiate records of 9:20.96 set by Georgetown in the 1987 Penn Relays.
The performance by the Hogs remains the collegiate and Penn Relays record, unchallenged for 30-plus seasons.
As noted by Frank Litsky in the New York Times, the news of those predictions became motivation for Arkansas prior to their race on April 28.
Quicker Psychology Aids Arkansas Relay Victory
John McDonnell, the Arkansas track coach, is a psychologist at heart. As he said, "You use anything you can."
Today, an hour before the men's distance medley at the 95th annual Penn Relays, the four Arkansas runners were about to leave their hotel when McDonnell stopped them. He read a story from a local newspaper that said Mount St. Mary's should win the race in record time and Arkansas would be far behind.
"That really hacked us off," said Joe Falcon, the Arkansas anchor runner. "You don't say that about an Arkansas program. It was a motivating factor for me."
Falcon ran the anchor leg in the equivalent of a 3-minute-55.1-second mile, and Arkansas won by 9 meters over Mount St. Mary's in 9:20.10, the fastest time in history. The previous best was 9:20.96 by Georgetown here in 1987.
Arkansas won the race for the second straight year and the sixth time in seven years.
Mount St. Mary's, a tiny college in Emmitsburg, Md., ran with four Olympians from Africa: Peter Rono, a gold medalist from Kenya; Dave Lishebo of Zambia, and the twins Charles and Kip Cheruiyot of Kenya.
Arkansas had no Olympians, but for three laps Arkansas, Mount St. Mary's and Villanova alternated in the lead.
"If I got the stick ahead," said Falcon, "I was going to run hard for one lap and see if the rest of them would come after me. Then I was going to relax and let someone else do the work, and Kip Cheruiyot did that. I planned to go in the last 200, and I did."
With 200 meters remaining on Franklin Field's 400-meter track, Falcon shot by Cheruiyot and finished his 1,600-meter leg in 3:53.8. Cheruiyot's leg was 3:53.0, the fastest ever here. The first three legs for Arkansas were run by Rueben Reina (2:53.9), Charles Williams (46.4) and Robert Bradley (1:46.0), all with their fastest times ever.
An article by Joe Juliano in the Philadelphia Inquirer focused on the Razorback line-up that day.
Arkansas sets the track afire
Bradley shines for Razorbacks
You don't become as successful a track and field coach as Arkansas' John McDonnell without being a shrewd judge of talent.
Take the Razorbacks' lineup yesterday in the men's distance medley relay at the Penn Relays. For the two middle legs, McDonnell inserted a freshman at 400 meters who had never competed at the meet and an 800-meter man who was not named Lorenzo Brown, a Southwest Conference champion.
But freshman Charles Williams (400) and sophomore Robert Bradley (800) justified McDonnell's faith in them by running the finest races of their careers.
And anchor Joe Falcon, an all-American, did the rest as Arkansas set a world-best time of 9:20.10.
The time posted by Rueben Reina, Williams, Bradley and Falcon topped the previous mark of 9:20.96, which was established by Georgetown at the Penn Relays in 1987, the only year in the last seven that the distance medley was not won by Arkansas.
Probably the most outstanding split for the Razorbacks was clocked by Bradley, who ran a personal record of 1:46.0 and gave the baton to Falcon 15 meters ahead of Kip Cheruiyot, the anchor for Mount St. Mary's and a member of Kenya's 1988 Olympic team. Falcon, a five-time NCAA champion, broke the tape 10 meters ahead of Cheruiyot.
"It felt great," Bradley said of his 800 leg. "I felt whatever it would take for me to run to get Joe the lead, that's what I would do. I was really pleased. But one guy doesn't make a relay. We all ran our best today."
McDonnell, who last month led the Hogs to their sixth straight NCAA Indoor title, raised some eyebrows by running Bradley, whose previous fastest time was 1:47.7, instead of Brown, a senior, whose PR is 1:46.4. But his choice of the sophomore from Crossett, Ark., turned out to be correct.
"I thought Bradley had a great shot at running really well," McDonnell said. "He's had a good spring. He had been running better than Lorenzo."
"You have to give John (McDonnell) a lot of credit," Falcon said. "Lorenzo is a 1:46 half-miler, and he didn't make the team because Robert was running better. We have a lot of depth, but John is able to see who's running the best and pick the best team for us."
That included the selection of Williams, a freshman from Blytheville, Ark., for the 400 leg. Williams responded with a 46.4-second split, his personal best.
"They told me about it, but I didn't believe how the crowd was for Arkansas until I got here," Williams said. "I just tried to stay up with the pack and let the other guys show what they could do. I watched Mount St. Mary's. I didn't want them to get too far out."
Everyone watched the Mount St. Mary's team from the opening gun. After all, they Mountaineers were represented by four African Olympians – 1,500-meter gold medalist Peter Rono, Charles Cheruiyot and Kip Cheruiyot of Kenya, and David Lishebo of Zambia.
Villanova's Paul Rowbotham bettered Rono and Reina (2:53.9) on the 1,200-meter leg, but Lishebo and Villanova's Mark Rainey handed off together after the second leg of 400 meters, with Williams a close third. That's when Bradley boosted the Razorbacks into the lead, handing off to Falcon for the 1,600-meter anchor leg ahead of Villanova and the Mount.
Kip Cheruiyot pulled one stride ahead of Falcon after 400 meters in what was to become a four-lap duel between two of the nation's best collegiate milers. But Falcon, who was being cheered on by his parents and his wife, was staying calm with his plan.
Falcon followed Cheruiyot until 200 meters remained and kicked past him, clocking 3:53.8 for 1,600 meters, the second-fastest split in Penn Relays history.
The fastest 1,600 split belonged to Cheruiyot, who ran 3:53.0 in his pursuit of Falcon. The Mount's final time was 9:21.44.
Falcon, who has never been defeated in five relays at the carnival, said he received extra incentive from a newspaper article shown the team by McDonnell. The story said Mount would break the world best and that Arkansas was capable of breaking 9:25.
"The Penn Relays are great," Falcon said. "The fans treat us great. To say that just motivated us further."