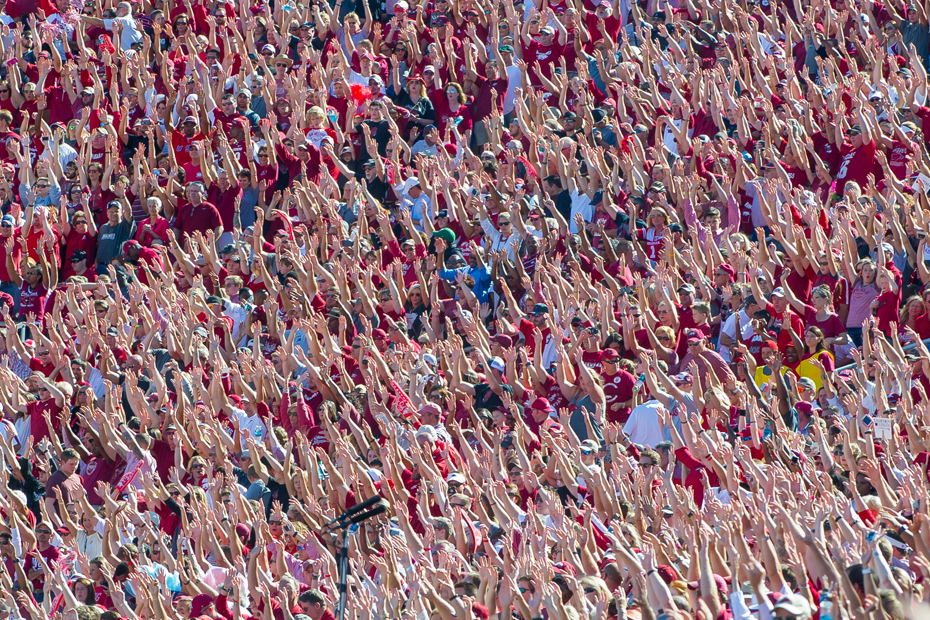 ONE Hog Call Unites Razorback Fans Across the Globe Friday, August 31
FAYETTEVILLE, Ark. – To kick off a new year and in support of all Razorback student-athletes, Arkansas Athletics announces the inaugural ONE Hog Call planned for Friday, August 31 at 1 p.m. CST. The ONE Hog Call invites Razorback fans across the globe to drop what they're doing, stand up united as ONE fan base and Call the Hogs in unison to show their love for Razorback athletic teams as they begin a new year.
Events open to the public will be held in Northwest Arkansas and Central Arkansas. A social media contest will allow fans across the world to join in.
"As we kick off a new year of Razorback Athletics, it is only fitting that we unite as ONE utilizing our nationally recognized tradition to support our teams and each other with the biggest Hog Call ever," Vice Chancellor and Athletics Director Hunter Yurachek said. "ONE Hog Call is a great reason to get together with fellow fans for a late lunch or an early start to the weekend of our first home football game. We're inviting the whole state and the entire Razorback Nation to lock arms with us in supporting our student-athletes while creating an unforgettable experience."
Details on the location of public ONE Hog call events in Northwest Arkansas and Central Arkansas will be announced soon. Razorback fans who aren't able to attend the public events are encouraged to stage their own ONE Hog Call with community members, co-workers, friends and family at 1 p.m. CST.
Fans are encouraged to post photos and videos of their Hog Call on social media using #ONEHogCall. Some of the best submissions will be featured on Razorback social channels and videoboards in Donald W. Reynolds Razorback Stadium during Arkansas' football season opener against Eastern Illinois on Saturday, September 1. For more information, follow the Arkansas Razorbacks on Facebook, Twitter and Instagram, and download the Arkansas Razorbacks Mobile App to receive reminders ahead of ONE Hog Call.