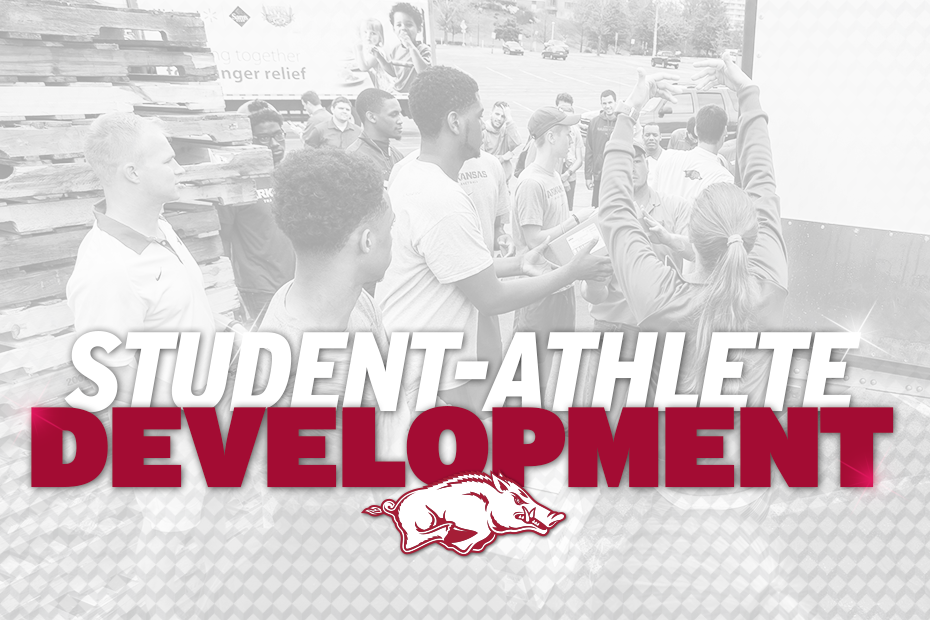 Part III: Student-Athlete Development
For more than 460 Razorback student-athletes at the University of Arkansas, the collegiate experience entails much more than just development in the classroom and in their respective sports. The Office of Student-Athlete Success (OSAS) empowers individuals through holistic programming to grow as students, athletes and leaders by fostering an environment of integrity, diversity and achievement.
Whether it is preparing student-athletes for life after their athletic careers come to an end or developing life skills that will benefit them for a lifetime, Razorback Athletics is at the nation's forefront of providing applicable and meaningful programming to advance the personal growth and development of every individual. Among the new additions to the broad-based programming in 2014-15 were a session on social spotting, ways to equip student-athletes to help their teammates avoid potentially harmful situations, a Hog Run Derby at softball and female student-athlete support group – Stand Strong, Stand Together (S3T).
In 2009, Arkansas was the first in the Southeastern Conference and one of the first in the nation to introduce a comprehensive leadership program, the Razorback Leadership Academy, a model that has since been emulated throughout the country. The Razorback Leadership Academy now equips rookie, emerging and veteran leaders as well as a leadership 360 program that provides real-time feedback to student-athletes on their leadership skills.
More than five years before the NCAA approved the ability to provide student-athletes with additional funding through cost of attendance initiatives, Arkansas implemented a financial literacy program addressing topics like personal budgeting strategies, identify theft, personal credit card management and debt to make certain its student-athletes were prepared to efficiently manage their personal finances. With cost of attendance now a reality, the program will be expanded in the coming year. Dozens of schools have followed Arkansas' lead in addressing those important topics.
Arkansas also continues to be a national trendsetter in health and wellness for student-athletes. When the NCAA made changes to allow additional opportunities to supplement meals, enriching the health and wellbeing of student-athletes, Razorback Athletics mobilized a program to fuel its student-athletes for academic and athletic performance.
In 2014-15, the RazorBag program distributed more than 7,500 totes filled with healthy food and snack options to Razorback student-athletes. On average, more than 375 RazorBags a week were distributed as part of the program. The "Grab and Go" RazorBag approach will also be an integral part of the Sports Nutrition Center at the Jerry and Gene Jones Family Student- Athlete Success Center.

Other Notable Student-Athlete Development Accomplishments:
More than 345 Razorback student-athletes participated in service learning opportunities in 2014-15, serving 138 different schools and organizations

The 4,239 combined service learning hours provided an economic impact of $88,824 to the community

Partnering with Tyson Foods, Inc., and the Northwest Arkansas Food Bank, Razorback student-athletes, coaches and staff helped distribute food to organizations to feed more than 360,000 people as part of the Lift Up America program

As part of the career services program, OSAS staff members worked with student-athletes to develop 178 individual resumes and 27 cover letters for employment applications

As part of various service learning programs, more than 3,500 pounds of canned food were collected by Razorback student-athletes, providing 7,000 meals to those in need

Members of the Student-Athlete Advisory Committee (SAAC) produced the fourth annual Hogspy Awards at the Walton Arts Center. Hosted by ESPN's Dari Nowkwah and the Golf Channel's Lisa Cornwell, the event featured a live musical performance from Razorback student-athletes Cordale Boyd and Teni Butler.
From record setting performances to memorable moments, the Razorback Athletics annual report allows us to share our progress and success as we continue to focus on fulfilling our mission of developing our student-athletes academically, athletically and socially. So be sure to watch the website every day this week as we celebrate the most successful year in Razorback Athletics history!
Record-Breaking Year Series Schedule
Monday – Academic Achievement
Tuesday – Athletics Success
Wednesday – Student-Athlete Development
Thursday – Events and Economic Impact
Friday – Record Support and Investment