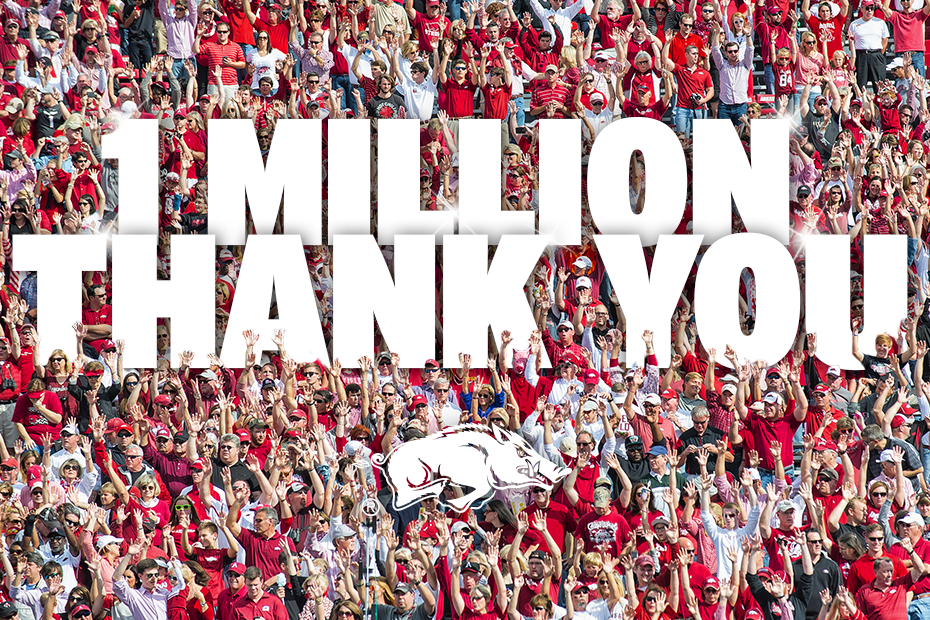 Part IV: Events & Economic Impact
From primetime games in sold out venues to welcoming back the first national championship team in school history, Razorback Athletics hosted 233 home athletic competitions and special events in 2014-15. A total of 164 regular season athletic competitions were held both on campus and around the state, including five events in Central Arkansas.
Arkansas topped one million in paid attendance for home events in 2014-15, an increase of more than 10 percent from the previous year in ticketed Razorback sports. A total of 1,062,572 Razorback fans purchased tickets for home events in football, men's and women's basketball, baseball, gymnastics, soccer, softball, men's and women's track and field and volleyball, marking a 10.1 percent increase from the 964,909 fans who represented paid attendance for the same events in 2013-14.
The championship season culminated with a record-breaking three-day NCAA Super Regional at Baum Stadium. The Razorback crowds of 12,167, 11,869 and 11,694 marked three of the top four postseason crowds during the 2015 NCAA Regional and Super Regional rounds. The 12,167 fans marked the third largest Super Regional crowd in NCAA history.
A recent independent economic impact study conducted by the Center for Business and Economic Research at the University of Arkansas, estimated that Razorback Athletics generates an annual economic impact of $153.6 million. The study showed that with planned construction, visitor and annual direct economic impact, Razorback Athletics will have a total economic impact of $1 billion over a five year span.
Razorback Athletics hosted more than 60 special events including program staples like the Red Tie Dinner and Auction, the Hogspy Awards and Football Signing Day events throughout the state. In addition, Arkansas celebrated the 50th anniversary of its 1964 Football National Championship.
The Razorbacks also welcomed back six men's and women's basketball legends, including former NCAA championship head men's basketball coach Nolan Richardson, to be honored with a commemorative banner at Bud Walton Arena. Corliss Williamson, Sidney Moncrief, Delmonica DeHorney-Hawkins and Bettye Fiscus were also recognized with a banner ceremony.
Fellow national championship coach John McDonnell was honored at the Razorback Track and Field Plaza dedication, where a statue of the legendary coach was unveiled at the outdoor track and field venue bearing his name.
Other Notable Events and Economic Impact Accomplishments:
Arkansas was one of only two institutions in the nation to rank in the top 25 average attendance in football (66,521), men's basketball (15,519) and baseball (8,290). The Razorbacks also ranked in the top 25 in attendance for gymnastics (2,930).
– In March 2015, the NCAA Indoor Track and Field Championships returned to the Randal Tyson Track Center for the 12th time. No other venue in the nation has hosted the indoor championship more than twice since 2000.
– Arkansas also hosted an NCAA South Central Cross Country Regional at Agri Park. Arkansas has hosted 31 championship events in the past seven years.
– Arkansas led the nation in both NCAA Super Regional Baseball total (35,730) and average (11,910) attendance in 2015
From record setting performances to memorable moments, the Razorback Athletics annual report allows us to share our progress and success as we continue to focus on fulfilling our mission of developing our student-athletes academically, athletically and socially. So be sure to watch the website every day this week as we celebrate the most successful year in Razorback Athletics history!
Record-Breaking Year Series Schedule
Monday – Academic Achievement
Tuesday – Athletics Success
Wednesday – Student-Athlete Development
Thursday – Events and Economic Impact
Friday – Record Support and Investment