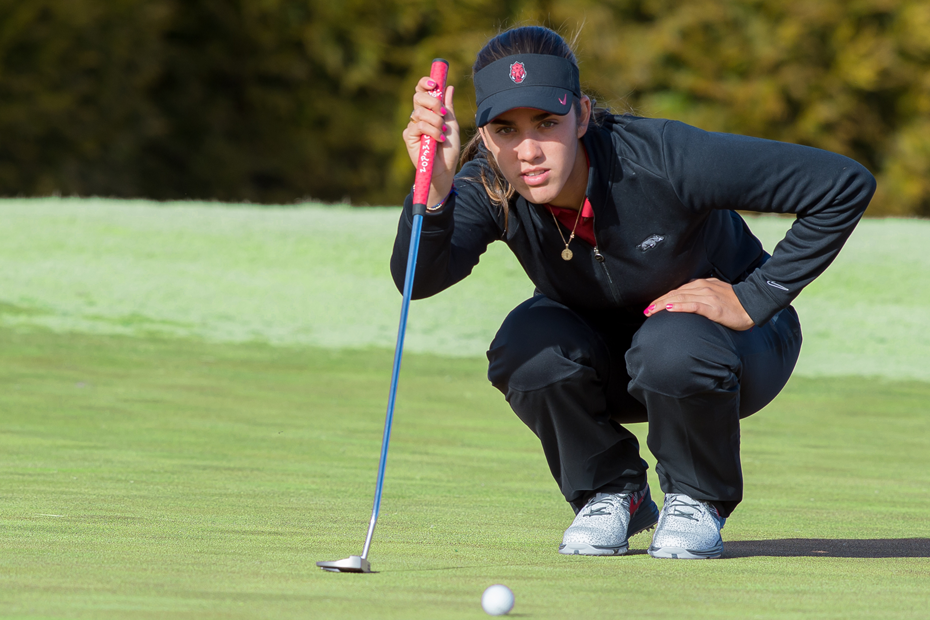 Patient Play Has Razorbacks In First
SAN JUAN, Puerto Rico – Junior Maria Fassi led the fourth-ranked University of Arkansas women's golf team to the top of the leaderboard in challenging conditions in round one action of the Lady Puerto Rico Classic in San Juan, Puerto Rico, on Sunday.
Strong winds on the Ocean Course challenged the field but Fassi posted a 3-under 68 leading the Razorbacks to an eight-shot lead with a 284. Fassi has two medalist honors this year and won the Lady Puerto Rico Classic as a freshman two seasons ago.
She opened play with a bogey but responded with back-to-back birdies on the front side of the course. She added two more birdies to turn 3-under. She played the back side even and leads the field by three shots.
Razorback teammate Dylan Kim is tied for second with an even-par 71. Kim birdied her final two holes moving up seven spots in the standings. Senior Alana Uriell is tied for sixth overall shooting a 1-over 72. She also picked up a birdie late her round moving up a spot before the end of the day.
Freshman Maria Hoyos, playing in her second collegiate event, is tied for ninth overall with a 73. Kaylee Benton carded a 78 and is tied for 39th while Jordy LaBarbera shot 84 and is tied for 63rd.
From Shauna Taylor
We are off to a solid start in some tough conditions. The wind blew 25-30 miles an hour all day long along the ocean and it was difficult out there. I'm proud of our group and the way they hung in there. It demands patience and the team who stays the most patient will benefit. You're going to have to get balls up and down and you're going to have to make some putts. Maria's 3-under 68 is a fantastic round of golf today. Dylan's round of even par is great. She birdied two of her last three holes and Alana was 1-over and said she hit six or seven greens so she was grindy as well. Maria (Hoyos) is playing her second collegiate tournament and did a nice job of fighting the adversity on the golf course. Overall is was a pretty good effort. The wind is supposed to continue to blow over the next two days, so we are going to have to execute the word patience and keep giving ourselves opportunities.
More Information
Keep up with all of the latest news and information and get behind the scenes looks into our program on our social media accounts. Follow us on Twitter at @RazorbackWGolf and check out our Facebook page "Razorback Women's Golf." Stats, news and player information can be found at ArkansasRazorbacks.com.
Razorback Lineup

| Pos. | Team/Player (seed) | Total | To Par |
| --- | --- | --- | --- |
| 1 | Arkansas | 284 | E |
| 1 | Maria Fassi (1) | 68 | -3 |
| T2 | Dylan Kim (2) | 71 | E |
| T6 | Alana Uriell (3) | 72 | 1 |
| T9 | Maria Hoyos (6) | 73 | 2 |
| T39 | Kaylee Benton (5) | 78 | 7 |
| T63 | Jordy LaBarbera (4) | 84 | 13 |
| | | | |
Team Results

| Place | Team | Score | To Par |
| --- | --- | --- | --- |
| 1 | Arkansas | 284 | E |
| 2 | Kent State | 292 | 8 |
| 3 | Iowa State | 296 | 12 |
| 4 | TCU | 297 | 13 |
| 5 | NC State | 299 | 15 |
| 6 | Maryland | 302 | 18 |
| 7 | East Carolina | 303 | 19 |
| 8 | Augusta | 305 | 21 |
| 9 | Nebraska | 309 | 25 |
| 10 | Colorado | 310 | 26 |
| 11 | Purdue | 312 | 28 |