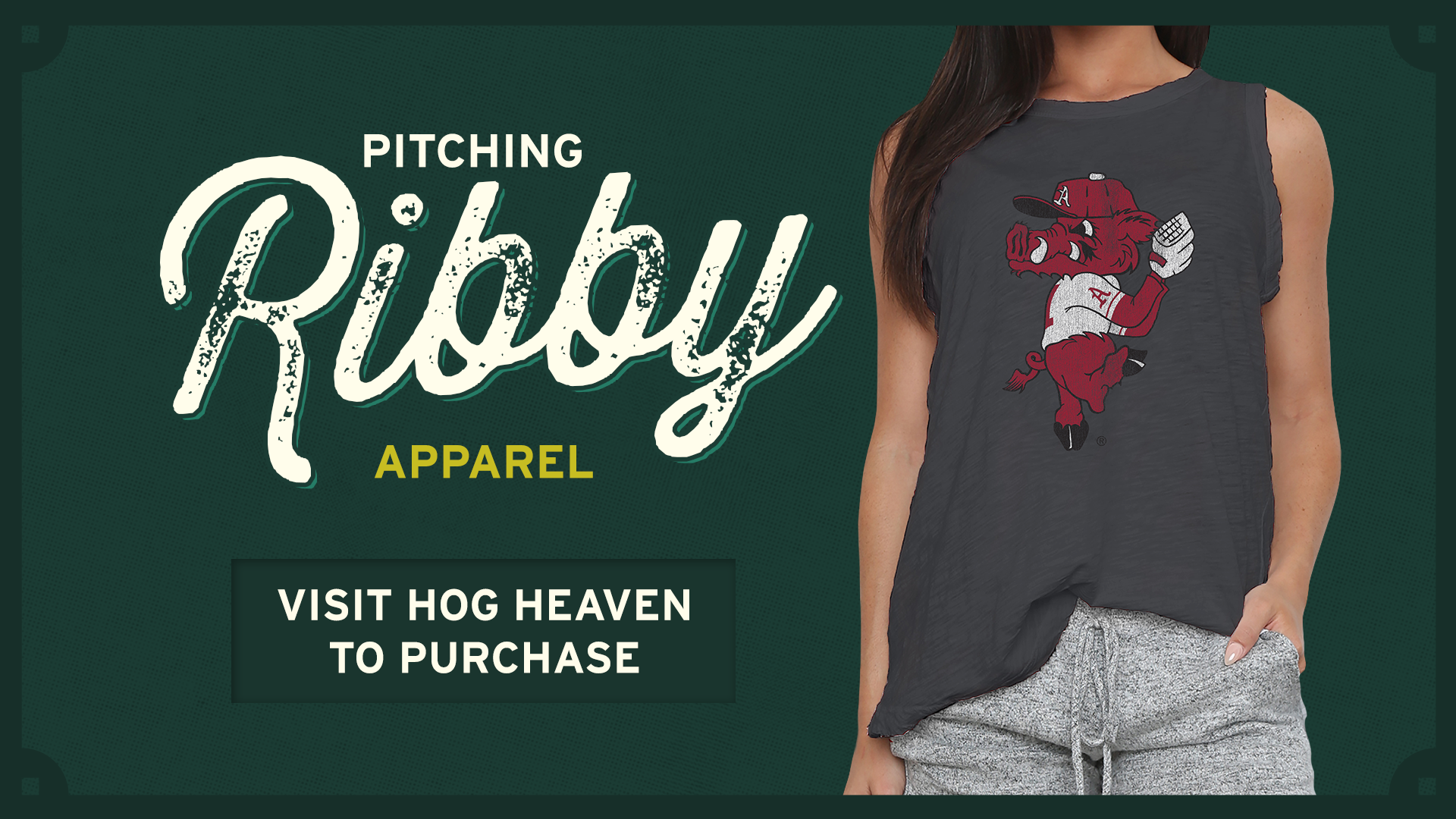 Pitching Ribby Makes Debut This Season
FAYETTEVILLE — Author Stephen King wrote, "Sooner or later, everything old is new again." And while King might have stated this regarding writing his books that keep many of us awake at night, for University of Arkansas athletics fans who love vintage logos, the quote also applies.
Welcome "Pitching Ribby", the newest "old" logo in the Razorbacks' College Vault collection. Designed by former Razorback baseball player, Larry Barton (1982-83) and updated by IMG Digital Media Specialist AJ Enloe, Pitching Ribby joins Hitting Ribby representing the Diamond Hogs.
Similar in design, the left-hander is positioned amid its windup. Ribby is adorned in a baseball cap and jersey featuring the Old English A and the number 1. The high, right leg kick has Ribby ready to deliver the pitch to a waiting hitter.
The logo's full color version is dominated by the University's official Cardinal color, PMS 201C, with a white jersey, glove and highlights. The signature black outline and hooves add a consistent look with many other logos including Hitting Ribby. The mark is also available in color schemes designed for light or dark backgrounds. Both Pitching and Hitting Ribby are officially registered marks owned by the University.
Pitching and Hitting Ribby are part of the University's exclusive College Vault collection. The 30 featured marks represent the history and tradition of Razorbacks Athletics and of campus spirit and pride. Other College Vault logos include the Hog Jumping Through the A, the Leaning A Hog and the recently re-released Slobbering Hog.
Be the first to get Pitching Ribby gear, drinkware and collectables beginning May 20 with online sales at Shop.ArkansasRazorbacks.com. Join us at The Graduate Hotel just off the square in Fayetteville, May 22, at a special pop-up shop in the lobby from 9 a.m.-7 p.m. Items available include cornhole boards, tumblers, water bottles, long and short sleeve cotton t-shirts, hoodies, polos and hats.
In addition to the pop-up shop at The Graduate Hotel, Pitching Ribby items will be available beginning May 22 at both Hog Heaven locations (North Endzone and NWA Mall), the Razorback baseball game, The University of Arkansas Bookstore, Southern Trend, The Stadium Shoppe on Razorback Road, Hogman's Gameday Superstore, Alumni Hall, Academy Sports + Outdoors and Dillards.
About the Creation
Pitching Ribby and its counterpart, Hitting Ribby, were originally drawn by former Razorback baseball player Larry Barton. Barton was a member of the team for the 1982 and 1983 seasons under legendary head coach Norm DeBriyn. Barton played second base alongside current Razorback head coach Dave Van Horn and he often jokes "I like to say that I practiced second and DVH played second". During his time as a player, Barton combined his love for the Razorbacks and his passion for drawing by creating the Ribby marks. They were used sparingly until Hitting Ribby reemerged in the late 80s and quickly became both a player and fan favorite. The mark has appeared in many places since then, gracing apparel, novelties and is even part of the design of the Baum-Walker Stadium façade.
CLC – The College Vault Story
Legacies live on. Rituals grow richer. Traditions take root. True fandom never goes out of style. Especially not with college sports fans. Their passion is so strongly woven into the fabric of their being that it becomes part of their DNA. Their school pride passes on from generation to generation. That fan. That dyed-in-the-wool supporter. That is why we launched the College Vault in 2007, to celebrate these fans and the time-honored traditions of their favorite teams.