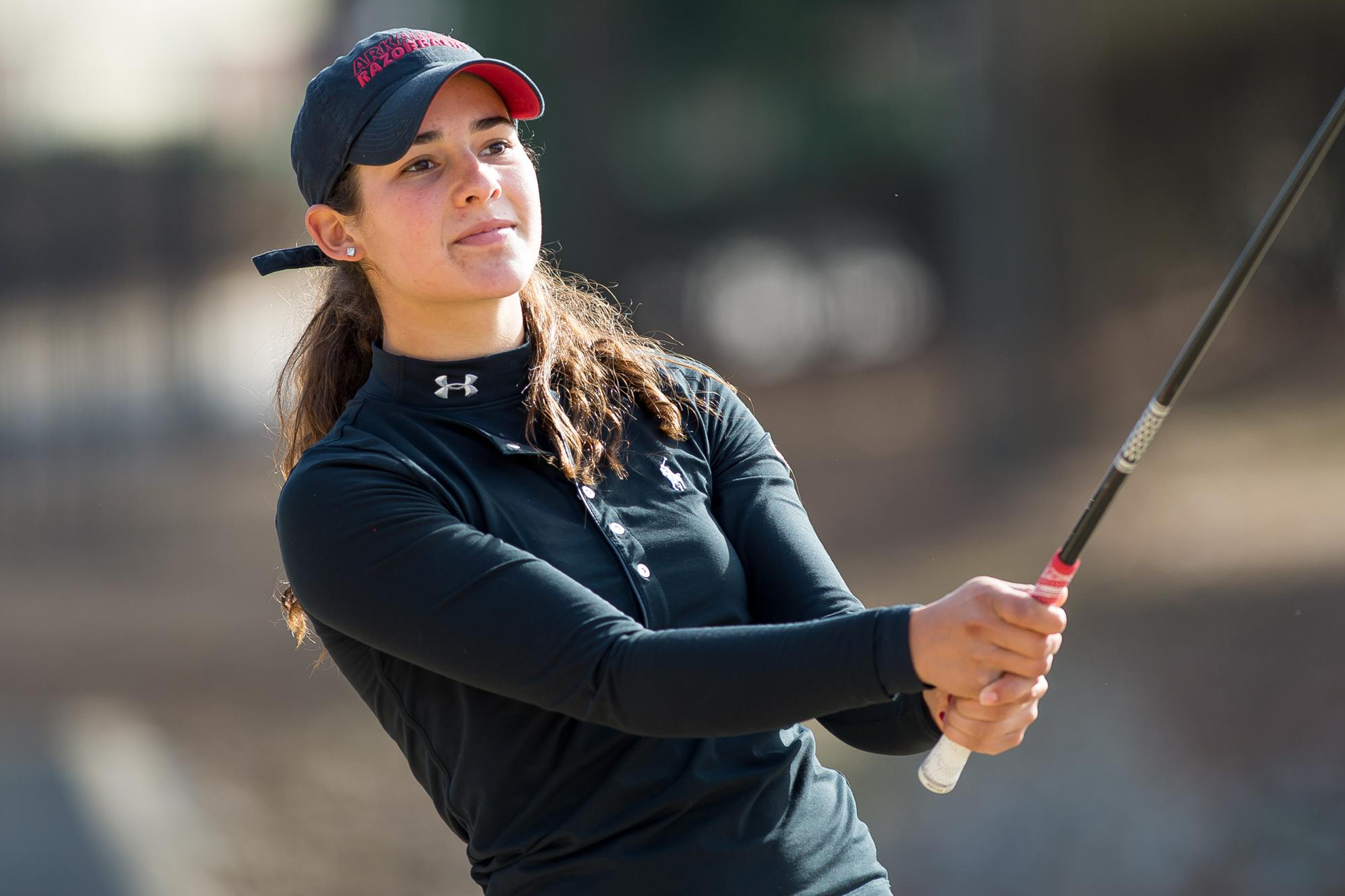 Plasencia Wins Liz Murphey
ATHENS, Ga. – Junior Regina Plasencia fired a one-under 71 in first round action to lead the field at the Liz Murphey Collegiate Classic in Athens, Ga., Friday.
The Guadalajara, Mexico, native is the stroke play winner of the tournament and she paced Arkansas to a third-place team finish in stroke play.  Friday's format for the Liz Murphey schedule featured 18 holes of stroke play. Those results determined the individual medalist and the seedings for match play competition that will begin on Saturday and continue through Sunday.
Plasencia was the only player to shoot below par for the day.  Arkansas posted a 21-over 309 and finished third overall.  Fourth-ranked UCLA was first shooting a 301 followed by No. 3 South Carolina with 308.  The seventh-ranked
Razorbacks edged No. 5 Duke with 310 and No. 34 Baylor rounded out the top five with 311.
The Razorbacks move on to match play taking on Northwestern off the 10th tee beginning at 7:40 a.m.  The winner of that match moves on to face the winner of the Georgia/South Carolina match Saturday afternoon.
Junior Gabriela Lopez finished tied for 15th overall shooting a five-over 77.  Sophomore Samantha Marks was tied for 24th overall with 79, followed by freshman Jordy LaBarbera who tied for 40th with 82.  Sophomore Summar Roachell rounded out the Arkansas' scores shooting 84 to tie for 48th overall.
@Estes-Taylor
It was a dogfight out there today.  It is a really tough course and really challenged us in all areas – every team was.  It was a matter of survival and you just had to take what it gave ya.  The players fought hard.  We got out to a slow start but birdied a few coming in to move up the leaderboard. We have put ourselves in a position to win the team title.
I'm also really proud of Regina.  To get her first college victory and shoot 71 on a day like to today is impressive.  She works extremely hard and on a day like today when it is tough she was able to let her strengths shine.
Regina Plasencia
It's awesome. It's my first individual win in college.  I was just hitting my shots and going at it one shot at a time because this course is pretty demanding. Especially with the conditions that we had today, being windy and some holes playing long. I did a really good job staying in the moment and giving myself good opportunities. It's just awesome to have that first win in a field like this on a course like this one.
The Field (Golfstat.com rankings)
| | | |
| --- | --- | --- |
| No. 4 UCLA | 391 | +13 |
| No. 3 South Carolina | 308 | +20 |
| No. 7 Arkansas | 309 | +21 |
| No. 5 Duke | 310 | +22 |
| No. 34 Baylor | 311 | +23 |
| No. 9 Northwestern | 315 | +27 |
| No. 73 Georgia | 317 | +29 |
| No. 1 Southern California | 317 | +29 |
| No. 38 Purdue | 318 | +30 |
| No. 16 Stanford | 319 | +31 |
| No. 20 Alabama | 320 | +22 |
| No. 29 Auburn | 323 | +35 |
Arkansas Lineup
| | | | |
| --- | --- | --- | --- |
| 3 | Arkansas | 309 | +21 |
| 1 | Regina Plasencia | 71 | -1 |
| T15 | Gaby Lopez | 77 | +5 |
| T24 | Samantha Marks | 79 | +7 |
| T40 | Jordy Labarbera | 82 | +10 |
| T48 | Summar Roachell | 84 | +12 |