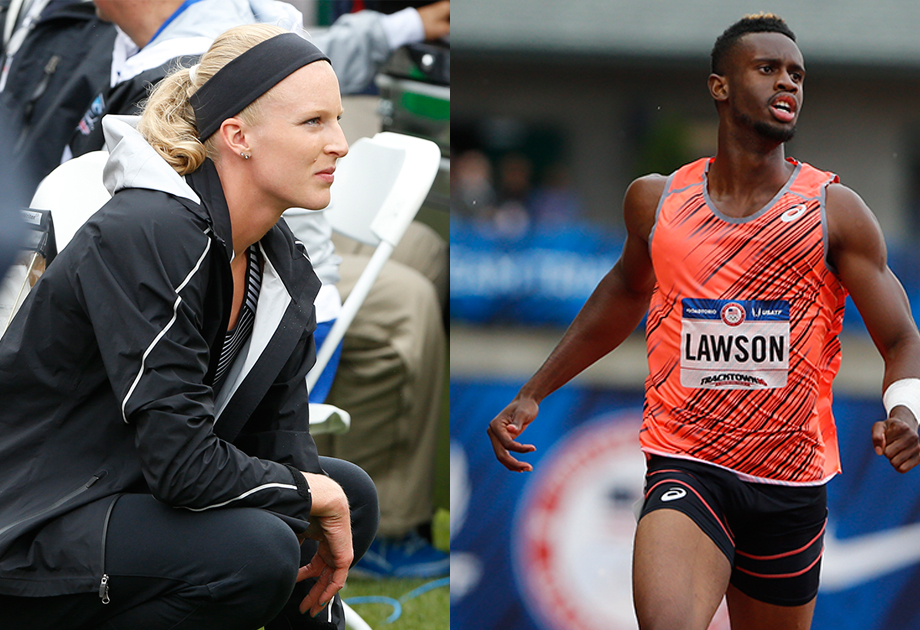 Pole Vault Trio Advances Through Runway Rain
MTR Olympic Profiles | WTR Olympic Profiles
EUGENE, Ore. – The Arkansas women's pole vault trio April Bennett, Sandi Morris and Lexi Weeks braved the torrential downpour during Friday's Olympic Trials session to advance through to Sunday's final with clearances of 4.40m/14-5 1/4.
Additional Razorbacks who battled through to next round qualification included Stephanie Brown (1,500 finals), Taylor Ellis-Watson (200 semifinals) and Tyson Gay (200 finals).
Arkansas Vaults
In a field of 10, almost a third of the vaulters hail from Arkansas. Forced to cope with the rain through the duration of their competition, Bennett, Morris and Weeks had no other option but to adapt.
The first to set foot on the runway, Bennett posted back-to-back first attempt clearances through 4.25m/13-11 1/4 and 4.35m/14-3- 1/4. As the rain picked up, all three vaulters worked to get their bearings on 4.40m/14-5 1/4, clearing the bar on second attempts. A clearance at that height was all they needed as several entries, unable to get past the conditions, exited at the mark. Bennett, Morris and Weeks return to the runway on Sunday at 4:30 p.m. CDT.
On To The Next Round
Newly sponsored professional athlete Ellis-Watson went straight to work in the heat one of the 200 prelims, coming through the finish in third position to auto-advance to the event's semifinal round. Already a Team USA 1,600 relay pool selection, the Philadelphia native will look to move past the semis and into the women's 200 semifinals tomorrow evening at 7:03 p.m.
Middle distance talent Brown also secured an automatic-qualifier, advancing to the women's 1,500 finals as the fifth-best performer out of an extremely competitive heat one. Brown's time of 4 minutes, 11.30 seconds was the seventh-best time of the day out of 24 entrants.
A veteran Olympian, Gay was the lone Razorback to make it through a fast 200 semifinal round to the event's final. Gay made it through the half-lap sprint in 20.16 seconds as the fastest non-automatic qualifier – the third-fastest performance of the day. The men's 200 finals will take place Saturday at 7:42 p.m.
Notable Performances
Arkansas alum Stanley Kebenei placed 13th in the steeplechase finals in a time of 8:48.99. Kebenei ran in position two through the majority of the race and was on pace to advance to Rio representing the U.S. national team but was thwarted by unfortunate fall over the final water jump. Picking himself off the ground, Kebenei valiantly pressed on and saw his race through completion.
Two spots shy of being a 1,500 finalist, former Hog Dorian Ulrey capped his Olympic Trials campaign with the 10th-best time (3:46.61) in the semifinals of the event. Fellow former Razorback Duncan Phillips contested the 1,500 semifinals and completed his run at the trials as a top-20 finisher.
Along with Gay the 200 semifinals featured Kenzo Cotton, Jarrion Lawson and Wallace Spearmon. The sprint trio all finished among the top-15 best performers in the event in 10th, 11th and 14th respectively.
In the 400 hurdles semifinals, Neil Braddy finished 15th overall in 51.76. A newcomer in the event, Braddy exceeded the expectations of many qualifying for the U.S. Olympic Trials and advancing through the preliminary round.
Sandi Morris On Competing For The First Time Since Injury
"The first time I vaulted from a full approach was only a few days ago – the Saturday before we came here on Tuesday. It was an iffy practice, just not vaulting for that long, having [gone] six weeks without vaulting. My wrist is fine. I basically describe it as it just feels like a shin splint in my bone, just kind of an irritating little pain but it's nothing that holds me back. Today went really well. Just having that adrenalin of being out there and not taking a lot of jumps just high quality jumps.as well as having full recovery really helped me. I feel as though I got my vault back and my feet back under me and I feel really confident about Sunday."
Stephanie Brown On How She Advanced To 1,500 Finals
"I actually didn't feel the best to be honest but my breathing was under control. My legs felt a little heavy but I knew I had a strong finish because I didn't start breathing heavy until the last lap. I just wanted to get in the top-five contingent so I knew I wouldn't be jostling over the last 100 and I'd have a clear path to the finish line."
Friday, July 8 Olympic Trials Results
M 200 meter semifinals
Tyson Gay (3) – 20.16Q
Kenzo Cotton (10) – 20.43
Jarrion Lawson (11) – 20.50
Wallace Spearmon (14) – 20.73
W 200 meter prelims
Taylor Ellis-Watson (15) – 23.11Q
W 1,500 meter semifinals
Stephanie Brown (7) – 4:11.30Q
M 1,500 meter prelims
Dorian Ulrey (10) – 3:46.61
Duncan Phillips (20) – 3:49.78
M 400 hurdle semifinals
Neil Braddy (15) – 51.76
M Steeplechase finals
Stanley Kebenei (13) – 8:48.99
W Pole Vault qualifying
April Bennett (8) – 4.40m/14-5 1/4
Sandi Morris (8) – 4.40m/14-5 1/4
Lexi Weeks (8) – 4.40m/14-5 1/4
Saturday, July 9 Olympic Trials Schedule
2:30 p.m. – Heptathlon (100 hurdles) | Taliyah Brooks, Alex Gochenour
3:30 p.m. – Heptathlon (High jump) | Taliyah Brooks, Alex Gochenour
5:30 p.m. – Heptathlon (Shot put) | Taliyah Brooks, Alex Gochenour
6:40 p.m. – Heptathlon (200) | Taliyah Brooks, Alex Gochenour
7:03 p.m. – W 200 Semifinals | Taylor Ellis-Watson
7:42 p.m. – M 200 Finals | Tyson Gay
For more information on Arkansas track and field including in-meet updates, follow @RazorbackTF on Twitter.