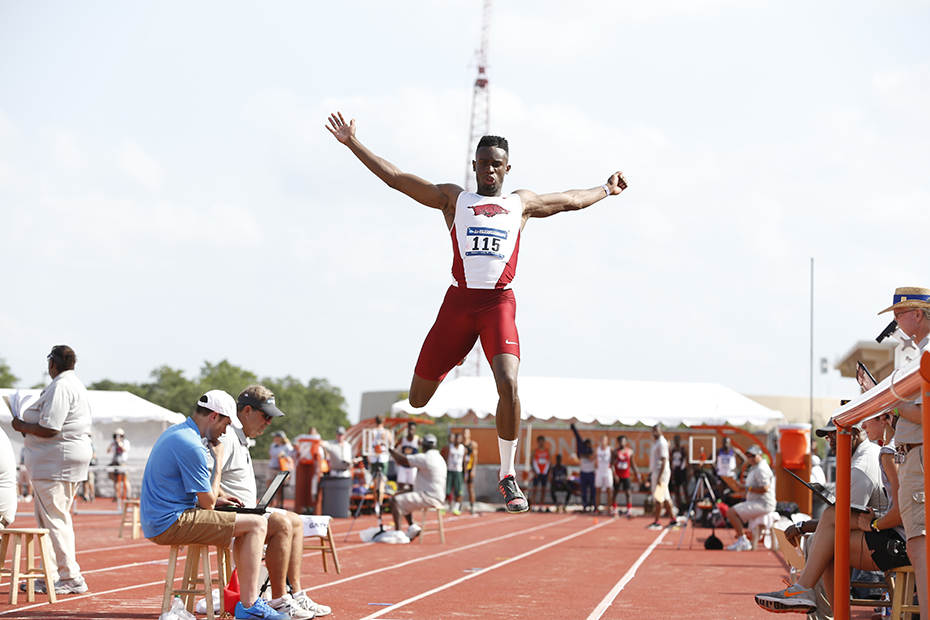 Preseason Poll Places Arkansas Among The Best
NEW ORLEANS – Moving on from their national runner-up finish at the NCAA indoor meet, Arkansas men's track and field will begin the 2016 outdoor season at No. 5 announced Tuesday morning by the USTFCCCA polls. The fourth highest-ranked SEC school in the preseason polls, Arkansas was joined on the list by seven members from the conference including: No. 2 Texas A&M, No. 3 Florida, No. 4 LSU, No. 6 Alabama, No. 10 South Carolina and No. 11 Georgia.
The National Team Computer Rankings are compiled by a mathematical formula based on national descending order lists. The purpose and methodology of the rankings is to create an index that showcases the teams that have the best potential of achieving the top spots in the national team race.
Overlooked throughout the majority of outdoor competition in 2015, Arkansas peaked at No. 5 in the regular season rankings. The Razorbacks proved the polls wrong, capping last year's outdoor campaign on the NCAA podium as the third best team in the country.
Arkansas has placed inside the NCAA top five 19 times during the outdoor season – 10 of which are national titles.
In the hunt for their first outdoor title since 2003, Arkansas will rely on returning All-Americans, including four-time 2015 outdoor first team member Jarrion Lawson to lay the foundation for a talented group of newcomers.
A 2016 outdoor preseason Bowerman Watch List selectee, Lawson was individually responsible for one-third of the Razorbacks' 53 total team points at the 2015 NCAA Outdoor Championships. The Texarkana, Texas, native won a national title (4x100m), a national runner-up (long jump), a bronze medal (100m) and capped his junior year with a sixth-place finish with the 4×400-meter relay team.
After a solid offseason of training, Lawson returned faster and stronger for 2016 collecting his third national title with a victory in the long jump at NCAA indoors. He promptly followed it with a fifth-place performance in the 60-meter dash. A major solo and relay contributor for Arkansas, Lawson has the ability to qualify for the NCAA outdoor competition in various events and may look to add the 200-meter dash to his extensive lineup.
With more than one talent in the sprints, Arkansas will look for more production out of sophomore Kenzo Cotton and senior Marqueze Washington.
Cotton and Washington were both members of the Razorbacks' All-American relays but emerged this past indoor season as top-individual competitors in the open short and long sprints, respectively.
Circling back to the jumps, upperclassmen Ken LeGassey (high jump) and Clive Pullen (triple jump) have made names for themselves around the conference with gold medal efforts at the SEC indoor meet. Pullen gained further acclaim following his first-place finish in the triple jump at indoor nationals, becoming the first Razorback to do so since Nkosinza Balumbu in 2008.
Arkansas's distance efforts will be led by senior Gabe Gonzalez who holds a PR of 29:04.95 at 10,000 meters. Gonzalez qualified for the NCAA first round competition in the event following an All-SEC performance in 2014. Along with Gonzalez, 2015 cross country All-American Frankline Tonui will look to become a major distance contributor in the 3K steeplechase this season.
Head coach Chris Bucknam and his coaching staff will also rely on some offseason acquisitions and returning redshirt freshmen to contribute to the program's success.
Outdoor newcomers with potential to make an immediate impact include: Jack Bruce (mile), Austen Dalquist (mile), Roy Ejiakuekwu (100m), Alex George (5,000m) Obi Igbokwe (400m), Andrew Ronoh (3K steeple and 5,000m), Andreas Trajkovski (long jump) and Josh Washington (200m).
Arkansas begins competition on March 25-26 at John McDonnell Field for the Arkansas Spring Invitational. Prime time events start at 3 p.m. CDT on both days of competition.
Men's Outdoor Track & Field National Team Computer Preseason Rankings (Top 25)
1. Oregon
2. Texas A&M
3. Florida
4. LSU
5. Arkansas 
6. Alabama
7. Texas
8. Virginia
9. Illinois
10. South Carolina
11. Georgia
12. Stanford
13. Ohio State
14. Virginia Tech
15. Tulsa
16. Southern California
17. North Carolina
18. Texas Tech
19. Penn State
20. BYU
21. Middle Tennessee
22. Colorado
23. Arizona
24. Louisville
25. Kansas State
For more information on Arkansas track and field including in-meet updates, follow @RazorbackTF on Twitter.