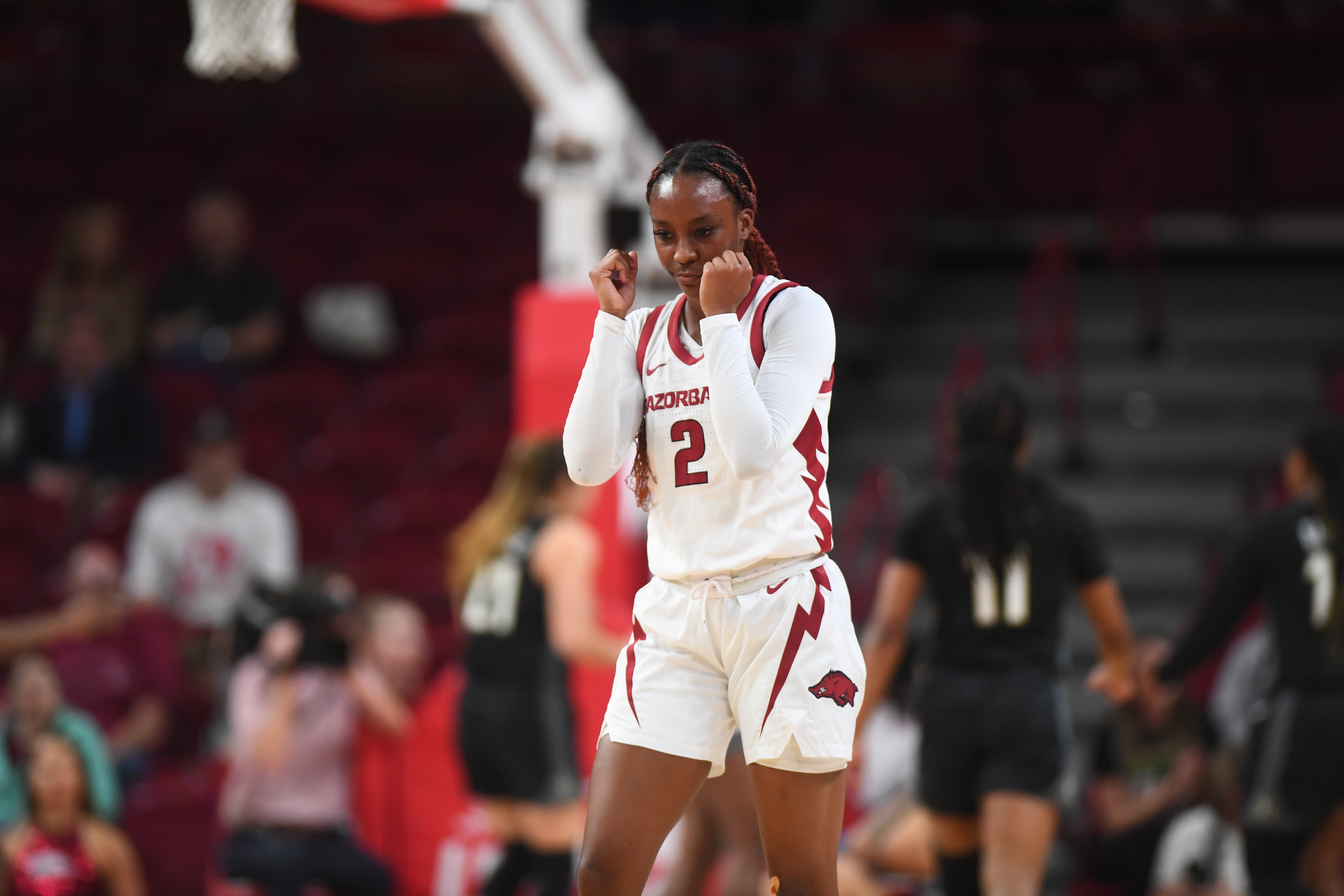 Preview – Razorbacks Up for Big Test at No. 3/4 LSU
FAYETTEVILLE – The No. 22 Arkansas women's basketball team (17-3, 4-1 in SEC) is riding into Thursday night's game at No. 3/4 LSU (18-0) on a four-game winning streak and looking for a different outcome than the last time these two teams met three weeks ago. Arkansas, who is 5-0 in road games this year, is off to its best 20-game start since 2007-08 and best start in league play since 2005-06. Tipoff is set for 8 p.m. at the Pete Maravich Assembly Center with coverage of the game being broadcast on SEC Network.
GAME INFORMATION
Date: Thursday, Jan. 19
Time: 8 p.m.
Opponent: No 3/4 LSU
Location: Pete Maravich Assembly Center (Baton Rouge, La.)
Watch: SECN
Listen: Razorback Sports Network from Learfield
Arkansas Game Notes
LSU Game Notes
Live Stats
STORYLINES
The Razorbacks are 17-3, which marks the best 20-game start for the program since 2007-08. Arkansas' 4-1 record in SEC play is also a best start for the Razorbacks in league play since 2005-06
With another win, Arkansas would start the SEC season 5-1, for the first time since 2005-06
Arkansas is hoping to keep its road winning streak alive to six games. The last time the Razorbacks began the road slate 6-0 was 2006-07 when they began 7-0 in away games
Arkansas women's basketball is No. 22 in the USA Today/WBCA Coaches Poll and has received 33 votes in the AP Poll coming into week 11 of the season. The Razorbacks were ranked for four straight weeks in the AP and WBCA Coaches polls prior to the team's third loss of the season (#21, #21, #17 and #24 in AP)
The Razorbacks are coming off quite an exciting game last Monday with an 84-81 win over Vanderbilt at home. After Vandy banked in a 3-pointer to tie the game at 81 with five seconds left, Makayla Daniels ran up the floor and banked in an (almost) halfcourt shot at the buzzer. Her shot was the No. 1 play on Sportscenter Top 10 and was featured on Good Morning America and the Today Show
Arkansas' buzzer beater over Vanderbilt marked the 12th win for the Razorbacks over Vandy. Four of those wins have come off buzzer beaters (one was a shot to send the game into overtime and an eventual win in 2006)
Saylor Poffenbarger is coming off her fifth SEC Freshman of the Week title after tallying 13 points and five rebounds vs. the Commodores
The Razorbacks have won their last four games by an average margin of 18.5 points per game. Two of those games were on the road, as Arkansas is 5-0 in true road contests
Arkansas is looking to improve its win streak to five games, and do so by taking on one of the best teams in the country in No. 3/4 LSU
The Razorbacks are set to potentially face two unbeaten teams in the span of four days, both on the road
Mike Neighbors has led the program to another winning year in the regular season, as the Razorbacks have 17 wins. This marks the fifth regular season winning year for Coach Neighbors at Arkansas
Arkansas is one of the few teams in the country to have all five starters average double digits in scoring
Erynn Barnum paces the Razorbacks with 15.8 points per game, while leading the SEC in field goal percentage at .619. She also leads the team in blocks with 23 and steals with 27
Poffenbarger continues to bring great defense to the team, leading the way in rebounding with 7.8 per game, 135 of her 155 rebounds coming on the defensive side
Samara Spencer is the second leading scorer with 15.4 points per game and leads the team in assists with 91, 4.6 per game
Daniels is averaging 13.5 points per game. She continues to move steadily in career all-time records, climbing up to No. 20 in scoring (1,243), which is 55 points away from tying former teammate Amber Ramirez at No. 19. Daniels is also No. 17 in career assists (267), which is one away from the No. 16 spot at 268
Chrissy Carr puts up 11.5 points per game and leads the squad with 44 3-pointers
The team leads the SEC in least turnovers per game with 13.5
Arkansas gets to the line 25.5 times per game, which is second in the country and the SEC (behind LSU)
In the SEC, Arkansas leads in 3-point attempts per game (26.6) and is No. 2 in 3-pointers per game (8.4)
The Razorbacks have outrebounded opponents in 13 games. The team's 31.0 defensive rebounds per game is the 10th most in the country
SCOUTING LSU
LSU was chosen to finish third in the SEC Preseason Media and Coaches polls
Angel Reese and Alexis Morris were picked to the SEC Preseason First Team
The Tigers have started the conference slate 6-0 and remain to be one of three undefeated teams in the country at 18-0
LSU is leading the country in scoring offense (88.7 PPG) and is second in rebounds per game (50.89)
Angel Reese is having herself a year, averaging 23.9 points and 15.4 rebounds per game, while earning a double-double in all 18 games this season
Alexis Morris is having another great season, averaging 12.8 points per game, and leading the way with 89 assists
Flau'jae Johnson is having a great freshman year with 13.9 points and 6.3 boards per game, while winning SEC Freshman of the Week three times. Jasmine Carson also averages double digits with 10.8 points per game
Kim Mulkey is in her second season at LSU, and has led the Tigers to a 44-6 mark across two seasons, including an unblemished 18-0 mark thus far
HISTORY AGAINST THE TIGERS
Arkansas trails 19-34 in the all-time series, as Thursday's game marks the 54th of the all-time series
The first game of this series was Feb. 25, 1985, in which Arkansas won, 84-56 in Fayetteville
Arkansas and LSU are tied at 5-5 in the last 10 meetings
Last season, Arkansas upset the No. 12/11 Tigers at Bud Walton Arena, 90-76. In that win, Spencer and Daniels both had 20 points
Arkansas and LSU played exactly three weeks ago to kick off league play. The Razorbacks lost 69-45, as Spencer led with 17 points and Daniels had 10 points and six boards
LAST TIME OUT
Arkansas won the most thrilling game of the season with an 84-81 victory against Vanderbilt at home. After the Commodores tied the game off a 3-pointer with five seconds remaining, Daniels charged the ball up the court to bank in a half-court shot as the buzzer sounded. This marked her first buzzer beater ever in her basketball career
All five starters reached double digits in scoring for the second time in as many as three games
Spencer led with 23 points off 9-of-15 shooting from the field, along with five rebounds and three assists
Barnum is continuing to perform at a very high level, finishing with 18 points, nine rebounds, five assists, three steals and two blocks. She also drew nine fouls
Daniels was the hero of the night, finishing with 16 points, six rebounds and four assists. She went 8-of-10 from the free throw line
Poffenbarger earned SEC Freshman of the Week for the fifth time this year after logging 13 points, going 7-of-8 from the line, along with five rebounds
Carr made timely shots again, finishing with 11 points, going 3-of-6 from 3-point, along with four rebounds and two blocks. She surpassed 500 rebounds in her career as well on Monday
Arkansas has now beaten Vanderbilt 12 times, four of those coming off buzzer beaters (one was a shot to send a game into overtime, which the Razorbacks would go on to win in 2006)
UPCOMING
Arkansas is continuing its tough stretch of games with a road matchup at No. 1/1 South Carolina on Sunday, Jan. 22 at 2 p.m. The game will be broadcast on ESPN2.
MORE INFORMATION
For more information about Arkansas Women's Basketball, follow us on Twitter and Instagram at @RazorbackWBB and on Facebook at Facebook.com/RazorbackWBB. Be sure to subscribe to our YouTube Channel, "Kickin' It In The Neighborhood" for an inside look at the Razorback women's basketball program and check out The Neighborhood podcasts at CoachNeighbors.com.