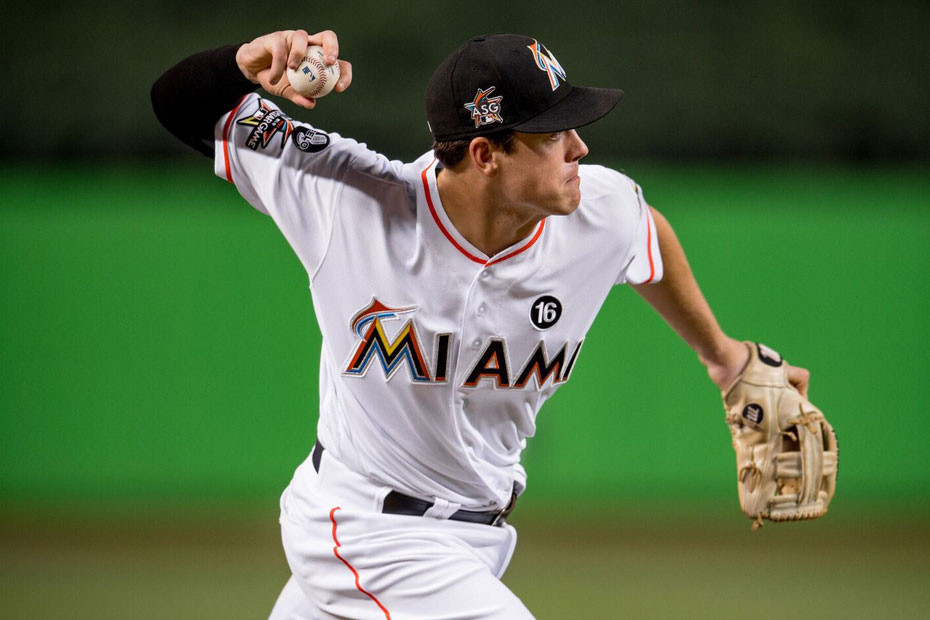 #ProHogs Spring Training Primer
FAYETTEVILLE, Ark – As the weather turns warmer and with the Razorback Baseball season in full swing, Major League Baseball teams are preparing for their seasons as well and several former Razorbacks have taken the field with their respective clubs at spring training sites in Arizona and Florida.
Houston Astros pitcher and reigning World Series champion Dallas Keuchel is back for his seventh season, while outfielder Andrew Benintendi is fresh off his first full season with the Boston Red Sox where he finished second in the American League Rookie of the Year voting.
Even with these two #ProHogs expected to make another big splash this season, there are a handful of other former Hogs that will be fighting for a big league spot and look to make their mark on America's Pastime.
On the cusp
Two ProHogs that are close to breaking into the league in 2018 is Dominic Ficociello and Jalen Beeks.
Ficociello was drafted in the 12th round by the Detroit Tigers in 2013 and in July of last season, was promoted to Triple-A Toledo after spending the last two seasons at Double-A Erie. This spring, he earned his fifth-consecutive invitation to join the Detroit Tigers camp in Lakeland, Florida and is 2-for-7 with two doubles, two RBIs, and a walk in six games.
As for Beeks, the 2014 draftee by the Boston Red Sox made, probably, the biggest move in the last year among all minor league ProHogs. In just his fourth professional season, Beeks went from Double-A Portland to Triple-A Pawtucket after putting up impressive numbers with the Seadogs. Between the two clubs, Beeks posted a 3.29 ERA and was the 2017 Red Sox Minor League Pitcher of the Year.
Off-season movement
Matt Reynolds traded to WASHINGTON NATIONALS (from NYM) – Reynolds was drafted by the Mets in 2012. He saw his first big league action in May of 2016. In 2017, he split time between New York and Triple-A Las Vegas. Overall he slashed .282/.365/.397 over 100 games.
Brett Eibner signed with TEXAS RANGERS (previously with LAD) – Halfway through Eibner's only year with the Dodgers, he fell victim to arm troubles and had to undergo Tommy John surgery. Prior to his injury, he had begun a transition from outfielder to pitcher, eight years after starring as a two-way player for the Razorbacks. Eibner played 17 games for the Dodgers in 2017 and had two home runs with six hits and six RBIs. He broke into the league in 2016, making his debut with the Kansas City Royals and was one of the hottest names at the trade deadline that season.
Drew Smyly signed with CHICAGO CUBS (previously with SEA) – Drew Smyly also fell victim to Tommy John surgery last year shortly after signing with the Seattle Mariners. Smyly never pitched for Seattle in 2017 and will be out for the majority of the 2018 season. This winter, he signed a two-year deal with the Chicago Cubs and is expected to be a major piece of the pitching staff by August. Smyly shined during the 2017 World Baseball Classic where he made one start for Team USA, outdueling Venezuela's Felix Hernandez for 4.2 innings, giving up one earned run on three hits with no walks and eight strikeouts.
W2W4 (Who to Watch for)
Here are a few Razorbacks that are worth keeping an eye on throughout the Major Leagues and the farm systems:
Brian Anderson – Miami Marlins (No. 9 prospect) – Anderson got the call up to join the Marlins when the rosters expanded in September of 2017. Brian slashed .262/.337/.369 over 25 games with Miami and could start the 2018 season with the big-league club.
Jalen Beeks – Boston Red Sox (No. 15 prospect) – Beeks has been slowly climbing the minor league ladder and making waves along the way. Beeks is currently with the Red Sox in Fort Myers, Florida and is coming off a combined 11-win season between Double-A Portland and Triple-A Pawtucket.
Trevor Stephan – New York Yankees (No. 15 prospect) – One year after excelling in the Razorbacks rotation, Stephan was a force in his first pro season in the Yankees. He posted a 1.31 ERA only allowing five earned runs over 34.1 innings. Stephan's numbers have earned him a spot with Class-A Charleston, but may have earned him a little more as he expected to have a quick rise through the ranks.
Chad Spanberger – Colorado Rockies (No. 25 prospect) – After a career year with the Razorbacks, Chad Spanberger was drafted by the Colorado Rockies in the sixth round of last summer's draft. He started his professional career at the Rookie level in Grand Junction and did it all over again. Chad hit 19 home runs for the Rockies and slashed .294/.368/.617 in 60 games after hitting 20 home runs and slashing .305/.389/.619 with the Razorbacks.
James Teague – Baltimore Orioles – After a strong 2017 season, James Teague might be creeping into the Orioles Top 30 soon. After a rough start, Teague finished the year with a 1.02 ERA over 16 appearances. He tallied eight saves, struck out 29 batters, and held opponents to an .066 batting average. James was a New York-Penn League All-Star and suited up for the Orioles this spring. In his three appearances, he has allowed one hit, no walks, and struck out three batters.
Check back throughout the year as we will continue to monitor and update any news about the ProHogs in the major and minor leagues.