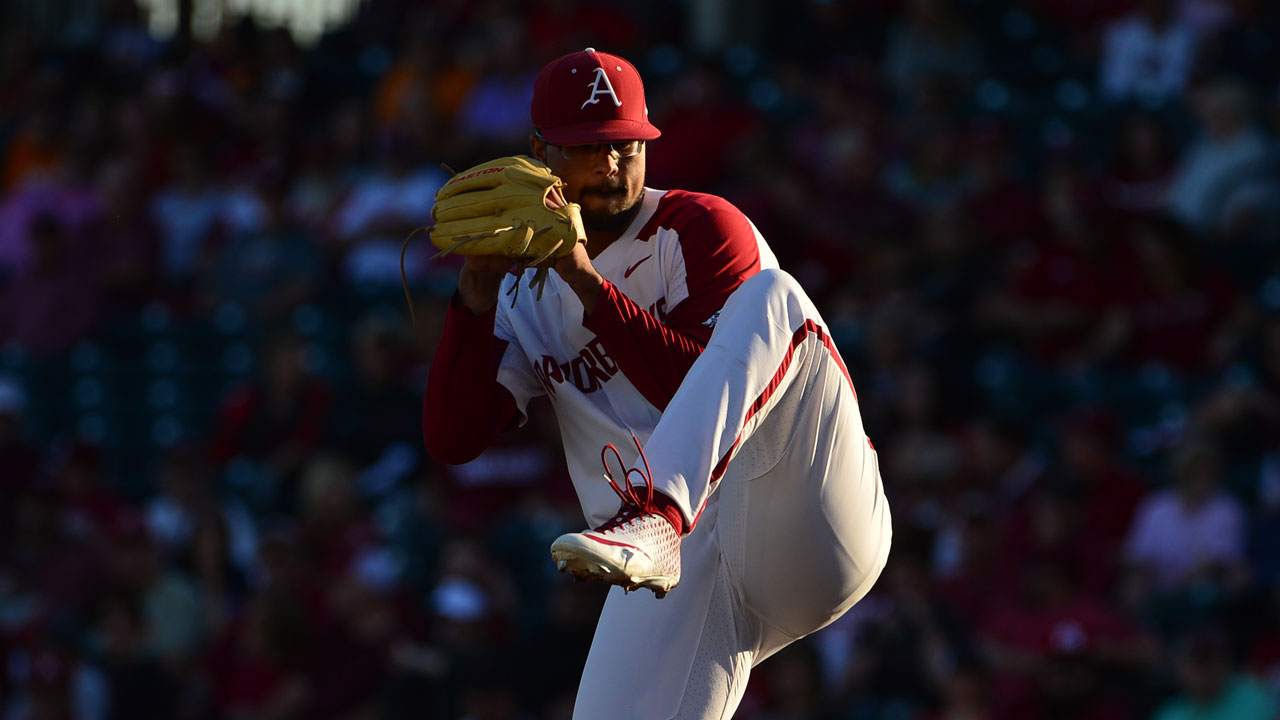 Quick Start Leads Hogs To Series-Opening Win
LEXINGTON, Ky. – After getting five runs of support in the first two innings, right-hander Isaiah Campbell carved through the Wildcat lineup Friday night, helping the fifth-ranked Arkansas Razorbacks to a 5-2 victory over Kentucky, their fifth in a row and eighth conference victory in a row.
Campbell, a redshirt junior, went seven innings strong and gave up just one run on five hits with six strikeouts. He retired eight of the final 10 batters he faced and notched his seventh outing of seven innings or more this year. Campbell picked up his eighth victory of the season, which ties for second most in the SEC and continues to lead the team.
Arkansas (36-11, 16-6 SEC) jumped on Kentucky (22-23, 5-17 SEC) early for four runs in the first inning and one run in the second inning, however, the offense stalled for the final seven innings. The Hogs managed just six hits the rest of the way as the Kentucky bullpen left seven runners on base.
Casey Opitz and Christian Franklin did lead all Razorbacks with three hits each, as they accounted for half of Arkansas' 12 hits in the game. Casey Martin also had a two-hit game as he hit his third inside-the-park home run of the year in the second inning and his second this week.
Razorbacks Bat Around In First Inning For Early Lead
Arkansas wasted no time jumping on Kentucky starter Jimmy Ramsey as it got its' first four batters of the game to reach base via a double by Trevor Ezell, an infield single by Martin, a throwing error to get Matt Goodheart on, and then a two-RBI single by Dominic Fletcher. Goodheart later scored on a passed ball to make it 3-0 and then Jacob Nesbit drove in a run later on a groundball to make it 4-0. Only one of Arkansas' four hits in the inning was a base hit, but it forced Ramsey to throw a lot of pitches and he eventually left the game in the middle of the second. Ezell
Another Inside-The-Parker For Casey Martin
It's no question that Casey Martin's speed is among the best in the nation and he showed it on Friday as both of his hits were the result of his quickness out of the box. In the first inning he beat out an infield single and in the second, he showed off the wheels with a hard-hit ball to deep centerfield. Martin was just short of hitting his 11th home run of the year over the wall, but still was able to score with his third inside-the-park home run, second in as many games. Martin did have an inside-the-park home run last year or a triple, but has 33 extra-base hits which leads all SEC players.
Cronin Shuts Door On Late Kentucky Threat
Closer Matt Cronin shut down a late Kentucky rally in the eighth and ninth inning to pick up his 10th save of the season. After relieving Campbell in the eighth inning with a 5-1 lead, redshirt junior Kevin Kopps could not record an out and loaded the bases, forcing Dave Van Horn to go to Cronin a little early. The junior struck out the first batter he faced and then gave up an RBI groundout before striking out another to end the inning and get out of the big jam. He then completed a near-perfect ninth inning, striking out two more to pick up the save and finish with four strikeouts. It was just his second outing with four or more strikeouts this year and first two-inning save.
Razorback Quotables
"We don't take anybody lightly in this league. I've been in it for 17 years and had seasons where I started conference season 8-0 and lost the last eight games of the season. Whenever you think have this league figured out and you think you can take a day off, you'll get whipped and sometimes it's hard to recover." – Head coach Dave Van Horn on the strength of the SEC
"It's pretty amazing. It's hard to hit one in a career, much less two in one week. He's a special player. He has really good speed, he's got some power and he can beat you in a lot of ways. It's big time that he hustled out of the box. A lot of guys might have thought it was out of the park." – Dave Van Horn on Casey Martin's second inside-the-park home run in a week
"It was real good to see him bounce back. Last week was a game that he'd tell you he didn't have his best stuff and we struggled a little bit tonight. We knew early on that he was feeling pretty good about how he was throwing the baseball. It was the middle innings he started using his off-speed a little more, then he came back to the fastball. It was really good." – Dave Van Horn on Isaiah Campbell bouncing back with a seven-inning, one-run performance
Up Next
Arkansas and Kentucky will attempt to play game two of their series tomorrow at Kentucky Proud Park. Forecasts are calling for a chance of rain in the afternoon, but first pitch remains at 1 p.m. and will be televised on SEC Network+. If game times or the schedule changes, fans can receive updates via Arkansas Baseball's official social media accounts and on ArkansasRazorbacks.com.
For more information on Razorback Baseball, follow @RazorbackBSB on Twitter.