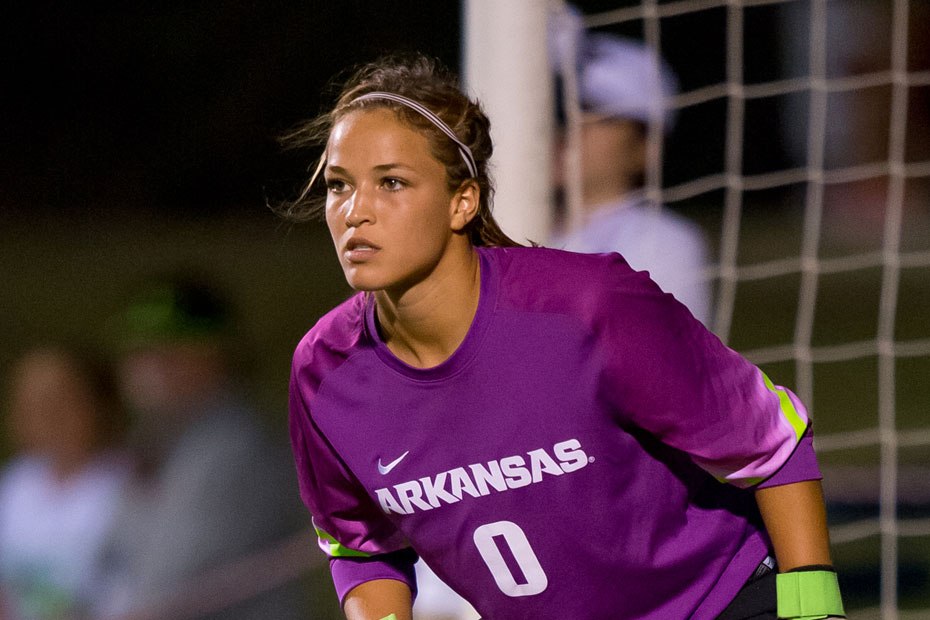 Quick Strikes Lead Arkansas to Shutout
DENTON, Texas – The 17th-ranked Razorback soccer team burst out of the gate Sunday afternoon, scoring two goals in a span of two minutes and then holding off North Texas for a 2-0 victory, it's first of the 2017 season.
Freshman Taylor Malham and sophomore Kayla McKeon scored in the 12th minute and 14th minute, respectively, to give Arkansas a large advantage in the early moments. Malham got her first goal of her collegiate career, while McKeon earned her 10th goal of her young career.
Upon getting the two-score lead, the Razorback defense kept up the aggressive pace for the remaining 75 minutes which allowed redshirt junior goalkeeper Jordan Harris to pick up her first shutout along with five saves.
"Today was a good win,"Arkansas head coach Colby Hale said. "Sunday matches are often about game plan and mentality. Today we earned that result. There were numerous factors that could have played a role and hats off to our players. they didn't let it affect the result. It was a well deserved win. We will enjoy this and then get ready for a good Penn State team starting Monday."
Arkansas (1-1-0) was able to get a good victory over a North Texas (1-1-0) team that was picked to win Conference USA (C-USA) by its league coaches. Before the Razorbacks' win, the Mean Green had not lost a match at home since 2014.
The win over North Texas is Arkansas' second-straight dating back to last year's 1-0 victory at Razorback Field and evens the all-time series at 2-2.
Even with the quick pace that Arkansas played with, North Texas was able to match the speed as both teams were even with eight shots at the halftime break. Shots on goal were nearly even as well as Arkansas was able to put five shots on frame compared to North Texas' four in the first 45 minutes.
Arkansas broke through with its first goal of the season as Malham corralled a loose ball near the left post and right-footed a ball past the keeper that had come off her line. Freshman Haley VanFossen was credited with the assist off the free kick, earning her first point of her career.
With barely enough time to reset, the Razorbacks struck again, this time off a beautiful cross by Stefani Doyle on the right side. McKeon one-timed it from 15 yards out giving the North Texas goalkeeper no chance. Both Malham's and McKeon's goals were separated by one minute and 13 seconds.
In the second half, Arkansas controlled the pace even more and battled through the hot Texas temperatures to put 10 more shots up with three finding the frame. The Razorbacks notched 18 shots total throughout the 90 minutes and seven different players put at least one on frame.
Now the Razorbacks get to focus on their home opener when they take on top-ranked Penn State next Friday at 6:30 p.m. Penn State was ranked number one by Top Drawer Soccer in last week's preseason poll and picked up a win over eighth-ranked BYU Friday before defeating Hofstra earlier today.
It will be the third top-five team to visit Razorback Field in the last two seasons. In last year's home opener, Arkansas defeated No. 2 Duke, 2-1, in front of a school-record 3,010 fans.
Tickets
Season tickets are now on sale for $25. Each season ticket order will come with one 2017 Razorback Soccer scarf.  Single-game tickets can be purchased for $5 at the Razorback Field box office, which opens one hour before kickoff on game days. Current students can be admitted with their UA ID, and children 17 and under are admitted free.
For more information on Razorback Soccer, follow @RazorbackSoccer on Twitter.