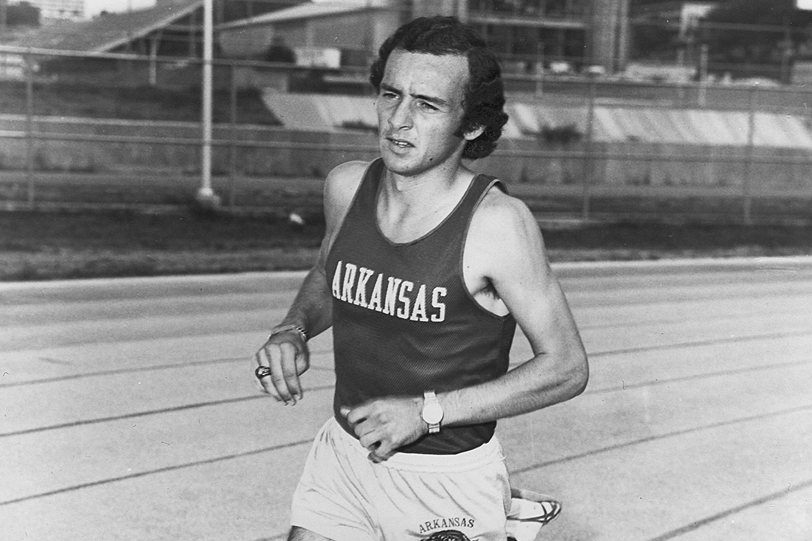 Razorback Great Niall O'Shaughnessy Passes Away
Niall O'Shaughnessy, a forerunner to the University of Arkansas' unprecedented men's track and field championship dynasty, passed away early Wednesday morning at his home outside Atlanta, Ga. O'Shaughnessy had been battling brain cancer. He was 59.
A native of Ireland, O'Shaughnessy was the first in a long line of Irish Razorbacks to help fellow countryman and legendary Arkansas head men's track and field coach John McDonnell turn the Razorback program into a national powerhouse. The former Olympian set numerous records competing for the University of Arkansas, but his influence spread far beyond the track.
"It is hard to accurately gauge the tremendous impact Niall had on our program," legendary Arkansas men's track and field coach John McDonnell said. "Coach (Frank) Broyles called him a running billboard, because every time he competed he was promoting not only the Razorbacks, but the University of Arkansas. He truly was the ultimate teammate and one of the finest I have ever coached. He helped start the winning tradition at Arkansas. Even more than 35 years later, the times he ran are still world class times. Our thoughts are with his family and friends and all those who had an opportunity to know this extraordinary athlete and man."
The young distance runner out of Kilknockan County Limerick, Ireland came to Fayetteville in 1973 ready to transform his raw talent into something even more special under the guidance of McDonnell. Prior to O'Shaughnessy's arrival, Arkansas had only known the likes of three All-Americans, the last coming when he was just one year old in 1956 with Ed Morton finishing 10th at the cross country championships.
As 1974 dawned, it saw the start of what would be a historic career for O'Shaughnessy as he earned Arkansas' first Southwest Conference Indoor Championship gold in the 880-yard run. Using the momentum from his first conference title, O'Shaughnessy earned the Razorbacks their first All-America honor in 18 years.
Gifted in distances ranging for 880 yards through 10,000 meters O'Shaughnessy became the first runner in program history to earn All-America accolades in cross country, indoor and outdoor track and field. O'Shaughnessy capped his storied career with the Razorbacks as one of the only runners to place at the national level in every academic year he competed. O'Shaughnessy remains the ninth best collegiate mile runner in history and holds the Razorback record with his time of 3:55.40 set in the 1977 season.
O'Shaughnessy represented Ireland in the 1976 Olympic Games in Montreal (800m and 1500m).
He was inducted into the University of Arkansas Sports Hall of Honor in 1994.
It was recently announced he would be inducted into the Southwest Conference Hall of Fame in November in a ceremony in Little Rock. With the recent decline in O'Shaughnessy's health, McDonnell and former Razorback great Frank O'Mara traveled to Atlanta two weeks ago to present O'Shaughnessy with his SWC Hall of Fame medallion. O'Shaughnessy will be inducted posthumously at a luncheon on Nov. 9 at the Little Rock Marriott.