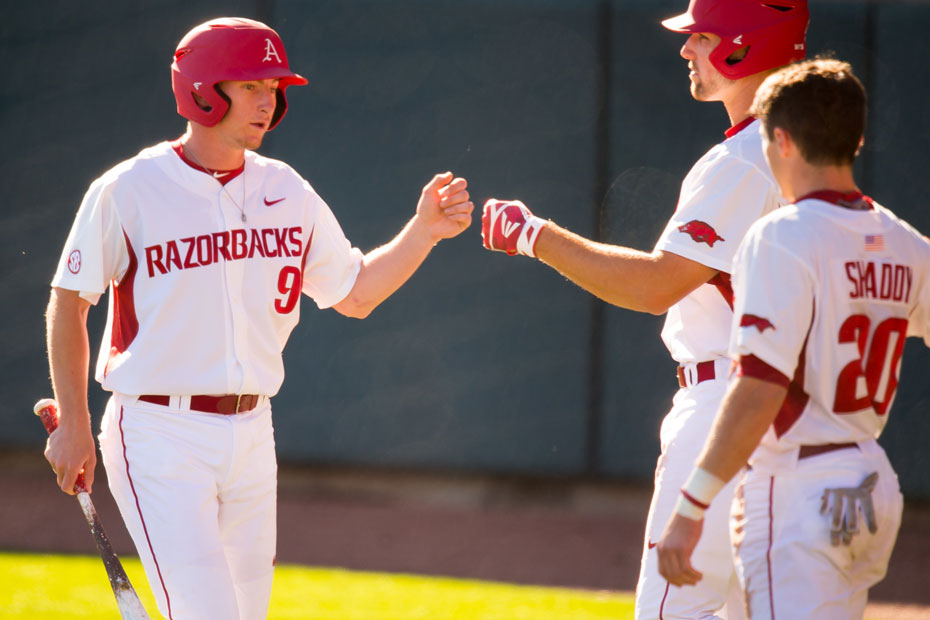 Razorbacks Slug Way To Midweek Win
Box Score (PDF) | DVH Postgame | Players Postgame
FAYETTEVILLE, Ark. – Six different Razorbacks recorded multi-hit games Tuesday afternoon to lead Arkansas to a 12-3 victory over ULM at Baum Stadium. The Hogs scored eight of their 12 runs before the fourth inning and totaled 16 hits, their highest in a game this season.
Second baseman Carson Shaddy and shortstop Jax Biggers led all hitters with three-hit ballgames. Shaddy scored twice, hit a home run, and drove in three for his second three-hit performance of the year and third-straight multi-hit game. Biggers was a perfect 3-for-3 at the plate with two RBIs. Tuesday marked his third multi-hit game of the year also.
Chad Spanberger, Luke Bonfield, Evan Lee and Alex Gosser all recorded two hits each against the Warhawks. Bonfield was the only player out of the group to notch an RBI, but Gosser scored three times to set a new career-high.
Starting pitcher Dominic Taccolini was near lights out in his six-inning performance. He scattered seven hits and only gave up two earned runs, while matching his career-high of 10 strikeouts. Taccolini's last 10-strikeout performance came last season against Kentucky (April 22, 2016) when he threw a 10-inning complete game shutout.
Taccolini is the first pitcher since Drew Smyly to record 10 or more strikeouts in a game twice in a career. Smyly recorded 12 strikeouts against Oklahoma in the 2009 NCAA Normal Regional and then 11 the next season against Wisconsin-Milwaukee (March 13, 2010). He also had 10 against Florida (April 23, 2010) in the same season.
Moments That Mattered
The Hogs got on the board early with an RBI double by Bonfield and then plated two more in the second with a Biggers double, which scored Gosser from first, and a well-placed safety squeeze by Hunter Wilson. Wilson had one of his best days at the plate this year totaling two RBIs with one hit for his first multi-RBI game of the season.
Arkansas broke it open in the third with a five-spot to make it 8-0, chasing ULM starting pitcher Cole Hendrix after just 2.1 innings. Spanberger led off the inning with a double to right field, his second hit in as many at-bats. Two batters later, catcher Grant Koch hit his team-leading fifth home run of the year into the left field bullpen. With that home run, Koch is now tied for the SEC lead in long balls.
After the homer, ULM went to the bullpen and brought in Tyler Schwaner. The change on the mound didn't affect the Hog hitters as Lee singled up the middle and then Shaddy homered for the third time this year. As a team, Arkansas now has 17 home runs, which still leads the SEC. It's the fourth game this year that Arkansas has hit more than one home run.
Razorback Quotables
"That's where it all started. He had a good outing six innings, 10 strikeouts, fastballs running all over the place. A couple of times he had trouble controlling it, but for the most part he was in the zone. It seemed like he could go to that breaking ball just about any time and throw it for a strike."  – Head coach Dave Van Horn on Dominic Taccolini's performance
"We had some good innings. For example, in the second inning we had the opportunity to score a couple of runs and instead of driving them in we did a safety type bunt that got the run in. We just wanted to add to that lead and stay out of the double play. We put together that good inning in the third where we had three, four, or five hits in a row. A couple innings here and there, we just scored runs. We just kept it going from there." – Head coach Dave Van Horn on the offense
"Today felt pretty good. I got off to a good pace and a good start. I had Alex (Gosser) back there so it felt like good memories throwing it him. He caught a good game and I was just executing pitches. I had good fastballs coming in early on and executed some pitches there. I got my breaking ball lowered and then later on in the game I threw my breaking ball more and they couldn't really hit it so that's how it went down." – Dominic Taccolini on his outing
"Our offense was great. It looked like everyone was slowed down and it slowed the game down. Everyone tried to hit their pitch and not do too much." – Carson Shaddy on the team's offensive performance
"I felt pretty comfortable. It's been a while. The last time I played was about a month ago. I thought I did okay. There was a lot more room for improvement, but it's a good place to start." – Alex Gosser on his two-hit day
Up Next
The Razorbacks and Warhawks will face off again on Wednesday to finish the two-game series starting at 3 p.m. at Baum Stadium. The game will be televised on SEC Network+ on the WatchESPN app.
For more information on Razorback Baseball, follow @RazorbackBSB on Twitter.