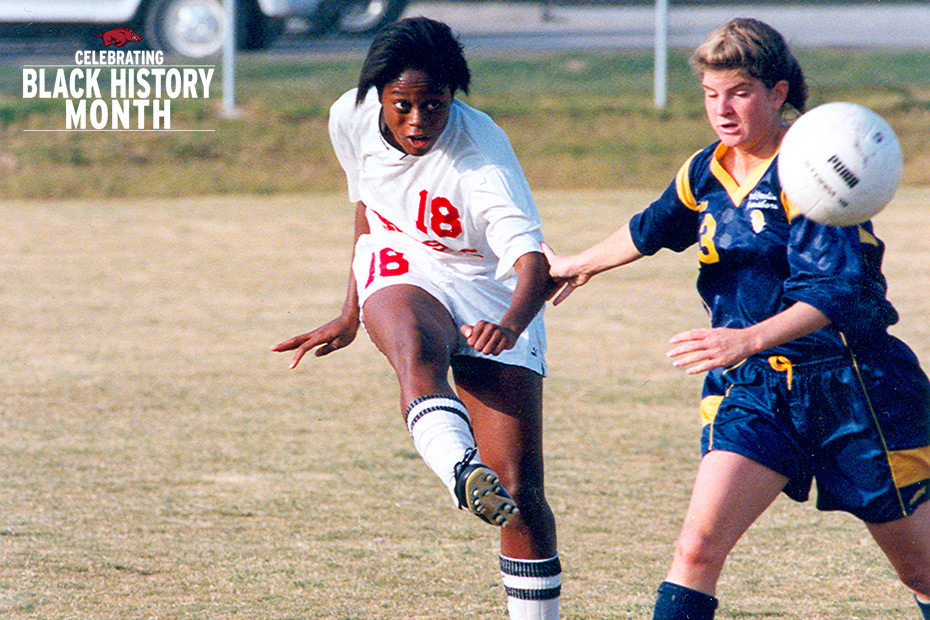 Razorback Trailblazers: Denise Brown
In honor of Black History Month, the Razorback Athletic department will release "Trailblazer" stories throughout February celebrating the success and accomplishments of some of the first African-American student-athletes in University of Arkansas history.
FAYETTEVILLE, Ark. — In her three-year career with the Arkansas soccer program, Denise Brown had four game-winning goals, scored 15 total goals and had 35 total points as the Razorbacks won a combined 25 matches.
Brown helped Arkansas advance to the finals of the Southeastern Conference Tournament in 1993 and 1994, and had a big senior season with three game-winning goals. One of the first Razorbacks to earn All-SEC honors, Brown was a first-team selection in 1993 and 1994 for head coach Janet Rayfield. Brown joins Honey Marsh (1993, 1994) as the only two Razorbacks to earn a spot on the first team more than once. In just 16 games as a senior — all starts in 1994 — she led the team with eight goals and 17 points, and added one assist.
Brown had game-winning scores against Mercer, Oral Roberts, and Tulsa. In the 4-0 win at ORU on Oct. 18, 1994, she scored three times for a rare hat trick. Brown also scored against Florida International, Vanderbilt, and Colorado College, helping the Razorbacks finish 7-11-2.
In 1992 for head coach Marcia McDermott, Brown played in 13 games off the bench but was fourth on the team with three goals, including one game-winner. She also ranked fourth in assists with two, and fifth in points with eight. Arkansas finished 8-8-1 with wins over Texas A&M, Kentucky, and Vanderbilt.
The following year, she started all 20 games and was fifth on the squad with four goals, sixth in assists with two, and fifth in points with 10. A member of the SEC All-Tournament squad, Brown helped the Razorbacks knock off Texas A&M, SMU, Washington, Oregon State, North Carolina State, and Auburn on the way to a 10-10 finish, which at the time, tied the school record for wins in a season.
Brown's career totals included 49 games with 36 starts, 15 goals in 85 shots, five assists, 35 points and four game-winning scores. A member of the university honor roll, her three game-winners in 1994 still tie for eighth on the school's all-time list. Her five career game-winners tie for eighth-best in Razorback history. Brown's six points for the hat trick at ORU are the fourth-most in UA history for a single game and the three goals tie for second-most.
Her 10 points in 1993 helped Arkansas score 150 for the season, which is still a school-best record. The 1993 club also holds the record with 7.50 points per game and 2.85 goals per game.