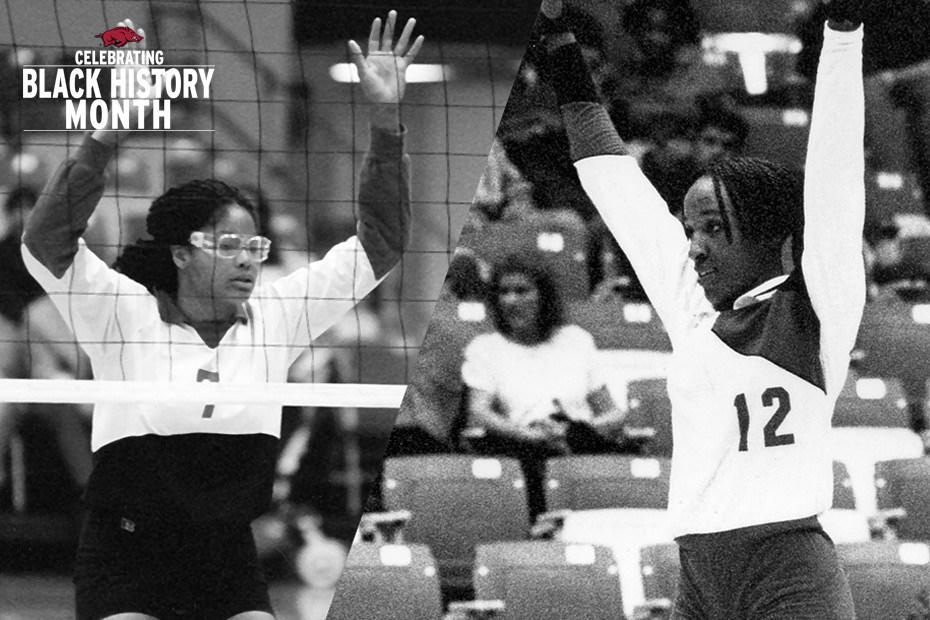 Razorback Trailblazers: Melanie Davis and Krystal Osborne
In honor of Black History Month, the Razorback Athletic department will release "Trailblazer" stories throughout February celebrating the success and accomplishments of some of the first African-American student-athletes in University of Arkansas history.
FAYETTEVILLE, Ark. — When the University of Arkansas fielded its first volleyball team in 1994, the roster consisted of just eight players.
Melanie Davis and Krystal Osborne were members of that inaugural team, and in turn, were the first African-American volleyball players in program history.
Playing together for the first three seasons of the program, Davis and Osborne were a part of a budding tradition. Between 1994 and 1996, the Razorbacks compiled a 70-43 overall record with a 32-13 mark in Southeastern Conference play. The team also advanced to two SEC Tournament championship matches and made the program's maiden voyage into the NCAA Tournament during the 1996 season.
Not bad for a program that pulled together its first-ever roster solely on a promise of things to come. When Davis and Osborne committed to Arkansas, they attached themselves to a program that, at the time, had no nets, no uniforms and no history. Along with the other six members of the team, they took a leap of faith on a first-year experiment in the SEC.
The potential of things to come drew the two away from their homes out west to the Natural State. Prior to their moves to Northwest Arkansas, Davis lived in Tucson, Ariz., and Osborne resided in Las Vegas. To the chagrin of its opponents, Arkansas did not take long to establish itself as a legitimate power in the sport of volleyball.
Davis proved to be a physical defensive presence at the net as part of Arkansas's blocking prowess. She continues to hold a spot in a pair of the program's single-match records. In that first season of Arkansas volleyball, Davis had four solo blocks against UMass during a four-set win in the NIVC Tournament. That performance is tied for the second-highest total. The following season at the Houston Kickoff Classic, she assisted on 11 blocks against Southwest Missouri State, good for the fourth-most in program history.
In a collegiate career that spanned the 1994-96 seasons, Davis also accomplished big things in the classroom. She was a four-time member of the University of Arkansas's academic honor roll, in addition to being recognized as an Academic Champion with a perfect 4.0 grade-point average during the 1995 spring semester.
Osborne's legacy was well-established during her four-year career in Fayetteville. She tallied a program-best 2,185 career kills ranking first at Arkansas, second all-time in the SEC and, upon graduation, she was in the top-20 in the nation for career kills. Osborne also is one of five players to have more than 1,000 career kills and 1,000 career digs and ranks second for career digs with 1,659 to her credit.
With her name all over the Razorback record book, it's not surprising that Osborne earned numerous honors as well. She was the first Razorback volleyball player to earn All-SEC First Team honors (1994) and was selected to the AVCA All-District team that same season. She went on to earn three All-SEC honors and added SEC Tournament MVP to her resume in 1997 leading the Razorbacks to a three-set upset win over fourth-ranked Florida in the SEC Championship.