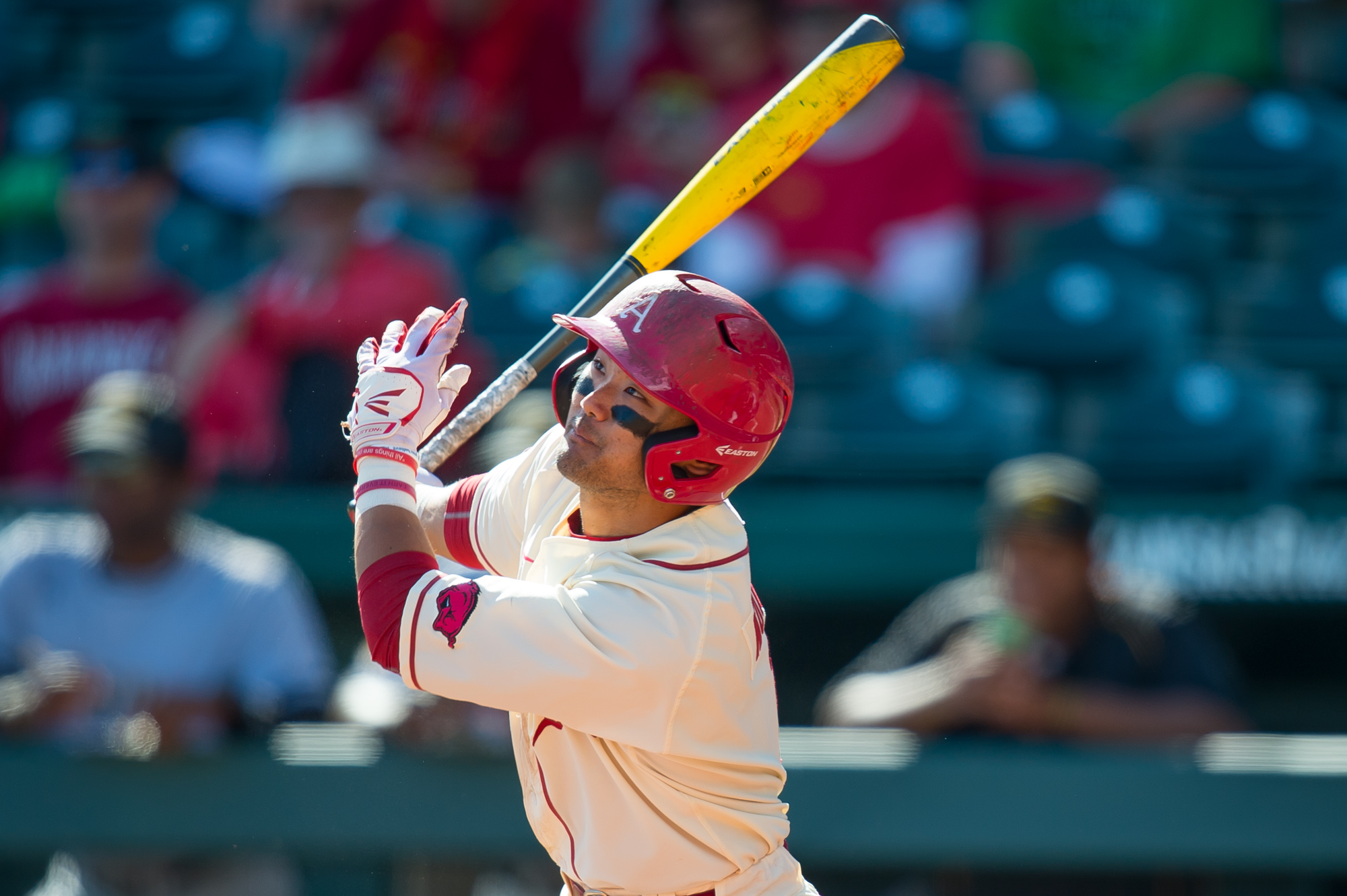 Razorbacks Back Home To Take On Auburn
Follow @RazorbackBSB on Twitter | Arkansas vs. Auburn Game 1 (SEC Network+/WatchESPN) | Arkansas vs. Auburn Game 2 (SEC Network+/WatchESPN) | Arkansas vs. Auburn Game 3 (SEC Network+/WatchESPN)
FAYETTEVILLE, Ark. – The 18th-ranked Razorback baseball team is ready to be back on home turf starting Friday when it hosts SEC-foe Auburn for a three-game series at Baum Stadium as the opener to the home portion of its conference schedule.
Friday's first game of the series is set for a 6:30 p.m. first pitch. Saturday's game two will start at 6 p.m., while Sunday's finale will start at 1 p.m. All games can be seen online on SEC Network+.
Arkansas is coming off a rough weekend at then-No. 12 South Carolina, which ended in a three-game sweep at the hands of the Gamecocks. One of the bright spots was redshirt sophomore Carson Shaddy's performance at the plate. Over the last five games, including the two-game midweek series against Grambling State, Shaddy went 8-for-17 (.471) with four doubles and 11 RBI. Shaddy is currently batting .387, leading the team, with 29 hits, four being doubles, five home runs and 23 RBI.
The Razorback rotation will include right-handed junior Dominic Taccolini on Friday and sophomore righty Keaton McKinney on Saturday. Arkansas head coach Dave Van Horn has yet to announce a starter for Sunday. Taccolini comes in making his sixth Friday start in as many weekends and leads the team in innings pitched (31.0) and strikeouts (25). McKinney will be making his sixth start in six weekends also as he has compiled a 6.30 ERA, but has not been the pitcher of record in any of his starts.
Friday's game will be the first of five "Friday Night Shirsey Nights." The first 2,000 fans at Baum Stadium for Friday night's SEC Home Opener between the Auburn Tigers and Arkansas Razorbacks will receive a Dallas Keuchel Shirsey. The five limited edition Shirseys will be different for each game and will include greats throughout Arkansas baseball history. Shirsey designs will be released the Monday of each SEC Friday night home game.
Follow Live
Fans can catch the entire series on SEC Network+ and the WatchESPN app with Alex Perlman (PXP) and Troy Eklund (Analyst) on the call. Also, all three games of this weekend's series can be heard on the radio via the Razorbacks Sports Network from IMG with Phil Elson (PXP) and Rick Schaeffer calling the action.
Probable Starters
Fri. | 6:30 p.m. CT | (ARK) RHP Dominic Taccolini (3-1, 4.06 ERA, 25/6 K/BB) vs. (AU) RHP Justin Camp (1-1, 4.94 ERA, 24/8 K/BB)
Sat. | 6 p.m. CT | (ARK) RHP Keaton McKinney (0-0, 6.30 ERA, 8/9 K/BB) vs. (AU) RHP Casey Mize (1-1, 3.38 ERA, 18/5 K/BB)
Sun. | 1 p.m. CT | (ARK) TBA vs. (AU) RHP Cole Lipscomb (1-2, 6.33 ERA, 19/10 K/BB)
LEADING OFF
No. 18 Arkansas looks to get back on track this week as it host SEC-foe Auburn at Baum Stadium for a three-game weekend series to kick off the home portion of its conference schedule. The Razorbacks are coming off a three-game sweep at the hands of No. 12 South Carolina, which snapped a five-game winning streak the Hogs had coming in. Arkansas has yet to lose a home series this season, going 12-3 at Baum Stadium with two of the three losses being single-game midweeks (Louisiana Tech, Gonzaga).
Even with the three losses to the Gamecocks, redshirt sophomore Carson Shaddy continued to have a stellar year at the plate, going 8-for-17 (.471) over the five-game stretch with four doubles and 11 RBI. Half of Shaddy's season total of RBI (23) came last week and all of his doubles this year ocurred during the five-game span. Shaddy is currently batting .387, leading the team, with 29 hits, four being doubles, five home runs and 23 RBI.
Redshirt freshman Darien Simms made his second career start in last Sunday's finale against South Carolina. The speedy Simms hit in the lead-off spot, going 1-for-4 with one run scored and one walk. His lone hit being on a perfect bunt down the third base line. Simms has five hits on the year in 14 at-bats (.357) and also has three stolen bases, tied for second-best on the team.
Senior catcher Tucker Pennell has been showing off his arm lately from behind the plate, mostly because opposing teams keep trying to steal on him. Pennell currently leads the SEC with steal attempts against (26), but also leads in caught stealing by (10).
Freshman Barrett Loseke was given the opportunity for his first career start in the series finale against Western Illinois. Loseke didn't dissappoint going a season-long four innings, while only giving up one hit with no runs. He made his second-career start in game two of the South Carolina series and still had a solid outing, going four innings with only three hits given up and two earned runs with three strikeouts. Over the 14 innings he's pitched this season, Loseke has only given up those two runs.
Razorback History vs. Auburn
Arkansas trails in the all-time series, 36-44, with Auburn as Friday's game will be the 81st meeting between the two clubs. The two teams have faced each other at least three times in each of the last 24 years, dating back to 1992 when Arkansas first joined the SEC.
Auburn has won five of the last six series against the Razorbacks, going back to 2010. However, the Hogs came away 2-1 victors in last year's series at Auburn.
HOGS AND TIGERS LAST 12 RESULTS
| Date | Location | Result | Score |
| --- | --- | --- | --- |
| March 28, 2015 | Fayetteville, Ark. | W | 5-2 |
| March 27, 2015 | Fayetteville, Ark. | L | 5-4 |
| March 26, 2015 | Fayetteville, Ark. | W | 10-3 |
| May 23, 2014 | Hoover, Ala. | W | 8-7 |
| May 21, 2014 | Hoover, Ala. | W | 2-1 |
| May 4, 2014 | Oxford, Miss. | W | 11-1 |
| May 3, 2014 | Oxford, Miss. | L | 7-4 |
| May 2, 2014 | Oxford, Miss. | W | 3-2 |
| May 22, 2013 | Hoover, Ala. | W | 2-1 (10) |
| March 17, 2013 | Fayetteville, Ark. | L | 6-3 (13) |
The Flyin' Hawaiian – Rick Nomura
Senior infielder Rick Nomura seemed to break out of his hitting slump as he hit his second home run of the season in Arkansas' 9-3 win over Western Illinois to secure the series win. Nomura went 4-for-5 in the game, a career-high in hits and scored three runs, while driving in two.
Nomura hit his third home run vs. Grambling State, part of a 3-for-4 day with a career-high four runs scored.
Over his last 11 games, the Hawaiian has gone 14-for-39 (.359) at the plate, driving in nine runs and hitting three home runs, while scoring 11 times.
Nomura wasn't a slouch in the SEC series-opening weekend either against South Carolina as he had three hits in 12 at-bats (.250), two of this hits being for extra-bases and two runs scored.
Two-Baggers For Bonfield
Sophomore Luke Bonfield has been on a mission at the plate since the second game of the Western Illinois series. Over the seven-game stretch, Bonfield has hit .423 with 11 hits, four being doubles, six RBI and one home run.
Bonfield has been hot and cold with the bat since the start of the season. He went 5-for-12 (.417) through his first three starts this season, highlighted by a 3-for-5 day with 5 RBI vs. Mississippi Valley State (2/23).
Over the next six games, Bonfield struggled to get any momentum, notching only two hits and no RBI, including going 0-for-4 in the series opener against Western Illinois.
Now, Bonfield has upped his average to .333 and his five doubles are tied for the second-highest on the team.
His three RBI on Sunday vs. Western Illinois tied his season-high and were the only three run Arkansas scored in the shutout.
Over the last seven games, Bonfield is slugging .692, just behind Carson Shaddy and Rick Nomura, but has struck out a team-high nine times.