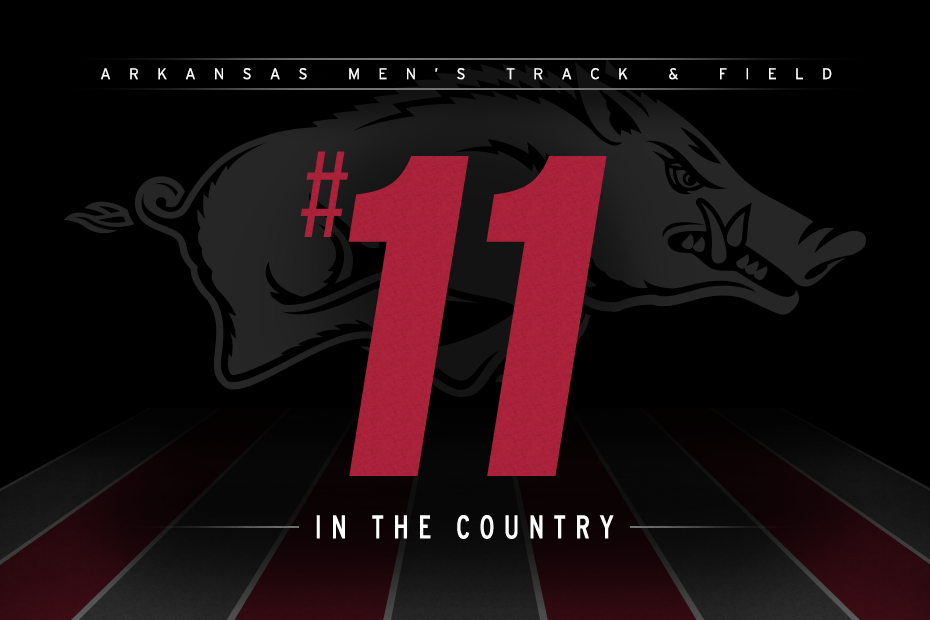 Razorbacks Begin Outdoor Season In Top 15
New Orleans – The Arkansas men's track and field team will open the year as the preseason 11th-ranked team, as the national rankings were released by the USTFCCCA Monday evening. The Razorbacks total 131.63 points which places them just outside of the top-ten.
Among returners from last year's national meet include eight scorers from four events. The Razorbacks, who finished fourth last season, are looking for another podium finish this spring.
Fresh off of their indoor meet success, the Razorbacks are expecting contributions from Gabe Moore in the Decathlon and distance specialist Cameron Griffith. Moore finished fifth in the heptathlon in the indoor meet, while Griffith placed third in the 3,000 meters. Arkansas also returns NCAA Champion and senior Kenzo Cotton, who has been a staple in Arkansas' success in outdoor meets for the past three seasons.
Returning 2017 All-Americans
First Team
Jack Bruce- 5,000 Meters
Kenzo Cotton- 4-x-100 Meter Relay
Roy Ejiakuekwu- 4-x-100 Meter Relay, 4-x-400 Meter Relay
Obi Igbokwe- 4-x-400 Meter Relay
Kemar Mowatt- 400 Meter Hurdles, 4-x-100 Meter Relay
Rhayko Schwartz- 4-x-400 Meter Relay
Second Team
Kenzo Cotton- 100 Meters, 200 Meters
Gabe Moore- Decathlon
Harrison Schrage- Long Jump
In The Hunt For Program Of The Year
The Arkansas men's track and field team remains in the hunt for its second-consecutive John McDonnell Program of the Year award, sitting currently in second place with 18.5 points. The Razorbacks have finished in the top-three each of the last five seasons. A team receives points based on its finish at each championship event (i.e. first = 1 point, 10th = 10 points) and the points are added together with each passing season. The team with the lowest score following the completion of the NCAA Outdoor Championships is determined the winner.
Program of the Year Standings
1. Northern Arizona – 16
2. Arkansas – 18.5
3. Oregon – 19.5
4. Alabama – 23
5. Syracuse – 23.5
New Year, Same Goal
Head coach Chris Bucknam returns several All-Americans from last year's championships season including one of the NCAA's best sprinters in Cotton. Bucknam's squad remains steadfast in their national title mission and with a roster riddled with young talent and veteran contributors, the Razorbacks look to make a statement this spring.
A Loaded SEC
In the hunt for its second conference title in three season, Arkansas will face a loaded field that includes eight addition top-25 conference programs.
Nationally Ranked Southeastern Conference Programs (9)
2. Texas A&M
4. Florida
5. Georgia
6. Alabama
11. Arkansas
13. South Carolina
14. Mississippi State
18. Auburn
22. Kentucky
The national team rankings are compiled by mathematical formula based on national descending order lists. The purpose and methodology of the rankings is to create an index that showcases the teams that have the best potential of achieving the top spots in the national team race. Rankings points do not equate with NCAA Championships team points. Preseason rankings will include marks from 2017, and the National Team Computer Rankings will continue to do so through the third regular-season edition.
The Razorbacks will make their outdoor debut at the Arkansas Spring Invitational in Fayetteville, Arkansas, on March 23-24 at John McDonnell Field. Season tickets are available online, contacting the Razorback Athletics Ticket Center at 800-982-HOGS, or visiting in person. The Ticket Center is located just east of Baum Stadium at 1295 S. Razorback Road in Fayetteville.
For more information on Arkansas track and field, including in-meet updates, follow @RazorbackTF on Twitter.