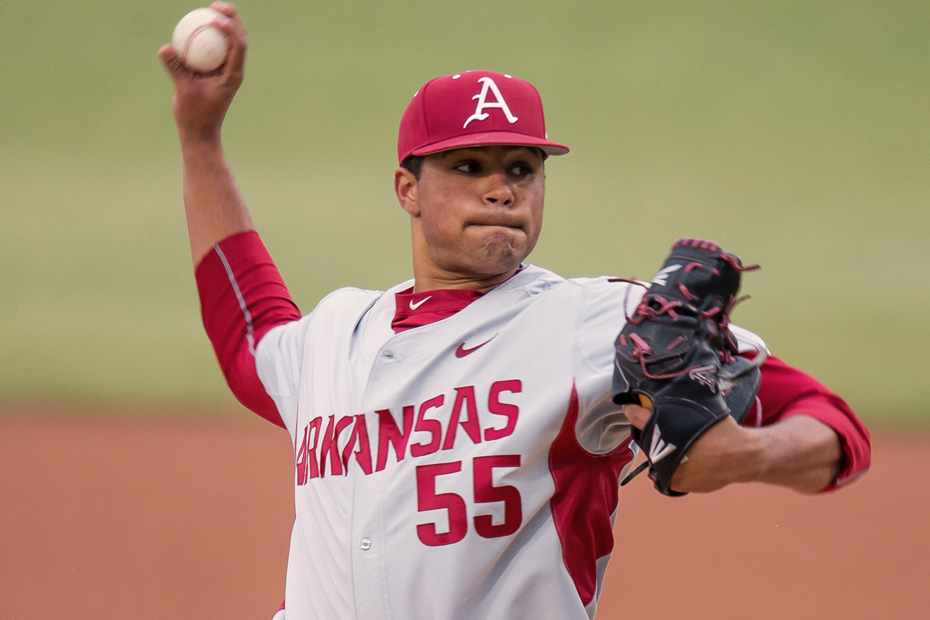 Razorbacks Blast Way Past Delta Devils, 21-4
Box Score | Players Press Conference | Coach Van Horn Press Conference
FAYETTEVILLE, Ark. – Even in the cold and windy conditions Tuesday afternoon, the bats of No. 18 Arkansas were red hot as the Razorbacks plated 21 runs on 19 hits to beat Mississippi Valley State, 21-4, at Baum Stadium.
Luke Bonfield went 3-for-5 with five RBI, while Isaiah Campbell picked up his first victory of his career, allowing just one earned run over two innings with one strikeout in a planned short start.
The last time Arkansas scored 21 runs was against South Dakota State back in 2010 (March 10), when the Hogs beat the Jackrabbits, 21-2.
18 different Razorbacks saw action in Tuesday's win along with six pitchers, the most so far this season.
"It's nice whenever we keep plugging guys in and they keep coming through," Arkansas head coach Dave Van Horn said. "They're pitching well and swinging the bats well. To see some guys getting their first hits as Razorbacks, Jack Benninghoff got a hit and Darien Simms in his first plate appearance got a hit, that's always fun for the team."
James Teague, Barrett Loeske, Jordan Rodriguez, Kacey Murphy and Hunter Hart also got time on the mound today, combining for three runs given up on five hits and striking out nine.
Teague, who made 23 appearances in 2015 with 49 strikeouts, got his first action of the season, going a strong inning and striking out the side.
""It felt good to just be back out there," Teague said. "I think the time off from last summer and the work we have been doing with coaches has been helping. I think I can get up there, maybe as just a relief appearance, it's a lot easier. You give it all you have for one inning and be done, opposed to being a starter. I am really just glad to be back healthy, back out there and doing what I can to help the team."
Two of Bonfield's RBI came off the two-run blast hit over the right field wall in the third inning, his second of the year. Clark Eagan and Austin Catron also got in on the home run action helping Arkansas to its largest run total since the Hogs put up 18 runs on Missouri State in last year's first game of the NCAA Super Regionals.
"He had a double, home run, and singled as well," Van Horn said. "Sometimes when you get it going you just need a little confidence. It's good to see him swing the bat and have a little production there in the middle of the order."
Arkansas didn't waste any time getting on the scoreboard, scoring five runs in each of the first two innings and batting around in each frame also. Cullen Gassaway's RBI single got the scoring started in the first and then the next three runs came in the next three at-bats, two from sacrifice flies by Rick Nomura and Austin Catron.
Nomura finished the game with three runs scored and two RBI, while Catron went 2-for-5 with three RBI including the home run in the sixth, his first of the year.
Clark Eagan (1-for-5, 2 R, 2 RBI) hit the game's first home run in the second inning, a two-run shot to break the game wide open at 7-1. It was followed by three more runs via two-straight doubles by Michael Bernal and Grant Koch. Both Bernal and Koch ended the game with a combined five hits and six RBI. Koch was nearly perfect at the plate going 3-for-4 with four RBI.
"It was a hit-and-run and I was just trying to hit the ball hard," Eagan said of the home run. "I got it up in the jet stream and it went. It was nice."
Arkansas went on to score at least one run in every inning except the seventh, but never went down in order, tallying at least one hit in each frame.
The Razorbacks and Delta Devils will be back on the field Wednesday to close out the two-game series with first pitch scheduled for 3:04 p.m. The game can be watched on SEC Network+.