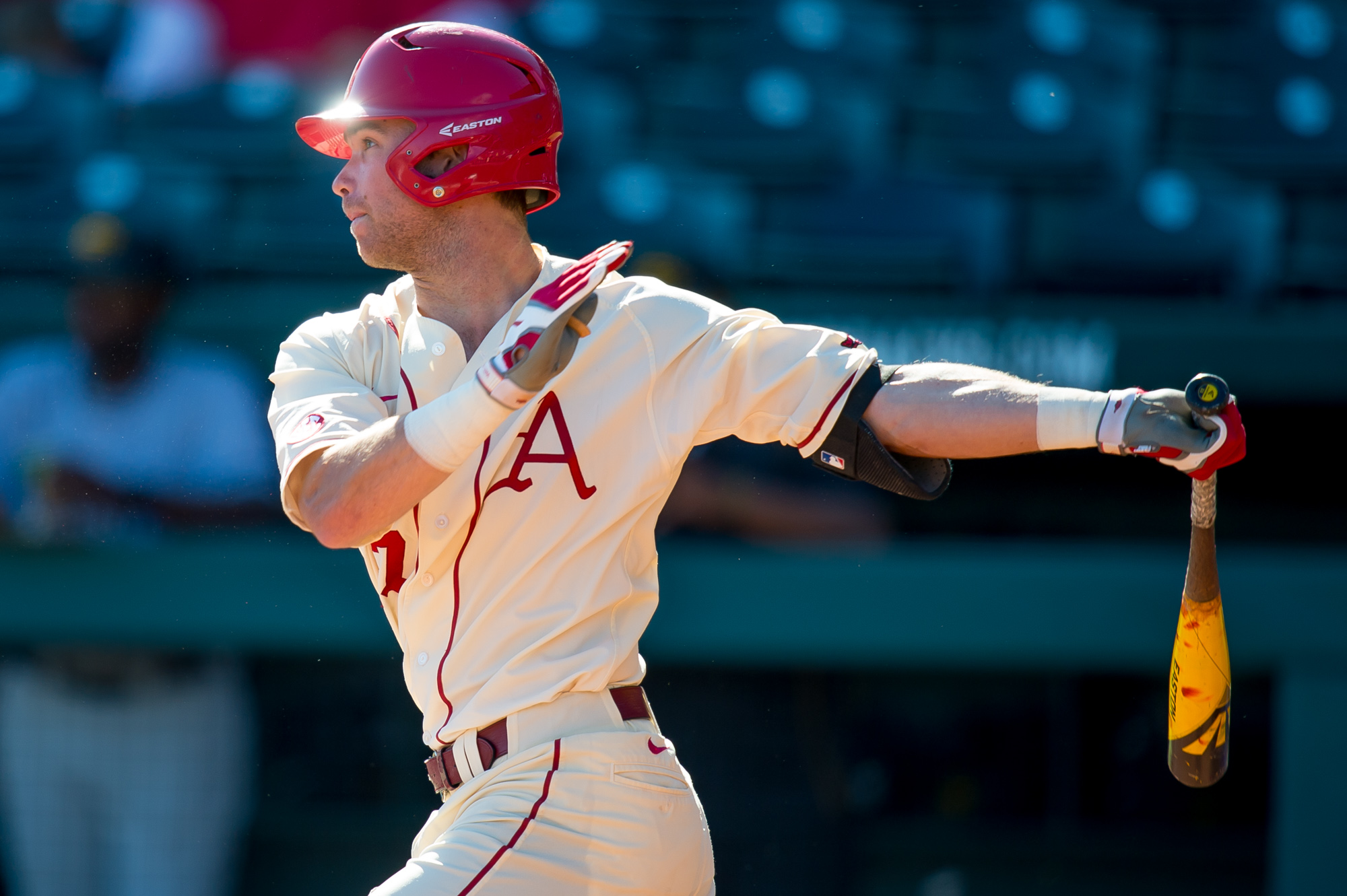 Razorbacks Fall To Gamecocks Despite Late Rally
COLUMBIA, S.C. – After giving up eight runs over the first two innings against No. 12 South Carolina Friday night, the No. 13 Razorback baseball team made a small comeback late in the game to pull within three runs in the eighth inning after a four-run frame was capped by a Luke Bonfield home run.
However, it was too much to overcome as the Razorbacks (15-4, 0-1 SEC) dropped their SEC opener, 10-6, to the Gamecocks (18-2, 1-0 SEC), and junior starting pitcher Dominic Taccolini suffered his first loss of the year, giving up eight earned runs on 12 hits over six innings of work.
"They were just attacking everything Dominic threw tonight," Arkansas head coach Dave Van Horn said. "Most everything he threw was belt-high and he couldn't get the ball down to use his sinker. The top of their order did a lot of damage tonight. Credit to them, they jumped all over us."
The Razorbacks pulled within 9-6 after a four-run eighth inning and showed new life after Carson Shaddy tallied a two RBI single to score Clark Eagan and Darien Simms, followed by the two-run Bonfield big fly. Eagan and Simms reached with two-straight singles to lead off the inning, forcing South Carolina starting pitcher Clarke Schmidt to be relieved after seven innings.
Shaddy finished with a team-high three hits with three RBI and one run scored. Shaddy also notched his fourth double of the year in the second inning, which was the first extra-base hit off Schmidt this season. For Shaddy, it was his fourth double in his last three games.
As a team, five of Arkansas' 12 hits Friday night went for extra bases, including two home runs from Tucker Pennell and Bonfield and doubles from Shaddy, Eric Cole and Rick Nomura.
Arkansas's offense struggled to get on top of Schmidt, who had only given up one earned run entering Friday's contest. However, Schmidt didn't come away from the game without a scratch. Arkansas put up one of the better offensive showings against him this season, tallying four runs on nine hits, including four for extra bases. Schmidt had yet to give up an extra-base hit all season until Friday night against the Hogs.
Schmidt did, unfortunately, strike out 11 Arkansas batters over his seven innings of work, which was a new career-high as he picked up his fifth win of the year.
Even with the rough start, Taccolini did a great job to settle down and eat some innings, saving the Razorback bullpen for the remainder of the series. After the five-run first and three-run second, Taccolini held the Gamecock offense scoreless over his remaining four innings of work, allowing just three hits.
"He did a good job to hold them down so we didn't have to use our whole bullpen tonight," Van Horn said. "He threw six innings for us and about 110 pitches. My hat's off to Dominic for hanging in there and giving us a chance."
The Razorbacks' started chipping away at the eight-run deficit in the third inning after Pennell slugged his second homer of the year over the left field wall. It was only the second run given up by Schmidt this season and his first homer given up.
Meanwhile, on the other side of the ball, Taccolini started to settle in and held the Gamecock offense in check allowing just three base runners between the third and sixth innings.
After Taccolini was pulled at the start of the seventh inning, Isaiah Campbell came in and pitched one inning, followed by Kacey Murphy and Josh Alberius, who all combined to give up just two runs on four hits over the last two innings.
Arkansas tallied another run in the sixth to make it 8-2 as Shaddy delivered the RBI single, scoring Nomura, who had a one-out double earlier in the inning, but were not able to string multiple hits together for run-scoring opportunities until the eighth inning.
South Carolina added insurance runs in the seventh and eighth innings, one being a solo home run from DC Arendas off Campbell in the seventh inning.
Arkansas and South Carolina return to the field on Saturday for game two of the series at Founders Park. First pitch is slated for 3 p.m. CT and will be broadcast on SEC Network+.