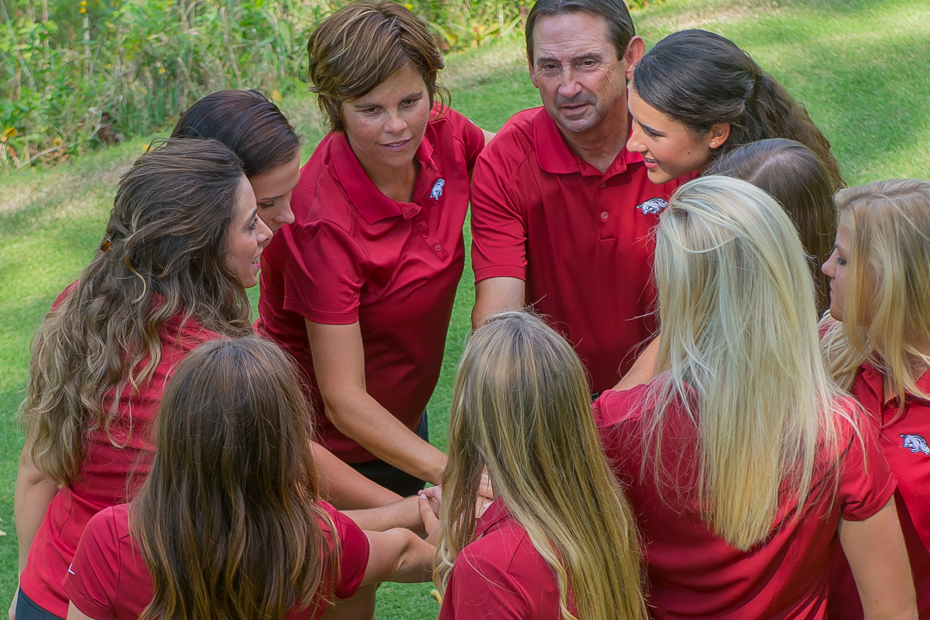 Razorbacks Defeat Top-Ranked Duke
ATHENS, Ga. – The seventh-ranked University of Arkansas women's golf team notched a big win over No. 1 Duke in the final round of match play at the 44th Annual Liz Murphey Collegiate Classic in Athens, Georgia, Sunday.
The Razorbacks picked up the 3-2 win over the Blue Devils in the Black Bracket of the tournament. After a slow start in stroke play in which the Razorbacks finished tied for ninth, Arkansas rallied tying Auburn in match one and winning back-to-back matches over Oregon State and Duke.
The Razorback freshmen were again strong for the third consecutive match. Maria Fassi (2-0-1) and Cara Gorlei (3-0) both won the matches over the Blue Devils. Senior Regina Plasencia (1-2) also picked up the win securing the victory for the Razorbacks.
Fassi notched a 1-up victory for the second match in a row. She took the early lead and never trailed in the match. Fassi led by as much as three holes hanging on for the victory.
Gorlei, winner of three matches this weekend, picked up the 2&1 win over Lisa Maguire. She also never trailed in her match taking the 1-up lead on the second hole of her round. Maguire conceded holes No. 7 and 8, the 16th and 17th of the round, as Gorlei finished with pars in her win.
Plasencia rallied for a final match 2-up win over 38th-ranked Sandy Choi Sunday. The match was a back-and-forth battle with Choi winning the first hole, moving to all square on the second, Plasencia winning the third hole and moving back to square on the fourth hole.
Plasencia won the seventh hole of the round and moved to 2-up when Choi bogeyed the next hole, No. 17. The front nine was a bit steadier with Plasencia finishing strong with an eagle on the par-5 final hole in the win.
Sophomore Alana Ureill (2-1) and junior Summar Roachell (0-3) played close matches, falling by one hole.
Arkansas returns to the links as postseason begins with the SEC Championship in Birmingham, Alabama April 15-17.
From Shauna Estes-Taylor
We started off the week slow but I'm so proud of this team and the way they overcame adversity to get a win against Duke today. It showed a great deal of resilience and gives us something to build on as we head to SECs. In sports you look for momentum and I believe we have some after winning today. It was a total team effort and now we will return to Fayetteville and get ready for postseason play.
Results
Black Bracket
Arkansas 3, Duke 2
Maria Fassi (Arkansas) def. Gurbani Singh (Duke), 1-up
Cara Gorlei (Arkansas) def. Lisa Maguire (Duke), 2-and-1
Virginia Elena Carta (Duke) def. Alana Uriell (Arkansas), 1-up
Celine Boutier (Duke) def. Summer Roachell (Arkansas), 1-up
Regina Plasencia (Arkansas) def. Sandy Choi (Duke), 2-up