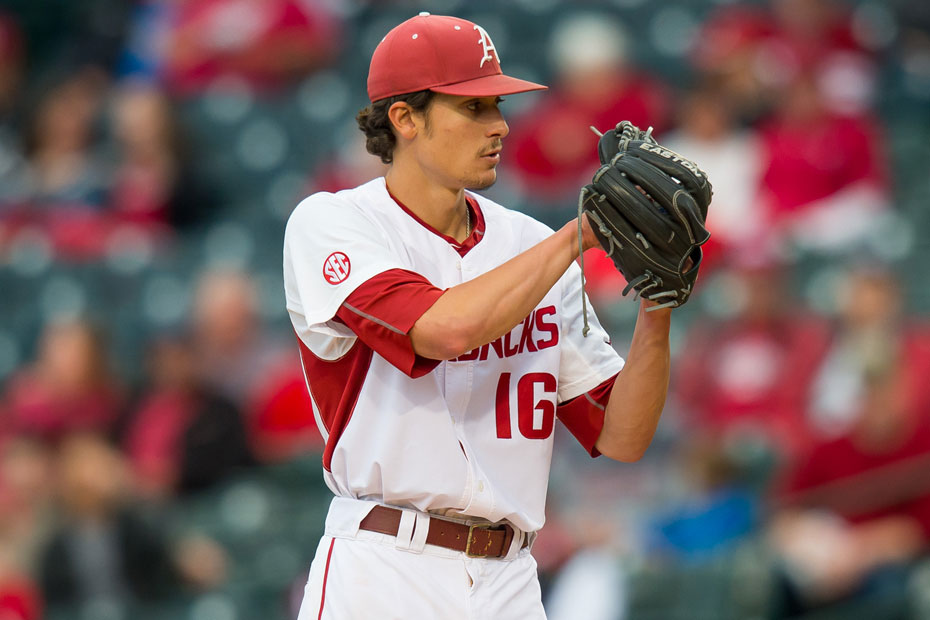 Razorbacks Drop Series Opener To Rebels
FAYETTEVILLE, Ark. – Blaine Knight provided a strong performance off the mound Thursday night, but the 14th-ranked Razorbacks could only manage two hits on offense, falling to Ole Miss, 9-1, in Baum Stadium.
The Razorbacks still hold the best overall record in the Southeastern Conference, but drop to 33-11 and 12-7 in league play, while Ole Miss improves to 26-16 and 10-9 in conference play.
Even though he was saddled with the loss to fall to 6-3 on the year, Knight was able to strikeout 10 Rebel batters in 7.1 innings, becoming the first Arkansas pitcher since Jess Todd in 2007 to have three 10+-strikeout performances in the same season. Earlier this year, Knight had 10 strikeouts against No. 5 Arizona at the Frisco Classic and 11 against Mississippi State in the SEC opener.
Knight was locked in through the first seven innings of the game, surrendering just two runs off a home run from Tim Rowe. By the fifth inning, the Bryant, Arkansas native had retired 14-of-15 batters since a single in the second, including retiring eight straight.
Junior Jared Gates provided the only offense all night against Ole Miss starting pitcher James McArthur, hitting his fourth home run of the year in the fifth inning to pull Arkansas within one. It was Arkansas' second home run in the last four games, but both were hit by Gates.
Other than the homer, McArthur had Arkansas' number all night, going eight innings, allowing just one run and one hit while striking out six on 114 pitches, earning his third win of the year.
By the eighth inning, Ole Miss, scored two more off Knight, causing Arkansas to go to the bullpen for the first time. The Rebels scored one more in the eighth off Josh Alberius, and blew the game open with two more home runs in the ninth to make the score 9-1.
Chad Spanberger was the only other Razorback to have a hit in the game, which was a double in the ninth inning.
Razorback Quotables
"I thought he pitched well. He gave us a chance. He was running out of gas a little and made a mistake to (Colby) Bortles, left a ball up first pitch and he jumped on it that really gave them a nice cushion. He threw well. I give him credit. After giving up a two-run homer on an 0-2 pitch, which was a mistake, but he battled back and gave us five or six really good innings in the middle. He gave us every opportunity to catch up and we didn't." – Head coach Dave Van Horn on Blaine Knight's performance
"It's baseball. I did what I could to keep us in the game. Guys weren't hitting tonight, that's going to happen. I messed up on two pitches and happened to leave it up, this is the SEC and you're going to get punished for it. It is what it is and hopefully, Trevor (Stephan) can go out there tomorrow. Hopefully, the bats wake up tomorrow and we can get up on this double-header." –  Blaine Knight on the 9-1 loss to Ole Miss
"Just stick with our approach. I don't think tonight, I don't think the scoreboard reflected how bad it was. We couldn't get anything going. I just think if we stick with our approach that we've had all year, we'll be fine. – Jared Gates on the offense bouncing back on Friday
Up Next
Arkansas and Ole Miss will play a double-header Friday starting at Noon at Baum Stadium. Due to the threat of heavy rain Friday night and into Saturday, the series finale was moved to Friday and is part of the double-header. The second game tomorrow will start roughly 40 minutes after the conclusion of the first. Both games will be broadcast on SEC Network+.
Phil Elson and Rick Schaeffer will have the radio call on the Razorback Sports Network.
For more information on Razorback Baseball, follow @RazorbackBSB on Twitter.