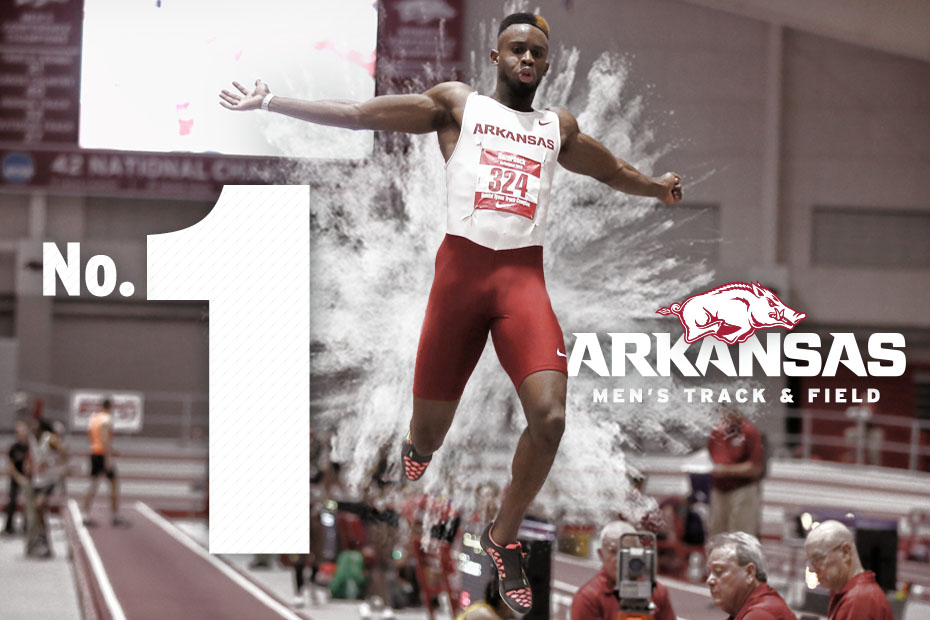 Razorbacks Emerge as Top Contenders
NEW ORLEANS – Arkansas men's track and field has been ranked as the best program in the country by the USTFCCCA following a weekend of strong performances on the track and in the field.
The Razorbacks were last ranked No. 1 in the country during the indoor season in week five of 2014.
In the latest polls Arkansas leads a top four made up entirely of SEC teams including: No. 2 Tennessee, No. 3 Texas A&M and No. 4 LSU. Other ranked conference programs include: No. 8 Georgia, No. 10 Florida and No. 17 Mississippi.
Arkansas currently has the most NCAA top 10 performers in the country with 10 student-athletes across distance, sprints and field events.
Leading by example is senior Jarrion Lawson who lays claim to three top NCAA performances between the 60-meter dash, long jump and 4×400-meter relay. Lawson is the NCAA co-leader in the long jump with his mark from the Razorback Invitational of 8.17m/26-9.75.
Not limited to one outstanding field performer Arkansas has two additional nationally-ranked jumpers in Ken LeGassey (high jump) and Clive Pullen (triple jump). Both LeGassey and Pullen had breakthrough weekends at the Tyson Invitational leaping into the NCAA rankings on their final attempts in their respective events. Pullen sits at No. 4 in the triple jump while Legassey holds the No. 7 spot in the high jump.
Another student-athlete working double-time for the Razorbacks is Kenzo Cotton. The sophomore out of Nebraska is one of the best sprinters in country and holds the No. 9 and No. 10 best performances at 200 and 60 meters respectively this season.
Memphis native Carlton Orange represents the Razorback middle distance. In his collegiate 800-meter debut, Orange raced fearlessly against top opponents from nationally programs earning a new PR of 1:47.38 which currently ranks the freshman ninth in the nation in the event.
Razorback veteran Gabe Gonzalez left his mark in the 5K this past weekend debuting at the Iowa State Classic with a time of 13:45.98. Electing to redshirt last indoor season Gonzalez returned to action for Arkansas this year ready to make an impact. A product of Northwest Arkansas Gonzalez's performance in Iowa earned him the No. 10 spot at 5,000 meters in the NCAA.
Along with the individual accomplishments the Razorbacks' 4×400-meter and distance medley relays sit a No. 4 and No. 9 respectively.
Arkansas will host the 2016 SEC Indoor Track and Field Championships on Feb. 26-27. All-Session tickets for the 2016 SEC Indoor Track and Field Championships are now on sale.
The two-day, all-session ticket prices are $35 for reserved seating and $25 for adult general admission. Tickets can be purchased by logging on to arkansasrazorbacks.com or calling 800-982-HOGS.
For more information on Arkansas track and field including in-meet updates, follow @RazorbackTF on Twitter.
Men's Indoor Track & Field National Team Computer Rankings (Top 25)
1. Arkansas
2. Tennessee
3. Texas A&M
4. LSU
5. Texas
6. Oregon
7. Texas Tech
8. Georgia
9. Southern California
10. Florida
11. Syracuse
12. Virginia Tech
13. Southeastern Louisiana
14. Penn State
15. Georgetown
16. Stanford
17. Mississippi
18. NC State
19. Washington
20. TCU
21. Tulsa
22. Purdue
23. Air Force
24. Oklahoma State
25. Houston