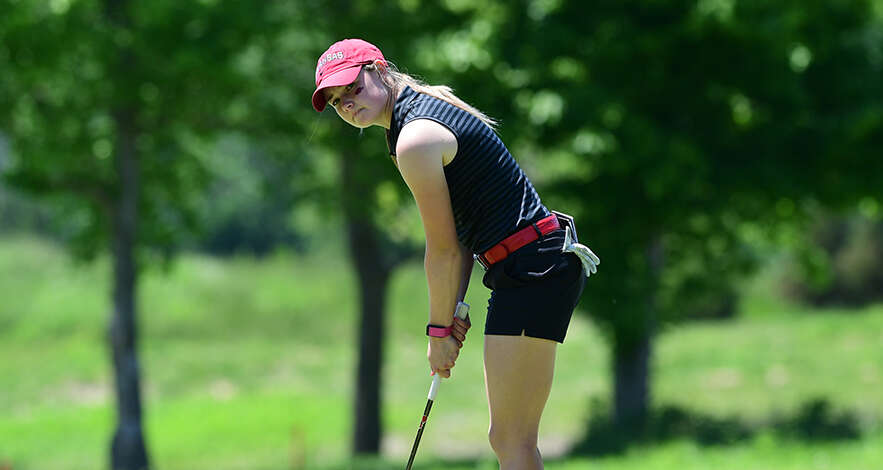 Razorbacks Finish Ninth at the Darius Rucker Intercollegiate
HILTON HEAD ISLAND, SC – No. 18 Arkansas Women's Golf moved up a spot with a third-round 295 on Sunday, finishing ninth at the Darius Rucker Intercollegiate. No. 7 Wake Forest dominated the event, winning by a staggering 26 strokes. Emilia Migliaccio of Wake Forest won the individual title, shooting one-under for the tournament.
Freshman Ela Anacona fired a 222 (73-75-74) to pace the Hogs at the DRI. That score was good for a share of 23rd place, marking the fourth top-25 finish for the freshman in her five events played. Anacona has been remarkably consistent this season, as she has not fired a single round over 75 since the ANNIKA Intercollegiate.
Redshirt sophomore Brooke Matthews and freshman Julia Gregg each finished with a share of 37th place, both firing 225s over the three rounds at the DRI.
Maria Hoyos finished tied for 46th (77-78-72—227), while freshman Kajal Mistry finished tied for 68th (77-75-83—235).
The Hogs will play again on March 20th, as they will head to Tucson, Arizona, to participate in the MountainView Collegiate, hosted by the University of Missouri.
More Information
Keep up with all of the latest news and information and get behind the scenes looks into our program on our social media accounts. Follow us on Twitter at @RazorbackWGolf and check out our Facebook page "Razorback Women's Golf." Stats, news and player information can be found at ArkansasRazorbacks.com.