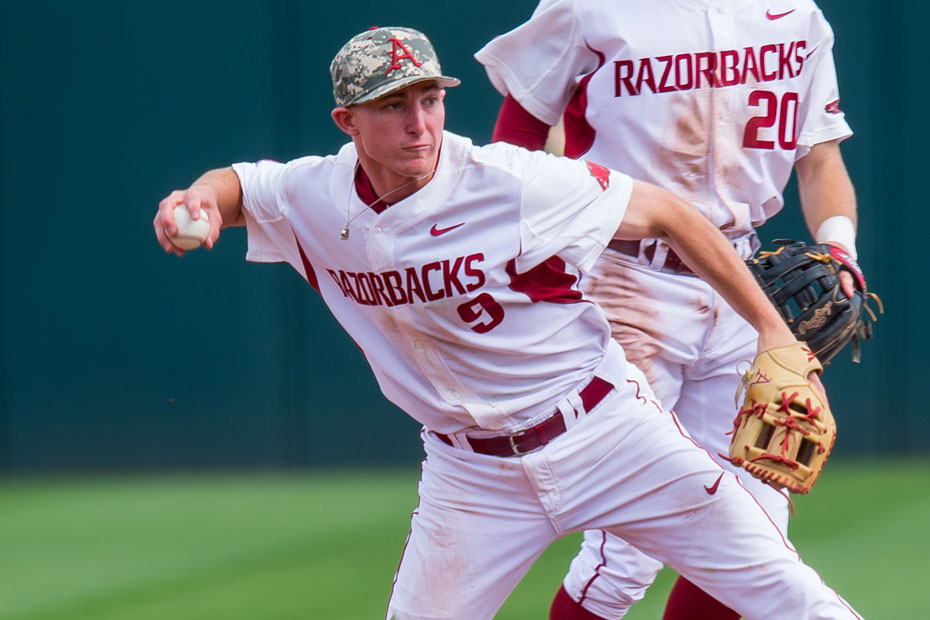 Razorbacks Finish Sweep Of Georgia
FAYETTEVILLE, Ark. – The 15th-ranked Razorbacks rolled past the Georgia Bulldogs Saturday afternoon, winning, 11-3, to complete the series sweep behind a stellar offensive performance, giving Arkansas its best conference start since 2010.
With the win, Arkansas is now 29-8 on the year and 11-4 in Southeastern Conference play, holding the top spot in the Western Division by a half game over Mississippi State. The sweep of Georgia is its second in conference play this year and the first time since 2012 with two conference sweeps in a season.
A seven-run second inning was what forced Georgia to their bullpen in the early goings as Arkansas took advantage of two errors and scattered six hits. Five of those hits were singles before junior Chad Spanberger unloaded his eighth home run of the year to drive in three runs.
Spanberger continued to be hot at the plate, going 2-for-5 with his three RBIs coming off the homer. The second inning home run extended his hitting streak to 10 games, dating back to the series finale at Alabama on April 2.
Even though Spanberger had the big fly in the second, Arkansas notched 14 hits in the game as a team with five players recording multi-hit games. Luke Bonfield, Carson Shaddy, Eric Cole and Jax Biggers each turned in two or more hits Saturday.
Spanberger and Bonfield led the way with three RBIs each, combining to bring in 15 of Arkansas' runs this weekend. It;s Bonfield's 10th game this season with multiple RBIs and Spanberger's ninth.
Sophomore Eric Cole came away with the top performance, going 3-for-5 with a double and a run scored. It's Cole's second straight game with three or more hits after he had a four-hit performance in last night's victory, completing a 6-for-9 weekend against the Bulldogs.
Moments That Mattered
Trailing 1-0 in the first, the Razorback offense quickly went to work in the bottom of the second plating seven runs, highlighted by Spanberger's three run blast to left field. Spanberger homered twice this weekend bringing his season total to eight.
He's the second Razorback to have a 10-game or longer hit streak this season, joining Jake Arledge, who had a hit in 15 straight games earlier this year. His home run was his second of the series and fourth in the last eight games. In just SEC play, the junior has six home runs, good for a tie for second among all league players.
Redshirt senior Josh Alberius got the call for the start Saturday and pitched well into the fourth inning, before Georgia put two on with one out after a single and a double scored its second run to make it 7-2. Kacey Murphy followed, but gave up a single and a walk to load the bases.
Kevin Kopps relieved Murphy with still just the one out, but needed only one pitch as he forced a double play to get out of the inning to hold the lead at 7-2.
Saturday marked the longest outing of Kopps' career, as he threw 5.2 innings and earned his second victory with no runs allowed and three strikeouts. Kopps is now 2-0 this season after allowing just five hits and forced three double plays in the game.
Bonfield was responsible for the next four runs Arkansas scored, which broke the game wide open. Doubling in the fourth to score Evan Lee to make it 8-3, he later scored on a wild pitch in the same inning to extend it to 9-3.
The New Jersey-native had one more RBI opportunity in the fifth when he singled home Jax Biggers and Dominic Fletcher for Arkansas' final tally of the game.
Razorback Quotables
"That was a great inning for us offensively. They made a mistake and we jumped all over it. After that we really got it rolling. We worked the count a lot and got the pitch count up." – Head coach Dave Van Horn on the big seven-run second inning
"Obviously, it's a good feeling knowing that we have won as many games as we have after how we finished last year. It's just big for the program and for our players that were in the program last year that suffered through it. It is just good, bottom line. It's what we need." – Head coach Dave Van Horn on winning 11 of the first 15 conference games
"It was awesome. I don't remember how it started, but the two-out hits were nice. We just really put the ball into play and let them makes some plays for us. Turned out well for us. – Chad Spanberger on the team's seven-run inning
"That was huge. He hit a really good pitch and rolled it over to Jax. At that point we knew he was going to make the play and after that he just kept going and filling up the zone and getting them out, big time saving out bullpen for the week." – Chad Spanberger on the double play that Kevin Kopps induced to end the third inning
"The first day we came into the locker room this year, our coaches talked about winning the West and sent us a list of every team in the West we had to beat. It's been a goal from day one and we're on a good track for that right now." – Eric Cole on Arkansas' hot start to the conference season
Up Next
Arkansas hosts Memphis for a two-game series starting on Tuesday at 6:30 p.m. at Baum Stadium. The game can be seen on the SEC Network+. Wednesday's game will be played at Dickey-Stephens Park in North Little Rock, Arkansas and can be heard on the Razorback Sports Network on the radio with first pitch scheduled for 6:30. There will be no television coverage for the game in North Little Rock.
For more information on Razorback Baseball, follow @RazorbackBSB on Twitter.