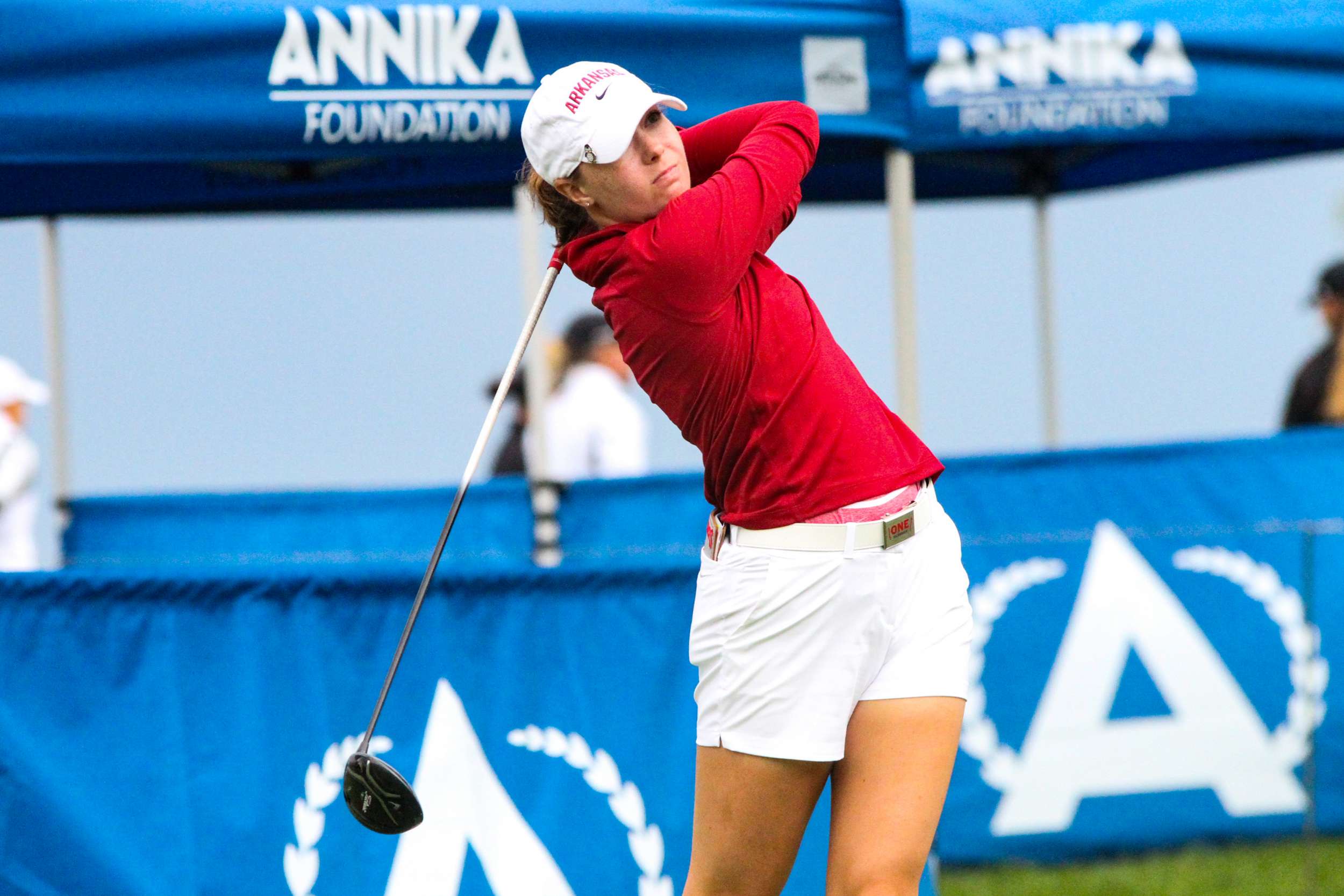 Razorbacks Finish up Fall Season at White Sands Invitational
NASSAU, Bahamas – No. 16 Arkansas Women's Golf will finish its fall season in paradise, heading to the Bahamas to take part in the White Sands Invitational (Oct. 28-30). The Hogs have had a great fall season so far, registering two top-5 finishes in three events played, including an impressive runner-up finish at the loaded ANNIKA Intercollegiate. Despite playing all three true freshmen in all events thus far, the Razorbacks still find themselves in the top-20 nationally headed into the final tournament before the winter intermission.
Kajal Mistry will once again play from the first spot in the lineup. Though she struggled in North Carolina, Mistry has been excellent during her inaugural campaign. She has registered two top-20 finishes in her three events played thus far, including an impressive fourth place finish at the ANNIKA.
Fellow freshman Ela Anacona will play from the second slot in Nassau. Anacona had a very solid showing in North Carolina, finishing 27th after firing a 217 (+1). Anacona has yet to finish outside the top-30 in her very young career, finishing 25th at the Cougar Classic and 19th at the ANNIKA.
Redshirt sophomore Brooke Matthews will hold down the third spot in Coach Taylor's lineup. Matthews had a nice bounce-back performance in North Carolina, as she finished as the only Hog under par (-1). Matthews has paced the Hogs twice (Cougar Classic, 214, Tar Heel Invitational, 215) so far this season.
Julia Gregg will continue to travel, and will play from the fourth spot this week. Gregg has already registered two top-30 finishes in her very young career: once at the Cougar (29th) and once at the ANNIKA (19th).
After not traveling to North Carolina, Grace St-Germain returns to the lineup that made the trip to Nassau. The senior was excellent in her last appearance, placing 11th at the ANNIKA (-1).
Julia Dean will also make the trip to the Bahamas, playing in the White Sands Invitational as an individual.
More Information
Keep up with all of the latest news and information and get behind the scenes looks into our program on our social media accounts. Follow us on Twitter at @RazorbackWGolf and check out our Facebook page "Razorback Women's Golf." Stats, news and player information can be found at ArkansasRazorbacks.com.