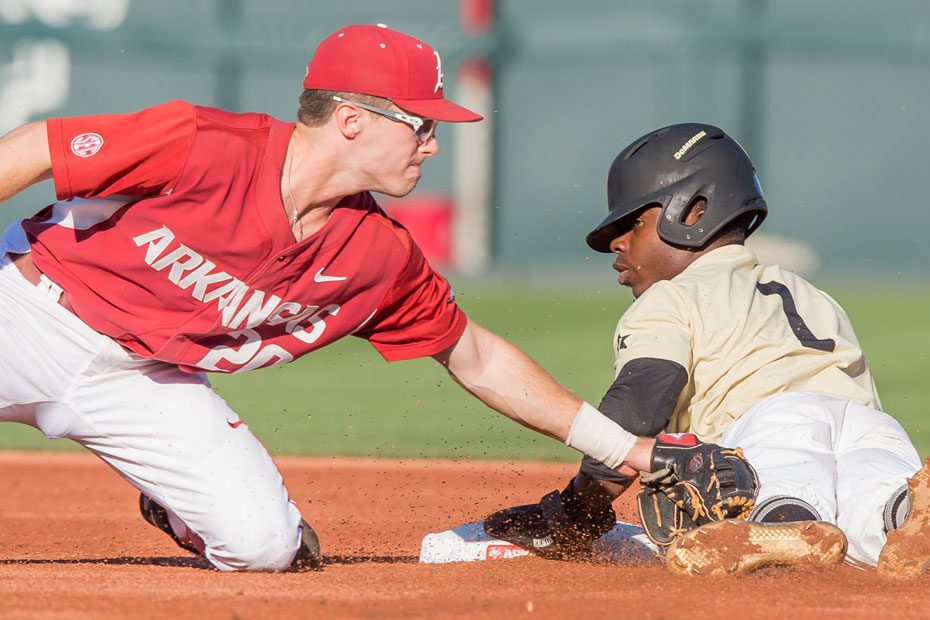 Razorbacks Forced To Rubber Match With Vandy
FAYETTEVILLE, Ark. — The 15th-ranked Razorbacks faced a tough arm in Vanderbilt starter Kyle Wright Saturday night in Baum Stadium. The Hogs only managed two hits off Wright, who pitched seven innings and struck out 11, before falling to the 25th-ranked Commodores, 6-2.
The win for Vanderbilt (30-20, 13-12 SEC) forces a rubber match for the weekend series. It's the fifth series this year that Arkansas (36-14, 15-10 SEC) will have to play a rubber match. The Hogs have come out winners two of those times, both on the road at Missouri and Alabama.
Jake Arledge, Luke Bonfield, Grant Koch, and Jax Biggers all recorded hits in the game. Koch came away with his 12th home run of the year, a solo shot in the ninth inning, but it wasn't enough to put the Hogs any closer after Vanderbilt had built a 6-0 lead.
Koch still leads the team in home runs and it's the fifth-highest total among all players in the Southeastern Conference. In his last six games, Koch has hit three homers and gone 7-for-22 (.318) at the plate with five RBIs.
Arkansas didn't get its first base runner until senior Alex Gosser reached on a walk in the third and Biggers provided the team's first hit, a single, in the sixth. As a team, the Razorbacks finished with four hits, tying for its second-lowest total in a game this season.
Sophomore pitcher Blaine Knight nearly matched Wright pitch for pitch early on as he gave up just one run and struck out five over five innings, with all five of his strikeouts coming before the fourth inning. Unfortunately, he was saddled with the loss after giving up a solo home run to Will Toffey in the top of the fifth, which was the only run scored by either team until the seventh.
Senior Dominic Taccolini will get the start on Sunday for the Razorbacks. He'll be making his first start since March 14 against Alcorn State, when he threw four innings, giving up one run on five hits with three strikeouts in the 3-2 victory. On the year, Taccolini has three victories and a 10-strikeout performance coming against ULM on March 7, matching his career-high.
Razorback Quotables
"He was awfully good. We had a couple of shots at him and he got off the hook. I thought Alex Gosser had a great at-bat at the start of the third inning. We didn't really do anything after that. I think we had one other chance to get to him, and at the time we were just down a run. He just kept doing a great job of making some great pitches. He throws extremely hard but also has a lot of movement. He threw that breaking ball and mixed in a few change-ups, and did a really good job against us. He's as good as advertised." – Head coach Dave Van Horn on Vanderbilt starter Kyle Wright
"They had runners on every inning off of him and he worked out of the stretch. He walked three and had a lot of full counts, and got some good hitters out, obviously. They did a good job against Blaine, fouling off pitches and battling to get his pitch count up. We did a pretty good job doing that to Wright after the third inning. We started rolling and getting his pitch count up. Then he started to calm down and get it under control again. Blaine couldn't really recover after that home run and came out that next inning and gave up two hits. It was time to get him." – Head coach Dave Van Horn on Blaine Knight
"Really good stuff, honestly. He really battled tonight. That's something. Coming into tonight, I figured he would have some fire in him and he did. He gave us all he got and that's all we could ask from him." – Grant Koch on Blaine Knight
"That was kind of good. Trying to get a little spark going, but it was a little too late. It's all good. We'll get them tomorrow." – Grant Koch on his ninth inning home run
Up Next
Arkansas and Vanderbilt will finish its series on Sunday with first pitch slated for 1 p.m. at Baum Stadium. Tomorrow's game can be viewed on the SEC Network+ via the WatchESPN app and WatchESPN.com as well as the Razorback Sports Network on the radio with Phil Elson and Rick Schaeffer calling the action.
For more information on Razorback Baseball, follow @RazorbackBSB on Twitter.