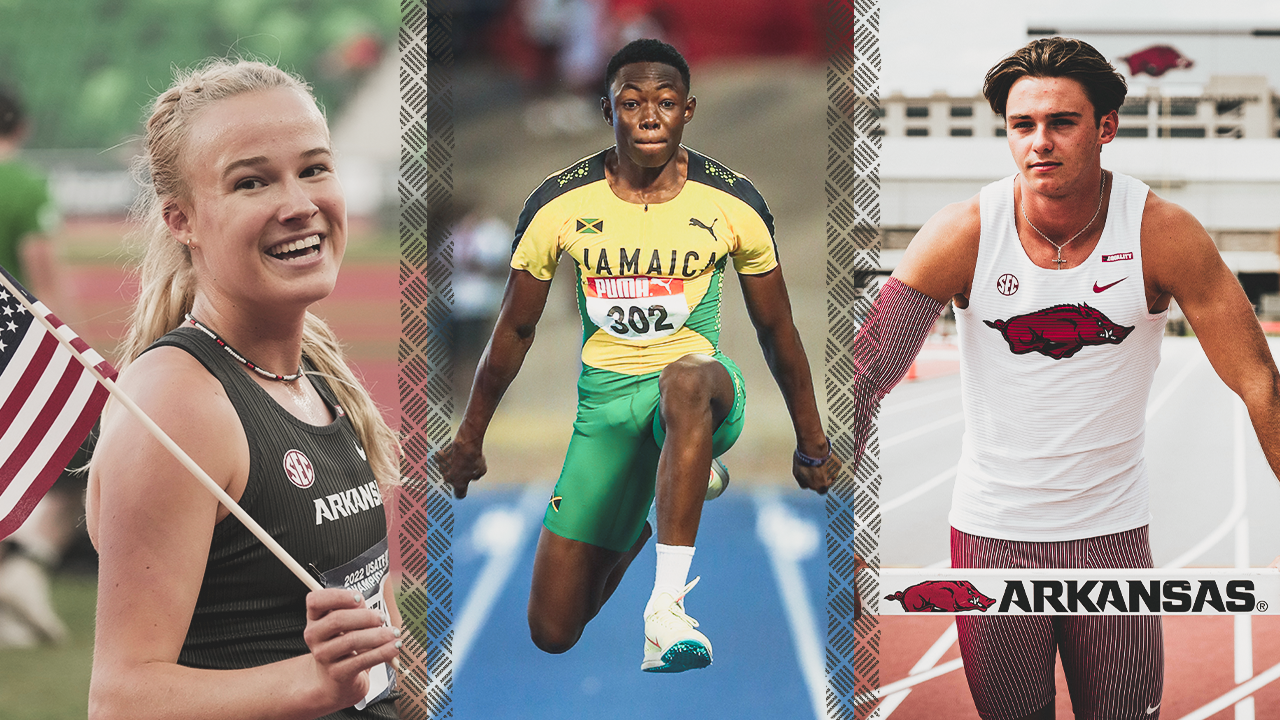 Razorbacks involved in World U20 Championships, Commonwealth Games
A pair of summer international meets will involve a trio of Razorbacks competing at the World U20 Championships in Cali, Colombia, while six athletes with ties to the Arkansas program are competing in the Commonwealth Games held in Birmingham, England.
Current Razorback Heidi Nielson will represent the United States in the 3,000m and 5,000m in the World U20 Championships, which will be held from August 1-6. Joining her in Cali are a pair of incoming Arkansas freshmen in Jaydon Hibbert of Kingston, Jamaica, and Grant Williams of Celina, Texas.
Coverage of the World U20 Championships will be available on NBC's Peacock in the United States. Elsewhere, the World Athletics YouTube website will offer a live stream. Further information is available here: https://bit.ly/3zHqdeU.
Competing in the Commonwealth Games, with track and field events being held from August 2-7, are incoming transfer Rojé Stona (Jamaica | Discus) as well as three Arkansas alums – Kemar Mowatt (Jamaica | 400m Hurdles), LaQuan Nairn (Bahamas | Long Jump), and Dominique Scott (South Africa | 5,000m and 10,000m).
A pair of athletes who train in Fayetteville with Razorback assistant coaches include Jah-Nhai Perinchief (Bermuda | Triple Jump) and Cindy Sember (England | 100m Hurdles).
Athletics Weekly, a British athletics magazine, predicts medals for Perinchief (gold), Mowatt (silver), and Sember (bronze). Coverage of the Commonwealth Games is available through recaps on the Olympic Channel in the United States. Those with access to BBC coverage will have the ability to watch live action.
During the USATF U20 meet, Nielson finished as runner-up in the 5,000m with a career best of 16:30.50 and placed third in the 3,000m with a 9:52.98. Nielson will have a final in each distance at the World U20s. The 3,000m will have 16 athletes from 11 countries while the 5,000m includes 20 athletes from 13 countries.
Hibbert, a silver medalist for Jamaica as a 16-year-old in the triple jump at the 2021 World U20 meet, is favored for gold this year with a season best of 54-8 (16.66). Williams, a bronze medalist at USATF U20s, will compete in the 400m hurdles with a best of 51.02.
Hibbert, the Jamaica senior champion this season, headlines a junior field of 21 jumpers from 18 countries in the triple jump. The only other entrant with a 16m jump this season is India's Selva Thirumaran at 52-7.25 (16.03) while Ethan Oliver of New Zealand is third best this season at 52-5.25 (15.98).
The 400m hurdles field that includes Williams totals 52 athletes from 37 countries. The top entrants, with sub-50 second times, are Jamaica's Roshawn Clarke (49.39), Turkey's Ismail Nezir (49.59), and Matic Ian Gucek of Slovenia (49.72).
World U20 Championships | Cali, Colombia | Schedule (CT)
Monday | August 1
| | | |
| --- | --- | --- |
| 5:00 pm | 3,000m FINAL | Heidi Nielson |
Wednesday | August 3
| | | |
| --- | --- | --- |
| 10:25 am | 400m Hurdles prelim | Grant Williams |
Thursday | August 4
| | | |
| --- | --- | --- |
| 11:00 am | Triple Jump qualification | Jaydon Hibbert |
| 4:40 pm | 400m Hurdles semifinal | (Grant Williams) |
Friday | August 5
| | | |
| --- | --- | --- |
| 4:45 pm | 400m Hurdles FINAL | (Grant Williams) |
| 4:55 pm | Triple Jump FINAL | (Jaydon Hibbert) |
Saturday | August 6
| | | |
| --- | --- | --- |
| 4:25 pm | 5,000m FINAL | Heidi Nielson |
Commonwealth Games | Birmingham, England | Schedule (CT)
Tuesday | August 2
| | | |
| --- | --- | --- |
| 4:00 am | Long Jump qualification | LaQuan Nairn [group A] |
| 6:44 am | Discus qualification | Rojé Stone [group B] |
| 1:10 pm | 400m Hurdles prelim | Kemar Mowatt [heat 1, lane 2] |
| | | |
Wednesday | August 3
| | | |
| --- | --- | --- |
| 2:00 pm | 10,000m FINAL | Dominique Scott |
Thursday | August 4
| | | |
| --- | --- | --- |
| 1:42 pm | Long Jump FINAL | (LaQuan Nairn) |
| 2:35 pm | Discus FINAL | (Rojé Stone) |
Friday | August 5
| | | |
| --- | --- | --- |
| 4:28 am | 100m Hurdles prelim | Cindy Sember |
| 1:05 pm | Tripel Jump qualification | Jah-Nhai Perinchief |
Saturday | August 6
| | | |
| --- | --- | --- |
| 2:45 pm | 400m Hurdles FINAL | (Kemar Mowatt) |
Sunday | August 7
| | | |
| --- | --- | --- |
| 4:15 am | Triple Jump FINAL | (Jah-Nhai Perinchief) |
| 4:25 am | 100m Hurdles FINAL | (Cindy Sember) |
| 1:45 pm | 5,000m FINAL | Dominique Scott |