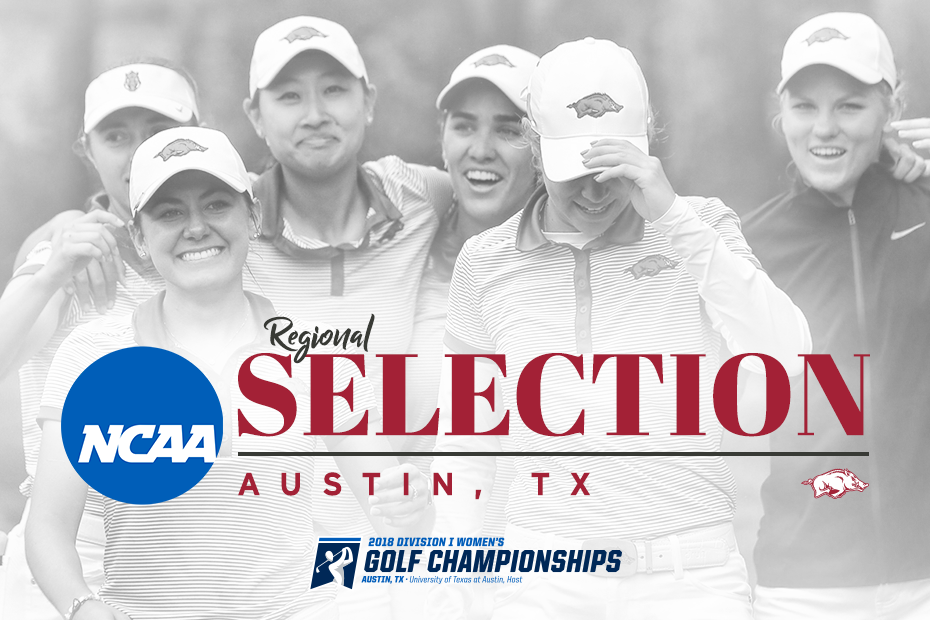 Razorbacks No. 1 Seed in Austin
FAYETTEVILLE, Ark. – The third-ranked and Southeastern Conference Champion University of Arkansas women's golf team will make its 17th NCAA Regional Championship appearance and its first as a No. 1 seed, traveling to Austin, Texas, the NCAA announced today.
The Razorbacks were one of 72 teams selected to four individual sites with each regional championship featuring 18 teams and six individuals.
Dates: May 7-9
Location: Austin, Texas | UT Golf Club
Live Scoring: Golfstat.com
Format: Three rounds of stroke play with the top six teams from each Regional Championship advancing to the NCAA Championship
NCAA Championship: May 18-23, at Karsten Creek Golf Club in Stillwater, Oklahoma
The Razorbacks are enjoying a record-setting year. They have won a single-season best six tournaments including the program's first SEC title in Hoover, Alabama, last week. Head coach Shauna Taylor is the first in SEC women's golf history to win the championship as both a player and a coach.
Junior Maria Fassi leads the team with a 69.70 stroke average. Fassi has won six individual titles, was selected to the inaugural Palmer Cup International Team and ranks second on the ANNIKA Award Watch List recognizing the best player in college women's golf.
The supporting cast includes senior Alana Uriell and junior Dylan Kim who are also on the ANNIKA Award Watch List and who were selected to the Palmer Cup USA Team this spring. Uriell has two top-3 finishes in regional action while Kim made two NCAA Championship appearances while at Baylor.
Kaylee Benton picked up three match play wins at last week's SEC Championship and Cara Gorlei finished tied for seventh at last year's Columbus Regional and advanced to the NCAA Championship.
Taylor has paced the Razorbacks to 12 consecutive NCAA Regional appearances as a head coach. Her team's hold the record for best finish (3/T3), best individual finish (T2), team single round (283), team tournament score 864), and individual low round (67).
Arkansas in an NCAA Regional
First appearance | Number of appearances: 2000 | 17/16 consecutive
Best Finish: 3 (2015) and T3 (2013)
Best Individual Finish: T2 | Gabriela Lopez and Alana Uriell (2015)
Times to advance to the NCAA Championship: 8 | Plus two individuals
The Austin Regional Field
1. Arkansas (3)
2. Texas (7)
3. Michigan State (10)
4. Florida (14)
5. Auburn (24)
6. Oklahoma (20)
7. Houston (25)
8. Miami (28)
9. Baylor (30)
10. Texas A&M (39)
11. BYU (43)
12. East Carolina (49)
13. Texas Tech (48)
14. Virginia Tech (55)
15. Texas-San Antonio (71)
16. Georgetown (86)
17. Houston Baptist (124)
18. Missouri State (159)