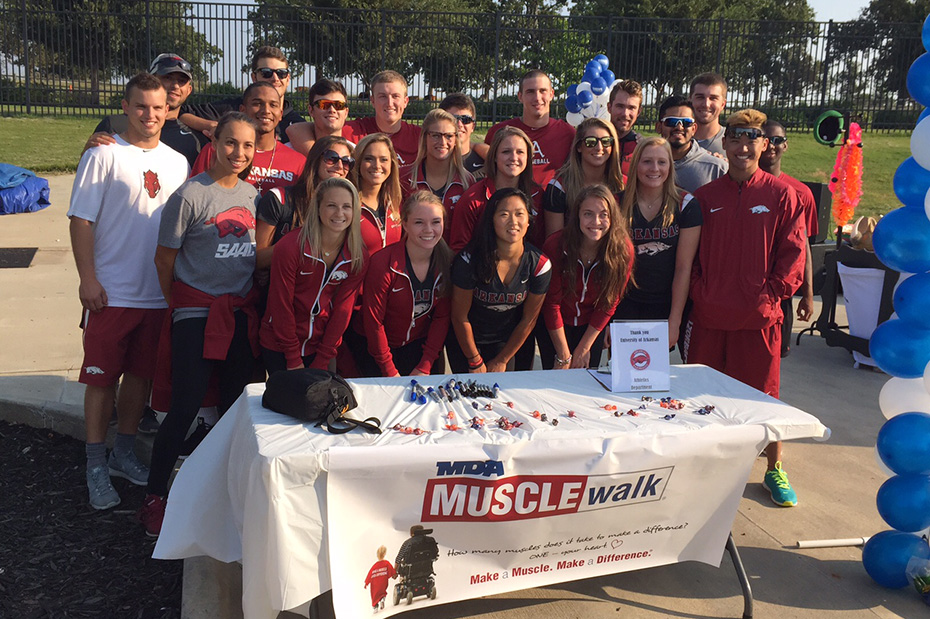 Razorbacks Participate in MDA Muscle Walk of NWA
FAYETTEVILLE, Ark. — Student-athletes from the Arkansas gymnastics, baseball and women's tennis teams were at Arvest Ballpark on Saturday, Aug. 29, to participate in the Muscular Dystrophy Association (MDA) Muscle Walk of Northwest Arkansas. The event helped raise awareness and over $25,000 to support the local MDA.
"These families with muscle disease depend on their community, so they're very happy to have the Razorbacks come out and show their love and support," said MDA Fundraising Coordinator Shelley Chaney. "Them being here brought more people here, which ultimately raised more money that stays in Arkansas. It means quite a bit."
In total, 30 Razorback student-athletes – 10 from gymnastics, 19 from baseball and one from women's tennis – were at the event to meet and interact with the participants, as well as sign autographs and take pictures. Head coaches Mark Cook from gymnastics and Dave Van Horn from baseball were also there to show their support alongside their teams.
The annual MDA Muscle Walk brings communities together to fight back against the disease. The funds that were raised through the event will build on decades of research progress in the search for treatments and cures. In addition, they will help support life-enhancing programs, state-of-the-art clinics, support groups and kids' camps.
You can learn how to get involved with the Muscular Dystrophy Association of Northwest Arkansas HERE.
For more information on Razorback student-athlete development, follow @HogLife_Develop on Twitter.