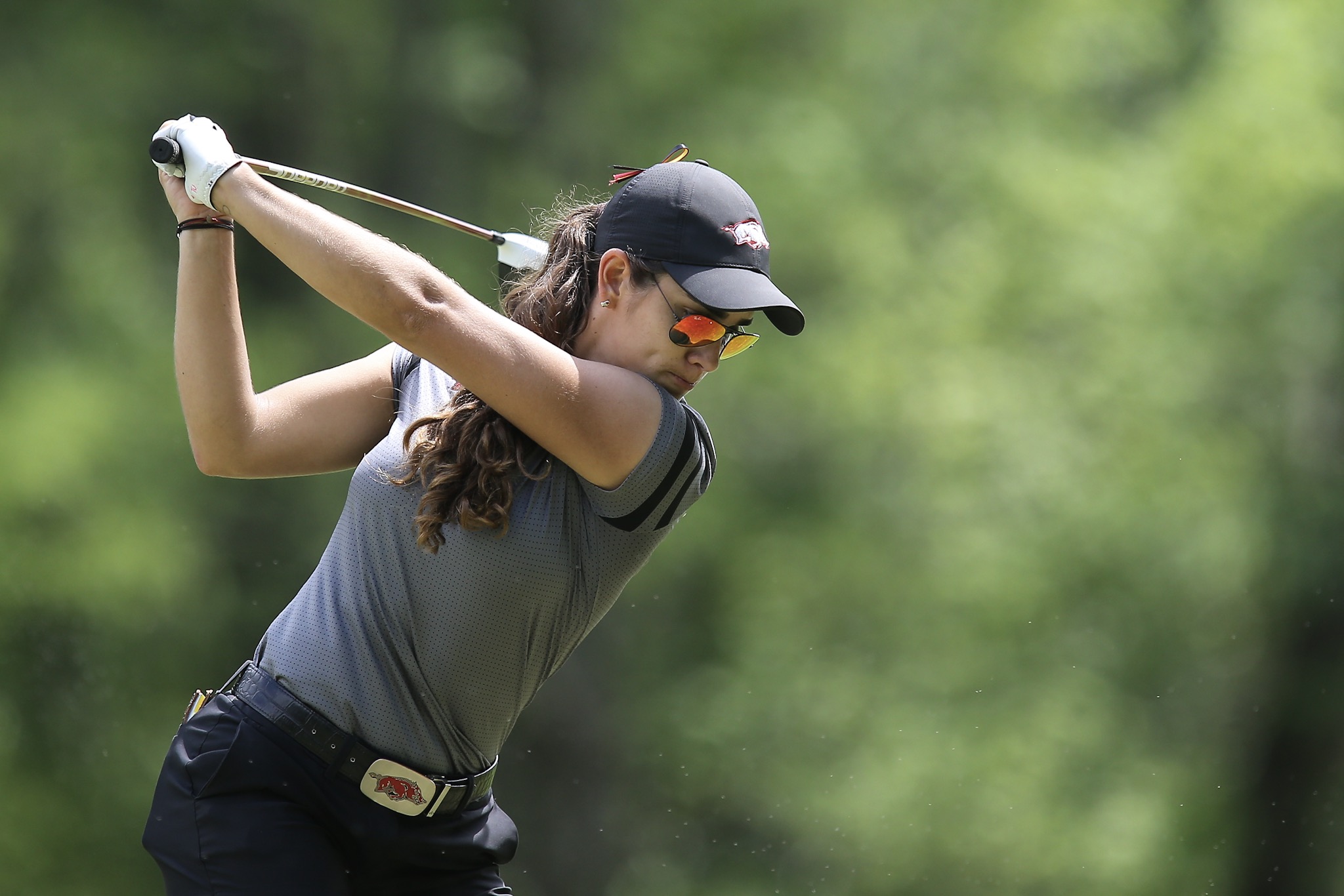 Razorbacks Rally On Back Nine
CLE ELUM, Wash. – Seniors Maria Fassi, Kaylee Benton and Dylan Kim birdied the final hole lifting the No. 8 University of Arkansas women's golf team into fourth place after round one action of the 2019 NCAA Washington Regional in Cle Elum, Washington, on Monday.
Fassi and Benton both finished under par and are inside the top-10. The Razorbacks played Tumble Creek Club at Suncadia Resort 1-under shooting a 287 and are just six strokes back of top-ranked Southern California who leads the field with a 281. Northwestern and host Washington are just ahead of Arkansas with San Jose State and UCF above the six-team cutline to advance to the NCAA Championship.
Fassi and redshirt freshman Brooke Matthews turned under par on the long and challenging front nine. Fassi was 3-under through the first eight holes but found the thick, stick-line rough on No. 9 and doubled the hole. The senior All-American rallied with three birdies in the final four holes to shoot a 2-under 69. She is currently T-5th overall.
Benton's successful senior campaign continues with the Buckeye, Arizona, native counting a 2-under 70 to come off the course T-7th overall. She turned even but bogeyed No. 11 to move to plus-1. Benton also rallied with three birdies in her final five holes to finish under par.
Freshman Ximena Gonzalez was the third Razorback who rallied late in the round. The Queretaro, Mexico, native turned 3-over but had four birdies on the back nine to shoot 73 and finish T-26th overall. Matthews finished her day with a 3-over 75 and Kim shot an 80 on Monday.
Arkansas will tee off in the late morning flight beginning on the back nine on Tuesday. Final round action takes place on Wednesday.
From Shauna Taylor
I think the meat of this golf course is really on the front side – probably through 11 holes and then you have three par fives in your last five holes. If you stay patient, you can get some back coming in. I'm really proud of our fight. I know we turned a little funky, but I love the resilience. Three of our five birdied the final hole and Maria (Fassi) birdied three of her last four holes. It says a lot about them and the fight they have. It takes a team effort. I'm really proud of Ximena (Gonzalez). She was 4-over at one point and got it back to 1-over. She had three birdies coming in and turned her round around.
We start on the back tomorrow and we have to really attack the course. We have to take advantage of those par-fives, two of the three are reachable. Every time you play the front side, you learn something, and your plan can be a little better and more precise. Having two rounds under our belts now we can be better prepared for the front side.
NCAA Golf Championships
The University of Arkansas and Blessings Golf Club are the proud hosts of the 2019 NCAA Women's and Men's National Championships. Admission and parking for the entire two weeks will be free, courtesy of Tyson Foods and the Tyson Family Foundation. The women's event begins May 17 and is immediately followed by the men's championship beginning May 24. For more information or to volunteer for the event, log on to www.NCAAGolf19.com.
More Information
Keep up with all of the latest news and information and get behind the scenes looks into our program on our social media accounts. Follow us on Twitter at @RazorbackWGolf and check out our Facebook page "Razorback Women's Golf." Stats, news and player information can be found at ArkansasRazorbacks.com.