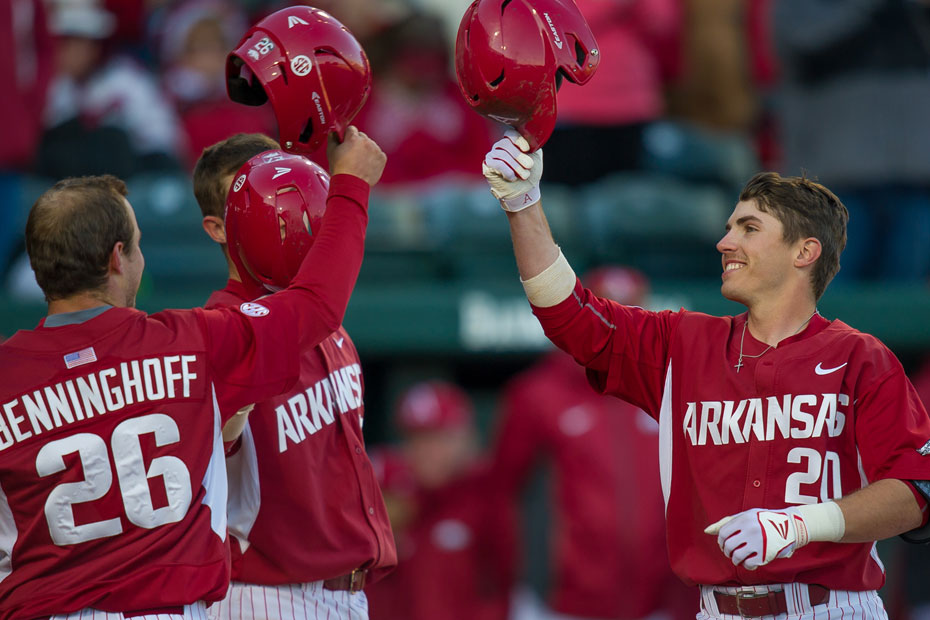 Razorbacks Rally To Eighth-Straight Win
Box Score | Bernal Homers Again
HOUSTON, Texas – The 18th-ranked Arkansas baseball team was down 5-0 early to No. 23 Texas Tech Sunday afternoon, but battled back in a big way to score eight unanswered runs and eventually win, 10-6, for its eighth win in a row to remain undefeated. The rally was completed by another big home run from senior Michael Bernal, his third home run of the weekend and fourth of the season.
"I'm really proud of the team for not panicking after giving up the five runs," Arkansas head coach Dave Van Horn said. "I knew we had 24 outs left on our side and knew we could chip away a little bit. We took advantage of one misplayed ball and took the lead. I'm just proud of the guys for hanging in there. We have a lot of new guys with us this weekend and they got a sense of how good the competition is. I think we grew up a lot as a team this weekend."
Bernal, who was coming off a two home run game yesterday against No. 9 Houston, did it again in the fourth inning today, hitting a long home run to left field, giving Arkansas the 6-5 lead over the Red Raiders (6-2), which it never relinquished. Just in the three games of the Houston College Classic this weekend, Bernal was 4-for-11 (.364) with three home runs and seven RBI.
With Sunday's win, Arkansas (8-0) matches its second-best start under current head coach Dave Van Horn and ties for the third-best start in Arkansas history. Van Horn's club started his first season at the helm in 2003, 10-0, and then followed that in 2004 with an 8-0 start.
Junior Cannon Chadwick picked up his first victory of the year out of the bullpen, throwing 2.1 innings, giving up just one earned run, three hits and striking out three. The Arkansas starter, Keaton McKinney, never made it out of the first inning, allowing five earned runs on three hits and two walks.
Arkansas' bullpen did some heavy lifting Sunday throwing a combined 8.1 innings, while scattering eight hits and only allowing one run the rest of the way after the five run first. After Barrett Loseke replaced McKinney in the first, Texas Tech could not get on top of the ball with runners in scoring position. Over the final 8.1 innings that Razorback relievers pitched, Red Raider batters were 0-for-4 with runners in scoring position.
"We walked a few too many early, then we got it together," Van Horn said. "I tried to bring in some young guys to try and get their feet wet. I'm proud of how they performed in that tough situation. They didn't want to be that guy that let the lead go, once we got it. I thought (Cannon) Chadwick did a nice job. He came in and gave us a chance to get that lead. When we got him out of there, the next four or five guys came in and did the job."
Arkansas had four players with multi-hit games Sunday. Along with Bernal, who notched his second-straight two-hit game, Clark Eagan and Jake Arledge both had two hits and catcher Tucker Pennell tallied a team-high three hits, going 3-for-4 with a run scored and two doubles.
The Hogs had quite the weekend offensively, scoring 10 or more runs in two of their three games which were all against Top-25 opponents. Combined, Arkansas hit .305 as a team with 32 hits, 13 for base hits and five home runs. Three of those five long balls came off the bat of Bernal, but Arkansas continued doing what it does best, which was driving in runs as they had 22 RBI over the three-game span.
"I didn't expect to score that many runs down here, obviously," Van Horn said. "Against these teams, it's something you hope to do. I felt like our lineup is a little more balanced than it was last year. We saw the play of (Michael) Bernal coming. He hit well all fall and then we have guys on the bench that are chomping at the bit to get into the game. When they've gotten their opportunity, they've done a good job. I just see a lot more balanced lineup than we've probably had in the last couple of years."
After the five-run first inning by Texas Tech, Arkansas was able to start chipping away at the lead in the third starting with a wild pitch that scored Jake Arledge. For the remainder of the frame, the Razorbacks scored three runs all with two outs to bring it within 5-4, consisting of a Carson Shaddy single and a bases clearing triple by Eagan, who later scored on a throwing error.
The error was the final straw for Texas Tech starting pitcher, Ty Damron, who only lasted 2.2 innings after setting down the first six Arkansas batters he faced. Damron gave up three earned runs on four hits, while striking out three. He, however, was not charged with the loss.
Hayden Howard, who came in for the Red Raiders at the end of the second inning, didn't last nearly as long as his teammate, Damron. After Luke Bonfield struck out to lead off the third, the Arkansas bats completed the rally to take back the lead as Arledge singled, which was followed by the Bernal big fly.
The Hogs got one more run in the fourth on a very interesting play. With Pennell standing on second and only one out, right fielder Eric Cole sent a deep fly ball to straight away center, nearly to the warning track in one of the deeper parts of Minute Maid Park. As the catch was made, Pennell was tagging up looking to advance to third. With the throw late coming in from centerfield, Pennell never slowed down and scored from second base on a sacrifice fly to make it 7-5 Razorbacks.
Arkansas padded its lead even more in the fifth when Eagan led off the inning with his first homer of the year, an opposite field solo shot that landed four rows deep in the seats in left field.
The Razorbacks return to Baum Stadium on Wednesday when they take on Louisiana Tech at 3:05 p.m. The game will be televised on SEC Network+.
QUICK NOTES
Arkansas scored eight unanswered runs Sunday afternoon vs. Texas Tech after giving up five runs in the first inning.
The win for the Razorbacks is their eighth in a row to stay undefeated; It's the team's third-best start under Dave Van Horn and fourth-best start in school history.
Senior Michael Bernal hit his third home run of the weekend and fourth of the year to complete the five-run comeback for the Razorbacks.
In just the last three games, Bernal has hit just 4-for-12, but three of those hits have been for home runs. He has seven RBI over that three-game span.
Senior catcher Tucker Pennell went 3-for-4 in the game for his first three-hit game as a Razorback.
Arkansas' bullpen combined to throw 8.1 innings and hold Texas Tech to just eight hits and one run scored, while striking out nine.
Over those final 8.1 innings, the Razorback relievers didn't allow a run to score with the bases loaded as Texas Tech went 0-for-4 in those situations.
In four of Arkansas' last five games, the Hogs have scored 10 or more runs, scoring 10 today against Texas Tech, 12 on Saturday against Houston and then two 20-run games vs. Mississippi Valley State during the midweek tilt.
The last time Arkansas scored 10 or more runs four times over a five game stretch occurred in 2011 against Wisconsin-Milwaukee and San Diego State.