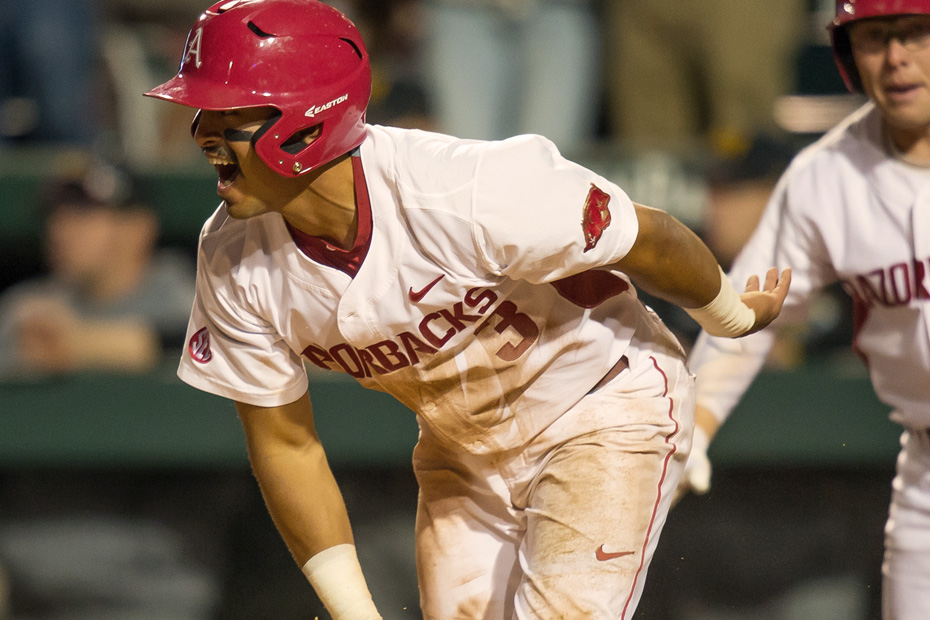 Razorbacks Rally To Fourth-Straight SEC Win
Box Score | Photo Gallery | DVH Postgame | Players Postgame | Bernal's hot bat
FAYETTEVILLE, Ark. – The 15th-ranked Arkansas baseball team trailed Missouri, 3-0, after the first two innings Friday night at Baum Stadium, but responded with seven-straight runs, including a four-run sixth inning, to defeat the Tigers, 7-6.
Missouri rallied in the ninth with three runs off two home runs, but closer Zach Jackson shut the door, facing two batters and getting two outs for his fourth save of the year.
Clark Eagan, Cullen Gassaway and Michael Bernal all tallied three hits in the game, combining for three RBI and two doubles. It's the second time this season that Arkansas has had three players with three hits in the same game. Rick Nomura, Eagan and Carson Shaddy did it against Grambling State back on March 15.
Doug Willey earned the win for the Hogs, his second of the year, after tossing three scoreless innings out of the bullpen, giving up just one hit. Willey has yet to give up an earned run in 15.2 innings of work this season and is the only Razorback pitcher on staff with a 0.00 ERA.
Along with Willey, junior right-hander Josh Alberius kept Arkansas in the game after starting pitcher Dominic Taccolini was chased in the middle of the second inning with already three runs given up and Missouri threatening for more.
Alberius entered with the bases full of Tigers, nobody out and the top of Missouri's lineup due. However, the infielder that has now become one of Arkansas's best weapons out of the bullpen, mowed down three-straight batters including getting a strikeout of two-hole hitter, Jake Ring, to escape the inning and leave the bases loaded.
The Little Rock-native went on to toss three more scoreless innings, only giving up two hits and one walk, while striking out two more Missouri batters. After being relieved before the start of the sixth inning, Alberius has now thrown 13.2-straight scoreless innings, dating back to March 13 against Western Illinois.
Missouri got out in front early, working around a lead-off double by Kirby McGuire in the first inning and then scoring him three batters later after a sacrifice bunt, a walk and a sacrifice fly. Zach Lavy was credited with the RBI on the sacrifice fly and had Missouri out to a 1-0 lead.
The Tigers added two more in the second, while the Hogs also committed two errors in the inning, making it 3-0 before Taccolini was pulled for Alberius.
Arkansas finally started to chop away at the lead in the third inning, getting a run off a Clark Eagan double down the right field line. After Michael Bernal led off the frame with a walk, he moved into scoring position from a Tucker Pennell groundout. In the next at-bat, Eagan pulled an 0-1 pitch just inside the first base bag, allowing Bernal to score easily from second.
The Razorbacks, then, cut the lead to one in the fifth after a Jake Arledge sacrifice fly, scoring Bernal, who earlier led off the inning with his second hit of the night.
Arkansas's big inning came in the sixth when the Hogs plated four on the backs of five singles, the tying run from Austin Catron and the go-ahead run from Bernal. Gassaway started the inning with another lead-off hit, which was followed by Nomura to put two on with nobody out. In every inning but the first, the Hogs got their lead-off batter on base via a hit, walk or error.
An RBI single by Catron followed to tie the game before Bernal's go-ahead hit to give Arkansas a lead it never relinquished. The Hogs added two more for good measure off a Tucker Pennell ground out and an Eagan single through the right side.
Gassaway finished the night 3-for-3 with a run scored, extending his hitting streak to a team-high six games and was his fourth multi-hit game this season. The three-hit game was also his first of the season and first since Feb. 14, 2015 against North Dakota State.
Arkansas and Missouri will be back on the field Saturday for game two of the series at Baum Stadium. First pitch is slated for 7:30 p.m. and will be televised on the SEC Network.
ARKANSAS QUOTABLES
"The dugout was awesome. Lots of enthusiasm and a lot of 'want to' in that dugout. They didn't quit." Dave Van Horn on the team's attitude
"What you get is two guys that are not scared and they just come in there and pound the strike zone, and if you're going to beat them, you're going to have to hit them." Dave Van Horn on Josh Alberius' and Doug Willey's performance
"He got tired of failing and started on working on going the other way. He's done a really nice job of staying through the middle of the field." Dave Van Horn on Michael Bernal
"I think as a team, we made pretty good adjustments, waiting to get balls in the zone that we know we could handle. He got us swinging at some balls in the dirt early, some balls out of the zone, I think we just did a better job of adjusting to pitches we could handle." Michael Bernal on adjusting to Missouri Pitcher Reggie McClain
"I just knew, even being down a few runs, that if we could hold them right here, that we would have a chance to win if got back in the dugout. It was early on in the game, so that it pretty critical to go in especially with the bases loaded and get those three outs. I think that helped pretty severely pretty early on in the game and our bats came alive." Josh Alberius coming into a bases loaded, no out situation in the second inning
"No panic at all, I think that is probably why we came back and put runs on the board. I think as a group of offense and just the team in general, we love the competition. That is why all of us come play in this league. We look forward to it every day; every day is going to a grind, every day is going to be a good game, competitive game. So anytime there is competition, I don't think anyone gets scared or shies away, it is what we are here for."  Michael Bernal on bouncing back after going down 3-0 early
RAZORBACKS NOTABLES
Tucker Pennell gunned down his 13th caught stealing in the first inning, which still leads the SEC.
Arkansas had three players with three or more hits Friday night against Missouri. It's the second time this year that the Razorbacks have had three players with three or more hits in a game (Grambling State, March 15, 2016)
Cullen Gassaway went 3-for-3 in the game, his first three-hit game of the season and first since Feb. 14, 2015 against North Dakota State.
The 7-6 win over Missouri is Arkansas's fourth-straight SEC win.
The win over the Tigers is also the 10th-straight over Missouri.
Junior Josh Alberius threw four scoreless innings out of the bullpen Friday night. He's now thrown 13.2-straight scoreless innings, which spans over his last six appearances, all out of the bullpen.
Alberius totaled three strikeouts in the game. It's the seventh game this year he has come in and struck out two batters or more.
Doug Willey continues to baffle hitters as his threw 3.0 scoreless innings against Missouri, giving up just one hit and no walks. Willey has yet to give up an earned run this season over 15.2 innings.
Michael Bernal finished the game with three hits and one RBI. The hits are a new season-high and he's had nine RBI over his last four games.
Zach Jackson picked up his fourth save of the year after getting the final two outs in the ninth inning.
For more information on Razorback baseball, follow @RazorbackBSB on Twitter.