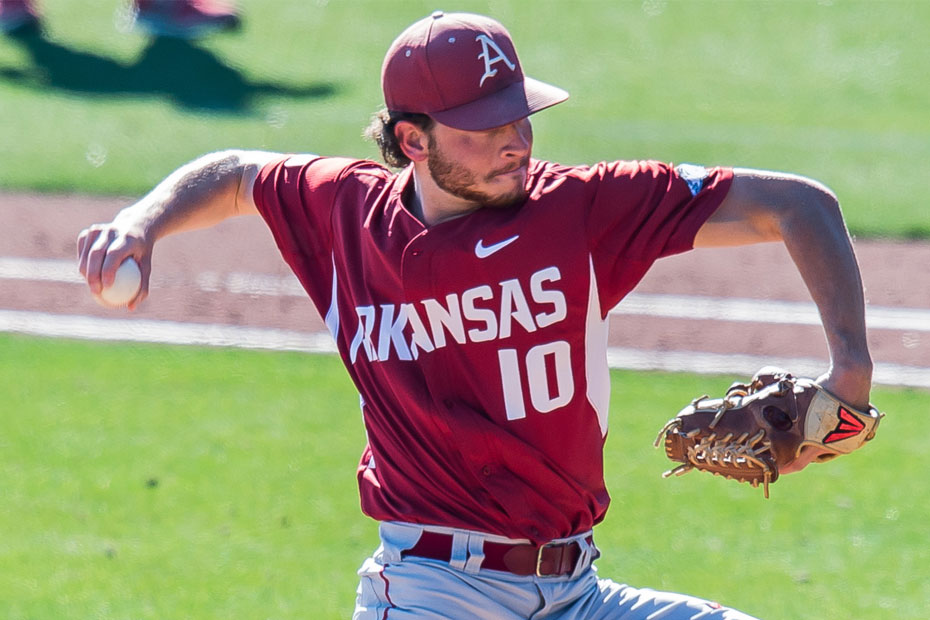 Razorbacks Ready For Firm Road Test At Louisiana Tech
FAYETTEVILLE, Ark. – Arkansas hits the road for the first time in 2017 as it travels to Louisiana Tech for a two-game series starting on Tuesday. The Hogs are coming off its second straight three-game sweep after defeating Bryant University to move to 6-0. Arkansas is one of two remaining SEC teams (Ole Miss) that is still undefeated. First pitch on Tuesday for game one is set for 6 p.m. Wednesday's game two will start at 3 p.m. from Pat Patterson Park in Ruston. La.
Follow Live
Both games will be available regionally on Cox Sports Television (CST) with Alex Perlman (PXP) and Troy Eklund (Analyst) on the call. Scott Inman (PXP) will call both games for the IMG Sports Network on the radio.
Probable Starters
Tue. | 6 p.m. | (ARK) RHP Josh Alberius vs. (LATECH) RHP Casey Sullivan
Wed. | 3 p.m. | (ARK) TBA vs. (LATECH) TBA
Road Trippin'
Arkansas will hit the road for the first time in 2017 when it travels to Ruston, La., for a two-game midweek series with C-USA foe Louisiana Tech. The Hogs will be away from Baum Stadium for the next five games before returning home on March 7 to face ULM. Arkansas has won at least 15 games away from Baum Stadium in four of the last five seasons including 13 true road victories in 2015 en route to a berth in the College World Series.
Big Al Gets The Nod
Redshirt senior Josh Alberius will make his first career start on the mound Tuesday night against Louisiana Tech. Alberius has had an interesting road to this point. Recruited as an infielder, Alberius was moved to the outfield upon arriving on campus and became a full-time pitcher in 2015. Over the last three seasons including this year, Alberius has made 50 appearances and has garnered a 3.49 career ERA. He was one of Arkansas' most effective pitchers out of the bullpen in 2016, striking out 40 batters, good for fourth on the team, in only 32.1 innings.
The Big Stick
After a brief slow start to the year, catcher Grant Koch has become the hottest hitter for the Razorbacks through six games. Last week against Bryant, Koch went 7-for-15 (.467) and hit his second home run of the year along with one double and one triple. Currently hitting a team-leading .407, the Fayetteville native is having the best six-game start, offensively, by a Razorback catcher in 13 years. Brady Toops began the 2004 season hitting .421 with seven RBIs, three doubles, and two walks, but Koch has topped him with nine RBIs, two home runs, which both lead the team.
Hot Off The Bench
Freshman Jaxon Williams has only started in one game and appeared in four games this year, but his pinch-hitting approach may be earning him more playing time in the future. Last weekend, Williams came off the bench to pinch hit for Hunter Wilson in the sixth inning with Arkansas down by four. Williams hit a two RBI single, which led to a go-ahead Jake Arledge home run. Williams ended up recording five RBIs in the game, which were the most by a Razorback freshman since Dominic Ficociello in 2011 against Wisconsin-Milwaukee. Williams currently is tied for the team lead with nine RBIs in only seven at-bats.
Hogs Crack Into National Rankings
Arkansas' offensive outburst through the first two weekends of the season have been noticed by the national publications as D1Baseball.com placed the Hogs at No. 24 in their Week 2 rankings. Its the first national ranking of the year for Arkansas and first since Week 7 of the 2016 season when the Hogs were No. 21 in the country by USA Today.
For more information on Razorback Baseball, follow @RazorbackBSB on Twitter.