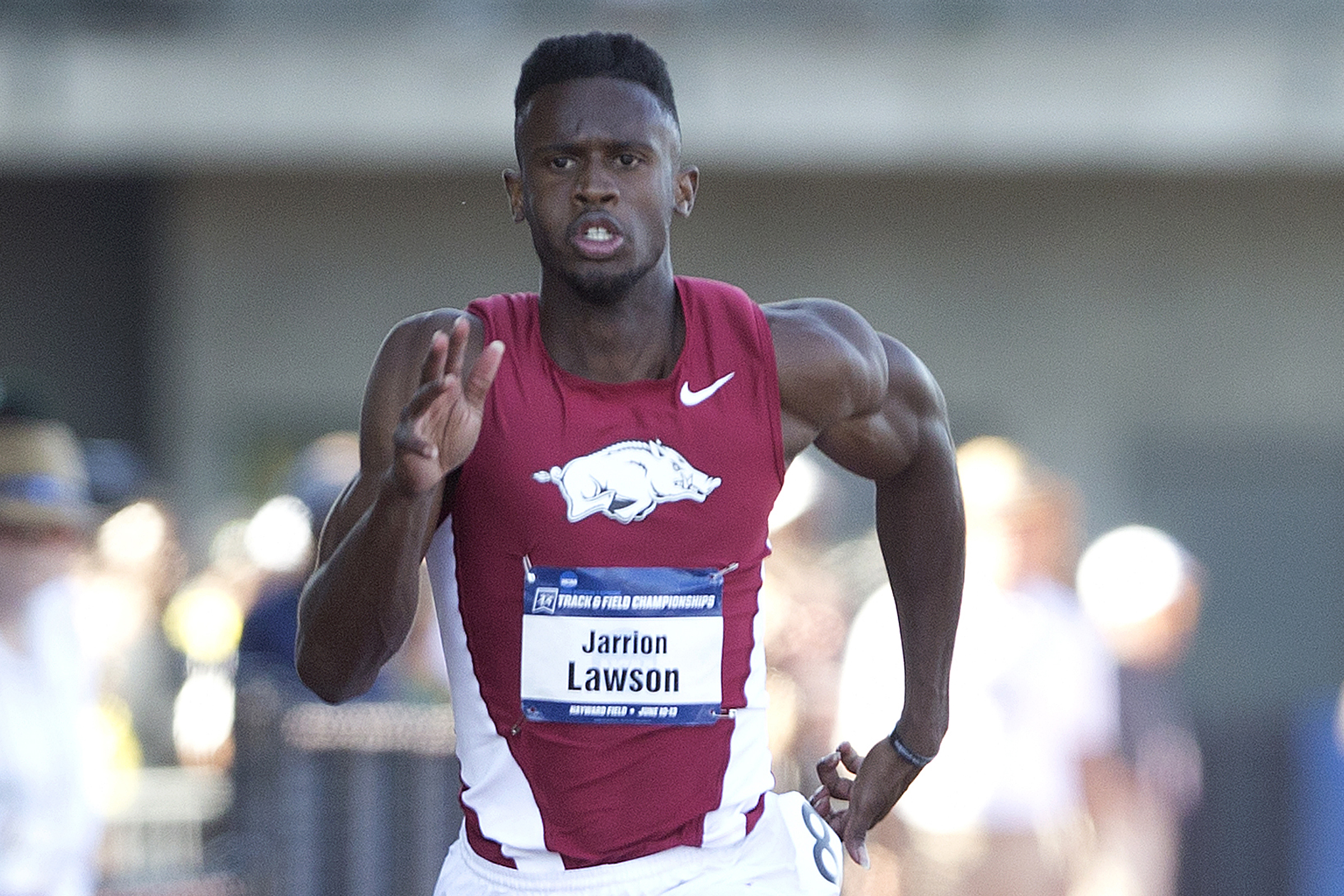 No. 5 Razorbacks Receive SEC Postseason Honors
BIRMINGHAM, Ala. – Following their 15th Triple Crown, the Razorbacks received numerous honors for their outstanding performance throughout the season. Arkansas senior Jarrion Lawson and head coach Chris Bucknam were selected as the Southeastern Conference Scholar-Athlete of the Year and Coach of the Year for the second time this year.
Arkansas, the No. 5-ranked team in the nation, collected seven All-SEC and All-Freshman accolades.
Lawson repeated as recipient of the Scholar-Athlete of the Year and long jump crown in the SEC. The defending indoor long jump champion, Lawson solidified his standing on the track and field circuit at the NCAA Indoor Championship. Fresh off his recent victory at the SEC Indoor Championship, Lawson also claimed the NCAA Indoor crown by besting the most talented long jumpers in the nation. A steady selection to the Bowerman Watch List all season, Lawson heads into his fourth and final NCAA Outdoor Championship as the reigning SEC Outdoor Champion seeking to continue his postseason podium dominance.
A 2015 University of Arkansas graduate, Lawson puts as much emphasis developing his mind along with honing his runway skills. The Texarkana, Texas, native currently holds a 4.0 GPA displaying a mastery of his MBA coursework at the Walton College of Business. Lawson is a multiple SEC honor roll selection and past USTFCCCA All-Academic honoree.
Coach Bucknam received his 18th recognition for the conference award since his arrival at Arkansas back in the fall of 2008. Bucknam guided the Razorbacks to their 19th outdoor conference victory with a win at the 2016 SEC Outdoor Track and Field Championship. Arkansas scored in 15 of the 18 events with 23 Razorback student-athletes combining to score 121 points and finish 20 points clear of second place. Bucknam received the Coach of the Year honor in both the indoor and outdoor seasons for the fifth time in his career with the honors occurring in 2009, 2012, 2013, 2014 and 2016.
Arkansas will travel to Eugene, Oregon, for the 2016 NCAA Outdoor Track and Field Championship on June 8-11. The Razorbacks last won the outdoor national meet in 2003 and placed third during last year's competition.
2016 SEC Outdoor Track and Field Awards
Runner of the Year – Nethaneel Mitchell-Blake, LSU
Field Athlete of the Year – Lindon Victor, Texas A&M
Freshman Runner of the Year – Kahmari Montgomery, Missouri
Co-Freshman Field Athletes of the Year – Anders Eriksson, Florida/Daniel Haugh, Alabama
Scholar-Athlete of the Year – Jarrion Lawson, Arkansas
Coach of the Year – Chris Bucknam, Arkansas
For more information on Arkansas track and field including in-meet updates, follow @RazorbackTF on Twitter.