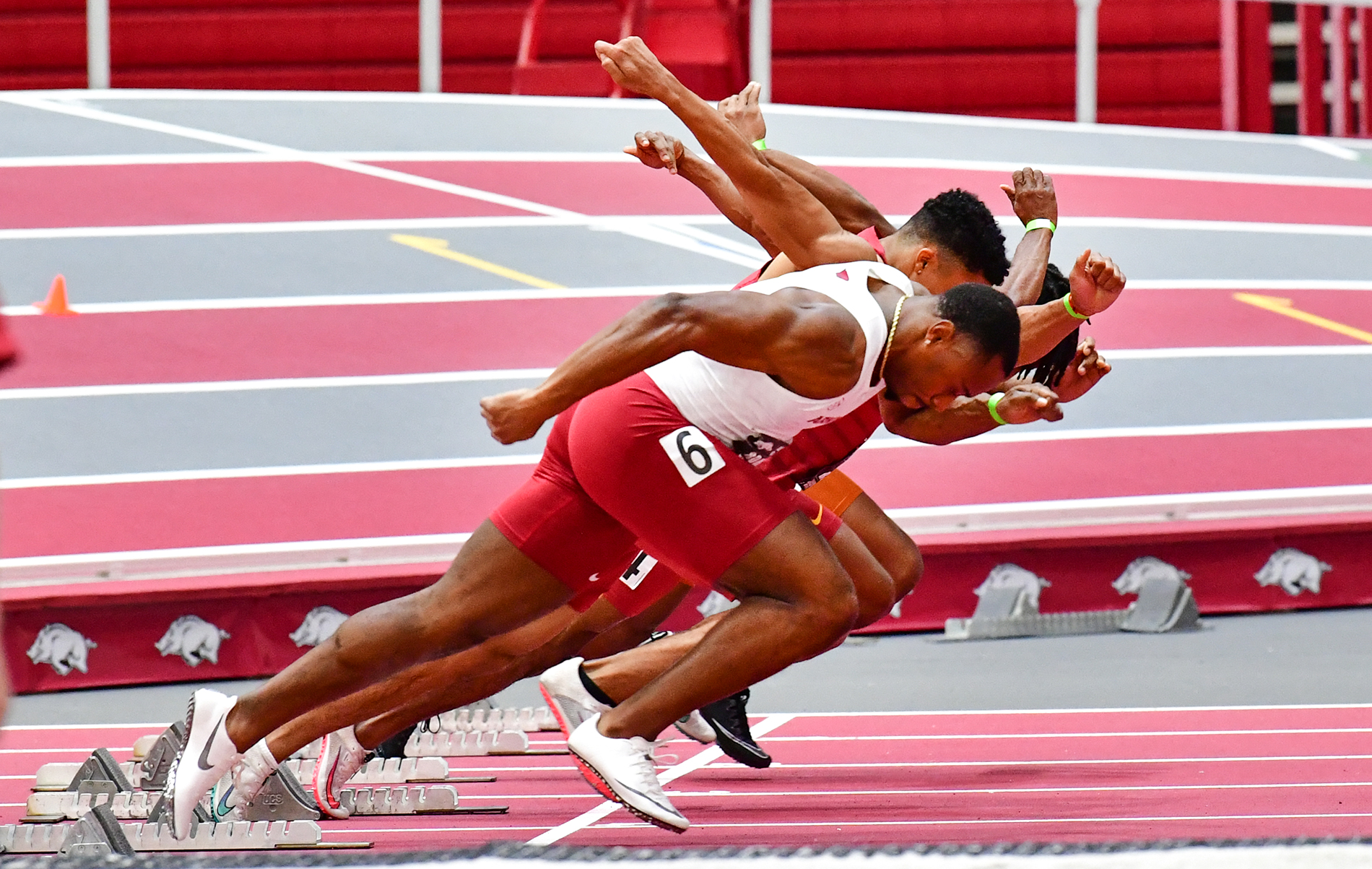 Razorbacks return to action in Arkansas Invitational
FAYETTEVILLE – The Razorbacks host a 12-team field in the Arkansas Invitational on Friday, Jan. 14, inside the Randal Tyson Track Center. The first field event begins at noon while running events start at 2:30 p.m.
A pair of Big 12 schools, Oklahoma and Oklahoma State, join the Razorbacks along with Alcorn State, Allen CC, Arkansas Little Rock, Arkansas Pine Bluff, Butler CC, Central Arkansas, Coffeyville CC, Oral Roberts, and Tulsa.
The meet will have a live stream on SEC Network +, starting at 2:30 p.m., through this link: https://www.espn.com/watch/player?id=5a868482-fc78-4206-81bd-61c92251445c
Live results will be available at this link: https://results.flashresults.com/2022_01-14_ArkInvite/index.htm
"The meets we host and compete in throughout the indoor season get progressively tougher," said Arkansas men's head coach Chris Bucknam. "Progressively we get into better fitness and shape, hoping we can add national qualifiers and get our teams ready for the championship season at the end of February."
"The meet this week is all about getting our guys into a routine, making sure we develop some good habits. It's just a process of getting the team back into the competitive routine again. We have a bunch of new guys, so going through the warm-up routines, moving from the warm-up area to the track is a process. It's time for us to get our feet wet and get this season rolling."
Recent additions to the Razorback line-up, who joined the team in January, will make their debut in an Arkansas uniform. Patrick Kiprop races in the mile and Ricardo Banks competes in the 800m. Devontie Archer will compete unattached in the 400m.
Other newcomers to the program who were unattached in the December meet, will compete in a Razorback uniform for the first time this week as well.
"This is a good meet to start off with, it's got a combination of Power 5 teams, mid-majors and JUCO's," noted Bucknam. "There is competition for everybody at this stage of the game."
Joining Kiprop in the mile are an experienced group of Razorbacks consisting of Emmanuel Cheboson, Myles Richter, and Josh Shearer.
Roman Turner and Connor Washington are entered in the 60m. Jeremy Farr is scheduled to race in the 200m along with teammates Ryan Gordon and Brevin Sims.
Rhayko Schwartz leads a crew of Arkansas sprinters in the 400m, which includes newcomers Phillip Anderson and Brandon Battle. In the 600m, four Razorbacks racing at that distance include Jadon Bartholomew, Ethan Carney, James Milholen, and TJ Tomlyanovich.
Kieran Taylor, who clocked 1:16.86 in the 600m during the December Wooo Pig Classic, moves up to 1,000m and headlines a group of seven Arkansas runners in the event.
Nine Razorbacks racing in the 60m hurdles includes the season debut for Phillip Lemonious as he is joined by Shaka Bogan and a crew of newcomers in Matthew Lewis-Banks, Boaz Madeus, Blanchard Montgomery IV, and Sims.
Multi-event athletes also scheduled for the 60m hurdles include Ayden Owens, Daniel Spejcher, and Etamar Bhastekar. They will also pole vault, along with Arkansas vaulter Rhett Nelson, and contest the shot put.
Ryan Brown and John Baker are entered in the triple jump while Tomas Ferrari and Christian Matamoros will represent the Razorbacks in the high jump.
Arkansas alums competing in the meet include Andrew Irwin in the pole vault and Erich Sullins in the weight throw. Other professional athletes scheduled to compete include Will Williams in the long jump and Jah-Nhai Perinchief in the triple jump.
Irwin holds the Arkansas Invitational meet record in the pole vault with a height of 18-8.75 (5.71) from 2019 while Sullins set the weight throw meet record of 69-4.75 (21.15) in 2020. Sullins improved his career best to 74-7.75 (22.75) in setting a meet record during the Wooo Pig Classic in December.
Recent year-end U.S. rankings compiled by Track & Field News for the 2021 season had Irwin seventh in the pole vault.