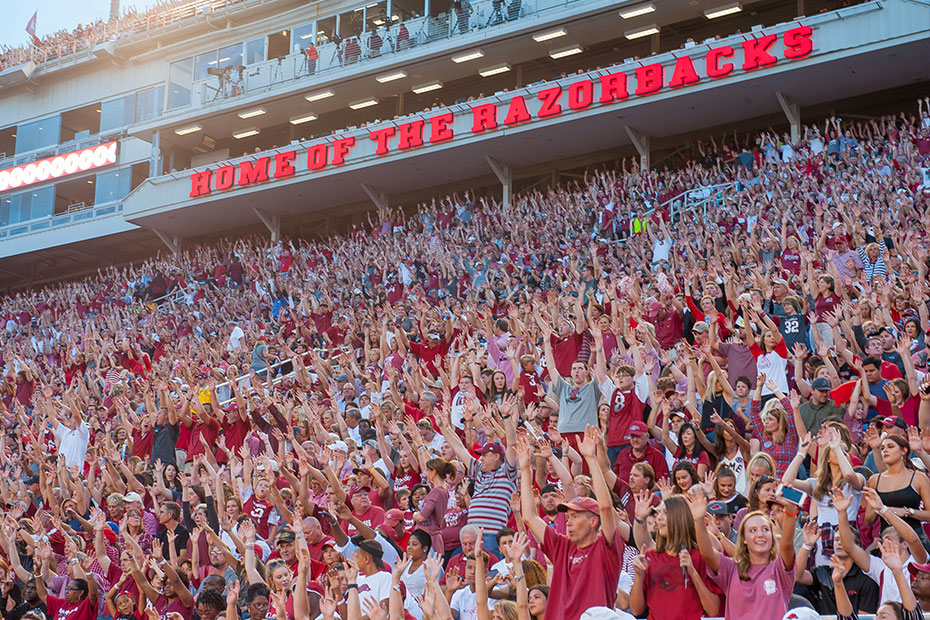 Razorbacks select Dyehard Fan Supply
WINSTON-SALEM, N.C. — The University of Arkansas has selected Dyehard Fan Supply, an event and retail merchandise marketing and e-commerce company, as the official merchandiser for the school's athletic program in a new, multi-year agreement. Dyehard will handle e-commerce, game day/event merchandising, and permanent, on-site store merchandising for Razorback Athletics beginning July 1, 2018. The relationship with Arkansas marks the first partnership with a Power 5 program for Dyehard where a university is taking advantage of the full breadth of expertise Dyehard has to offer with e-commerce, on-site and at event capabilities.
"There is only one Razorback in all of sports and our fans look to it as a point of pride," said Vice Chancellor and Director of Athletics Hunter Yurachek. "Arkansas is excited to be partnering with Dyehard Fan Supply to help outfit the most passionate collegiate fans in the nation. The team at Dyehard Fan Supply, led by Ben Sutton, Jr. and Rex Hough, has vast experience working in college athletics and with world class events and we expect them to bring a selection of best-in-class products with exceptional customer service to the Razorback Nation."
"We are thrilled that Arkansas selected Dyehard Fan Supply as the official merchandising partner for Razorback Athletics," said Dyehard CEO Rex Hough. "We look forward to applying our exceptional service both onsite and online year around with the highest standards of service and reliability in the industry. Merchandise will consist of traditional game day product while also debuting an exclusive Razorback apparel collection and introducing popular brands not yet seen at Arkansas games in the past."
"We plan to introduce higher quality Arkansas branded merchandise and upgrade the retail experiences online, in stores, and at events. Dyehard will have a local warehouse and a highly trained customer service team on-site to create the ultimate retail experience for Razorback fans," added Hough. "We are also working with the university to plan and build a new retail store in the North end zone of the Donald W. Reynolds Razorback Stadium that will raise the bar for game day shopping experiences."
Dyehard Fan Supply has handled merchandising programs for many of America's most notable sporting events and organizations, including Olympic Games, NBA finals, World Series, Davis Cup tennis, MLB All-Star Games, America's Cup, the U.S. Open, the USTA Jr. Team Tennis & League National Championships, the TCS New York City Marathon, and numerous professional and college football championships and bowls. In 2017, Dyehard executed new partnership deals with the Music City Bowl in Nashville, the 2018 FEI World Equestrian Games, and a significant, long-term partnership with Tough Mudder, one of the fastest-growing athletic competitions in America. Dyehard has also handled merchandising for several Broadway shows and concerts.
"From the inception of Dyehard Fan Supply, Rex and his team have built on their vision of a national platform for retail merchandising for the sports and entertainment world," said Ben C. Sutton, Jr., chairman and managing partner of Teall Capital Partners, Dyehard's parent company. "Arkansas is a notable addition to Dyehard's already impressive client list. The Razorbacks—one of the elite programs in college athletics with a widely-recognized and dedicated fan base— will fit right in with the Dyehard family of clients that expect the highest level of customer service, the very best in merchandise for their fans, and the premier retail experience to go with it."
Teall Capital Partners, a private equity company based in Winston-Salem, NC; Atlanta, GA; and San Francisco, CA created Dyehard Fan Supply in late 2017 after acquiring several companies offering an expansive national network of best-in-class merchandise capabilities. Teall anticipates additional future investments that will contribute to the top-quality retail experience for fans and customers.
About Teall Capital Partners
Teall Capital Partners is a privately-held set of investments in innovative, high-growth-potential lifestyle brands and services. Teall invests in complementary organizations that collaborate to share thought leadership and leverage individual networks to realize greater value.
Led by Founder and Chairman Ben C. Sutton, Jr., the Teall Capital management team includes several of the top executives that built and expanded four national market-leading businesses into a nearly billion-dollar enterprise in the college sports space: IMG College Media, IMG Seating, IMG College Licensing, and IMG Ticketing. Teall Capital leadership provides operating companies with access to expertise in corporate strategy, organizational management, culture and training, financial strategy, employee operations, recruiting, and legal diligence. Visit TeallCapital.com for more information.
About Dyehard Fan Supply
Dyehard Fan Supply is an event and retail merchandise, marketing, and e-commerce company. An international company focusing on superior customer service, Dyehard leverages an expansive network of best-in-class companies to produce top quality merchandise for college and professional sports, tennis and golf tournaments, bowl games, concerts, festivals, races, and Broadway musicals. Visit dyehardfansupply.com for more information.