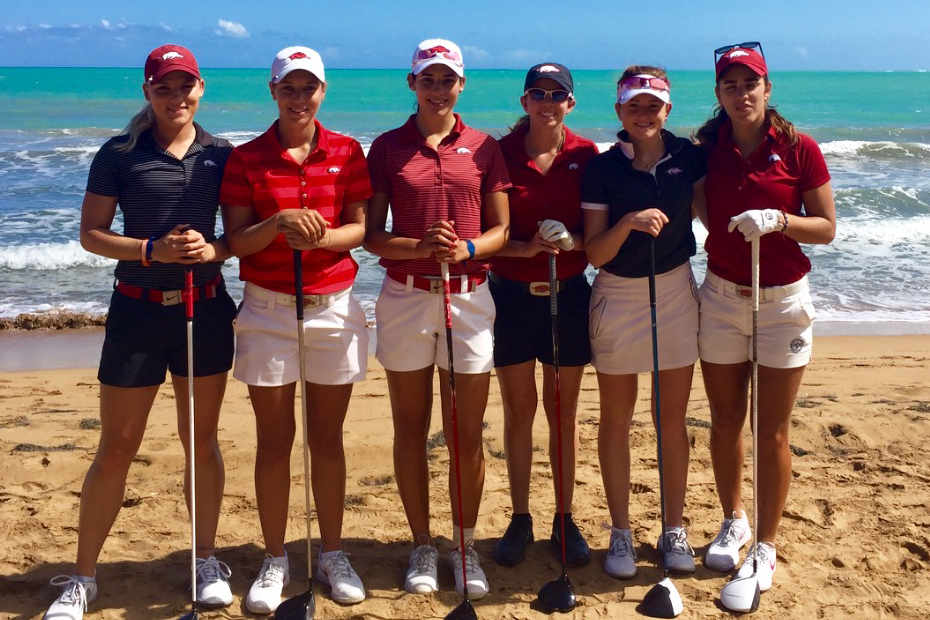 Razorbacks Sixth at Darius Rucker
Individual Results | Team Results | Combined Results (pdf)
HILTON HEAD ISLAND, S.C. – The third-ranked University of Arkansas women's golf posted a final round 297 and finished sixth overall at the Fifth Annual Darius Rucker Intercollegiate in Hilton Head Island, South Carolina, Sunday.
The Razorbacks counted rounds of 289-296-297=882 at the Long Cove Club. Freshman Maria Fassi paced the team finishing tied for ninth overall.
Fassi, who joined the team in January after graduating early, shot 71-70-77=218 in her second-ever collegiate event. Senior Regina Plasencia rallied for a strong finish moving up several spots in the second and third rounds.
Plasenica opened with an 80 but posted rounds of 71-71 Saturday and Sunday finishing with a 222 and a tie for 26th overall. The Guadalajara, Mexico, native started strong with a birdie on the first hole. She doubled No. 3 but fought back with a birdie on the sixth hole to turn even.
The senior was even on the back nine as well with a bogey and birdie before finishing with four consecutive par holes.
Junior Summar Roachell finished tied for 45th overall shooting 72-80-74=226, followed by sophomore Alana Uriell who tied for 52nd overall with 74-78-75=227. Freshman Cara Gorlei rounded out the Razorback scoring shooting 72-77-82=231 and tying for 70th overall.
Arkansas travels to the LSU Tiger Classic March 20-22; the Liz Murphey Collegiate Classic April 1-3 and begins postseason play at the SEC Championship in Birmingham, Alabama, April 15-17.
From Shauna Estes-Taylor
Obviously, we came up short of our goal of winning, but we walk away with a good measuring stick on places we need to tidy up. Long Cove is a championship golf course that demands everything mentally and physically. We gave a few shots away in both areas, but on the flip side we did some great things as well.
I'm proud of Regina's comeback the last two days after her tough start. Maria had another solid start with a tougher finish today, but overall everyone contributed in a great way this week.
We will return home and keep working in the right areas to get better every day. Golf is a process and we definitely learned from This week. LSU is up next and I know this team will be ready and prepared.